Harmony, Silvertone, Airline, Danelectro, Kay, Teisco—what all of these brands have in common is that they built the guitars that ruled the department store catalogs throughout the 20th century. If a player couldn't afford a Fender, Gibson, or Gretsch—or perhaps just lived in a small town without access to a music shop—they could pick up a Sears catalog and still find a budget-friendly instrument in the turn of just a few pages.
These guitars weren't simply knockoffs of the big brands, either. They featured unconventional body shapes, unique (sometimes gimmicky) features, and vibrant finishes. It's no surprise, then, that modern players looking for something unique, vintage, and still affordable would be taken with these models today.
In the article below, we're going to take a look at a little bit of department store guitar history and highlight a few models that still have excellent inventory on Reverb and are worth checking out. We'll also show you how to use your Reverb Feed, searches, filters, and brand pages to help you navigate the vintage department store guitar market—and make Reverb work for you in your search.
---
The Sears-Roebuck Rulers: Harmony & Silvertone
Harmony was established in the late 1800s and quickly became one of the world's largest manufacturers of stringed instruments. Sears-Roebuck began advertising Harmony's American-made guitars in its catalog just a few years later, in 1897, and eventually purchased the company in 1916.
That was the same year that Sears established its in-house instrument brand, Silvertone, which would remain the face of Sears guitars until 1972. It's commonly known, however, that Silvertone never actually manufactured any of its own instruments, but rather outsourced the production of its guitars and amps to companies like Harmony, Danelectro, Valco, Thomas, Teisco, and Kay.
Clicking any of those names will take you directly to their individual brand pages, where you can see all of that brand's products currently listed on Reverb. You can also search within the brands with filters for year, condition, and more—which is extra-helpful if you're looking for a particular span of years from a product's production.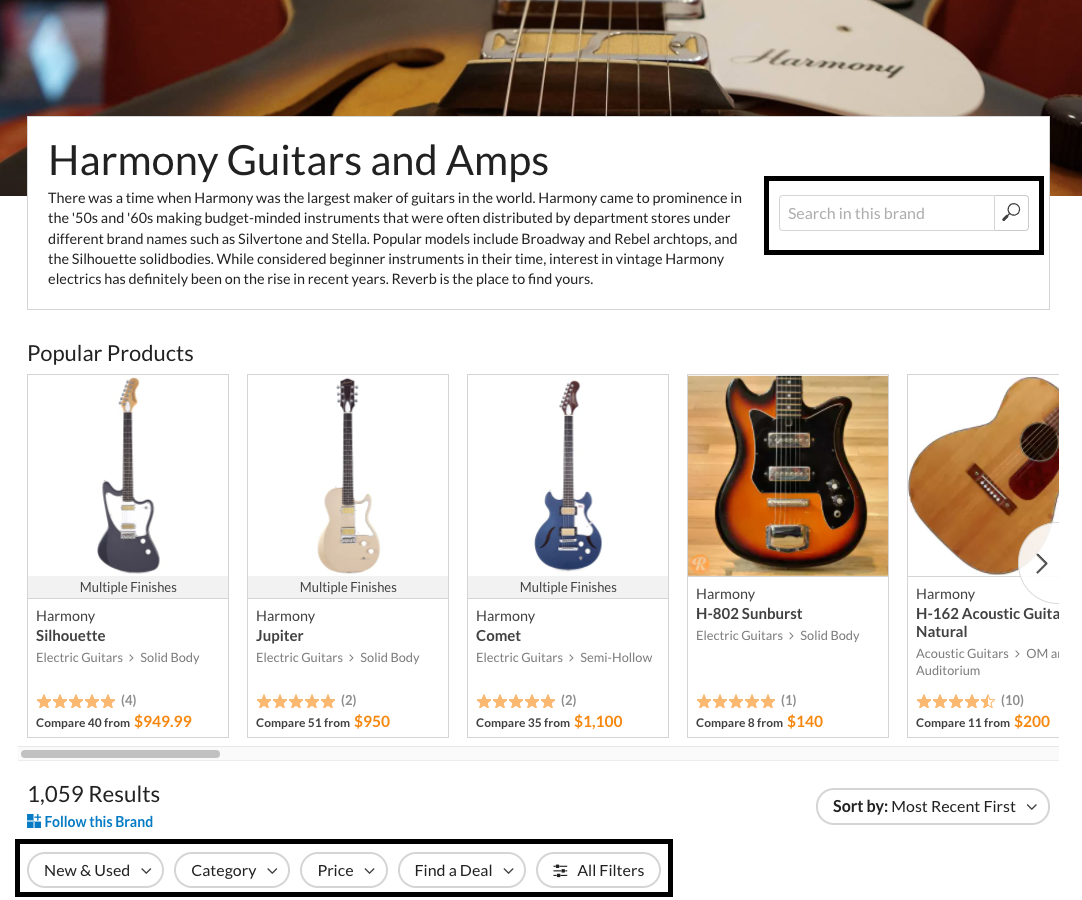 Use these filters and this search bar to find exactly what you're looking for within Harmony's brand page.
The cross-pollination of these affordable vintage builds generally makes them even more fun for collectors and players to explore and find, as different years of the same Silvertone were sometimes made by different companies entirely. Consequently, some are more popular than others.
Two of the most-popular Silvertone models even today, for example, are the 1448 and 1449, which were made in the mid-1960s by Danelectro. They became popular for their lipstick pickup(s) and also for coming with a hardshell case that included a built-in amplifier. These were later replaced with the Silvertone 1457—another enduringly popular model today.
Clicking the above "follow" buttons will add these models to your feed, so that you'll be among the first to know when a used specimen from this period of production is listed on Reverb. Following products in your Reverb feed is an easy way to make sure you don't miss out on something special, while also leaving out the newer reissue models if vintage is what you're looking for specifically.
---
The Japanese Importer: Teisco
In addition to the copious domestic brands that were selling their builds to Sears for its Silvertone label, Teisco became another major player in Silvertone's guitar manufacturing catalog. The Japanese brand supplied Silvertone with around 11 different models throughout the 1960s.
These models can be harder to come by than some of the aforementioned Danelectro-built Silvertones, so this is another very good example of where you'd want to add specific models to your feed.
Silvertone 1445.
The Teisco-built and Mosrite-inspired Silvertone 1445 is a popular model for modern players due to its really unique pickup configuration, copious controls for steadfast tinkerers, and tremolo setup. Clicking the button above will add this product to your feed via a filtered Silvertone brand search, so as soon as a guitar is listed on Reverb that meets those parameters, it'll be served to you in your daily feed email.
---
Montgomery Ward's Answer to Sears: Airline
Montgomery Ward was another mail order retail company popular in American households throughout the 20th century. With how successful Sears-Roebuck had been with Silvertone instruments, Montgomery Ward began competing in the late '50s with its own in-house instrument brand, Airline.
Like Silvertone, Airline never actually manufactured the acoustics, electrics, nor amplifiers that it sold under that banner. In fact, Airline sourced many of its instruments from the same pool of brands that Silvertone did—Valco, Kay, and Harmony made its acoustic and electric guitars while Valco and Danelectro manufactured Airline amps.
It's fairly easy to see the Danelectro/Teisco design language represented in the Silvertone models those brands built, and the same goes for Airline. It's particularly easy to spot which Airline models Valco made, for instance. They featured really unconventional, sharp, and angular body shapes, complete with tons of unique switches and tinkerer-friendly controls.
The most popular model that Airline released was hands-down the "J.B. Hutto," which debuted in 1964 and reminds me of something that would've been made around the same time by the Italian brand Eko. Rather than typical all-wood construction, this unique instrument was made of a fiberglass material called Res-O-Glass that was molded around a wooden center block for support.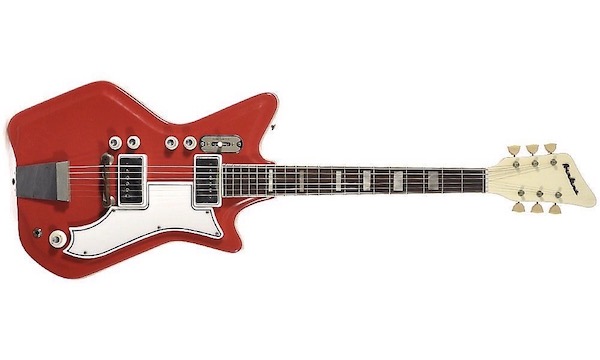 Airline Res-O-Glass "J.B. Hutto"
The J.B. Hutto model is one of the most-collectible Airline guitars still floating around the market—thanks, in no small part, to famous modern players (like Jack White) who have used it heavily on stage.
The Airline Town and Country was another quite popular guitar that remains sought-after today. It's perhaps more conventional than the J.B. Hutto, but only slightly—this wooden body is chambered to help keep its weight manageable, but still features up to three beefy pickups with plenty of switches and control, as well as a tremolo arm on some models.
As with the aforementioned Silvertone models, the best way to make sure you get the best deal on one of these vintage Airline nstruments is to research and figure out which model(s) you're interested in and then add it (or them) to your feed.
If you're not sure yet which model you want, you can always head to the Airline brand page for a filtered search. From there, you'll want to be sure that you filter by year specifically—in the early 2000s, Eastwood purchased the Airline brand name and has since released several newer models that, while vintage-inspired, may not be what you're looking for if you want an original.
---
Regardless of what particular era or model you're interested in, the tips above will allow you to find what you're looking for—and make Reverb work for you in the process. By adding searches or products to your Feed, newly listed items that match will automatically appear in your Feed. And if you elect to get a Daily Feed email, they'll be waiting for you in your inbox too. Happy hunting!