The term "Plexi" refers to Marshall amps made in the '60s and '70s, due to their Plexiglass front panel. It's an iconic look that has adorned stages all over the world, from the birth of what we now refer to as classic rock, right up until the modern day. There are different Plexi models such as the JTM45, the Bluesbreaker combo version, and, what might be the holy grail of Plexis: the Marshall Superlead, which boasts 100W of pure tube power.
For many players, the sound of a Plexi is as good as it gets. But what is it? Like with most amps, each model/year has its own individual traits that people love. Overall, the Plexi sound is characterized by an incredibly powerful crunch. It's not high gain, but you can get some incredible overdriven tones when dialed in. The Plexi sound also means clear and defined highs, a lot of presence in the mid-range frequencies, and (especially when played through a 4x12 or two) a mighty low-end thump.
While these amps undoubtedly sound amazing, they're not always practical. You need to crank the volume in order to get the harmonic distortion, compression, and famous Marshall overdrive that everyone loves. But with a 100-watt tube head, this means that things get seriously loud, which might always not be suitable for your particular playing venue. Even if you opt for a 30- (like the JTM45 MKII) or 50-watt (1987X) model, you're still getting a ton of volume before it breaks up.
Additionally, original Plexis are expensive. Original '60s models often sell on the used market for thousands, and even Marshall's 1987X and JTM45 reissues are rarely seen for below $1000. As such, amp and pedal builders have sought to recreate the famous Plexi sound in a number of different ways to make it more affordable and more practical. There are various pedals that offer Plexi-in-a-box tones, as well as some other cheaper amps that can get you in the right ballpark if it's the Plexi sound you're after.
---
Marshall Studio Vintage
The first obvious cheaper alternative to the Plexi is, well, a Plexi—albeit a smaller version. The Studio Vintage is a 20W version of the famous Marshall Super Lead, and while it's certainly not cheap, it does come in at less than the full-fat version.
It having a fifth of the original's power also makes it better-suited to modern day applications. You can turn the volume up to get that classic Marshall crunch without it being quite as earth-shatteringly loud. Make no mistake though, these things can still throw out a lot of volume.
There's also a switch that allows you to knock it down the five watts. It'd be a push to claim you can use it as a bedroom amp, unless you're after a clean sound. But for rehearsing with other players, it means you can really get the tubes working while keeping it all at a sensible volume.
---
Marshall Origin Series
The Origin series isn't an exact replica of the old Plexis, but there's no mistaking where the influence has come from. From the classic black and gold control panel to the unmistakable mid-gain crunch, the Origins are a great way of getting the Plexi sound for less.
There are a few models available that range from five to 50 watts and cater to different players' needs. There's also a master volume alongside a gain knob, which means you don't have crank the volume to get the sound to break up. Pull on the gain knob, and you've got a handy boost too—great for solos or for adding more drive to your sound.
Sound-wise, you're not going to get exactly the same tone as a Plexi, but you're in the right ball park. There's a nice mid-range bite to it and even on its crunchiest setting, your guitar will clean up nicely when you back off on your volume knob.
---
Universal Audio Apollo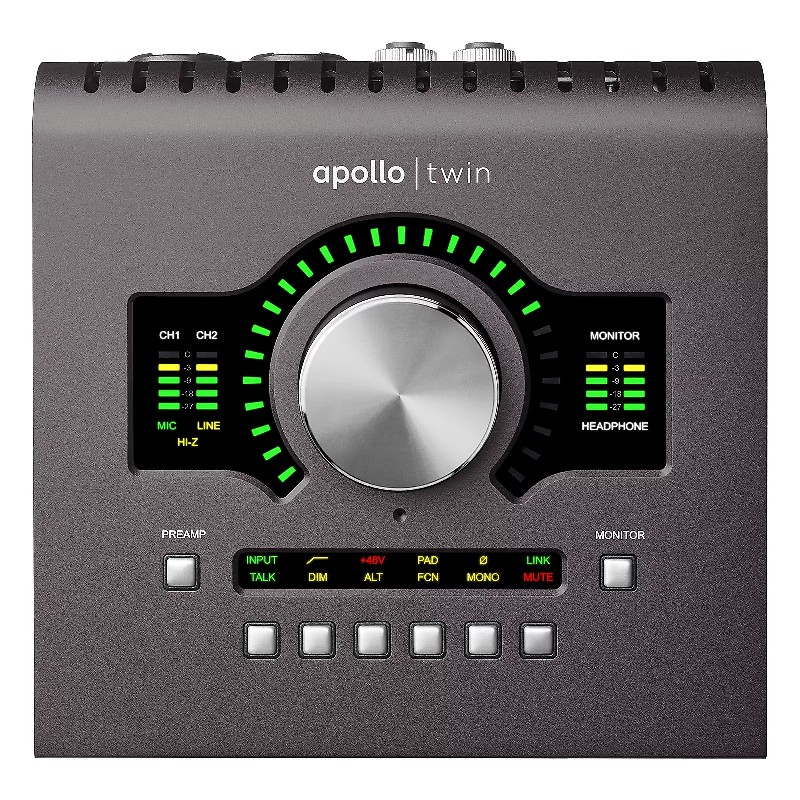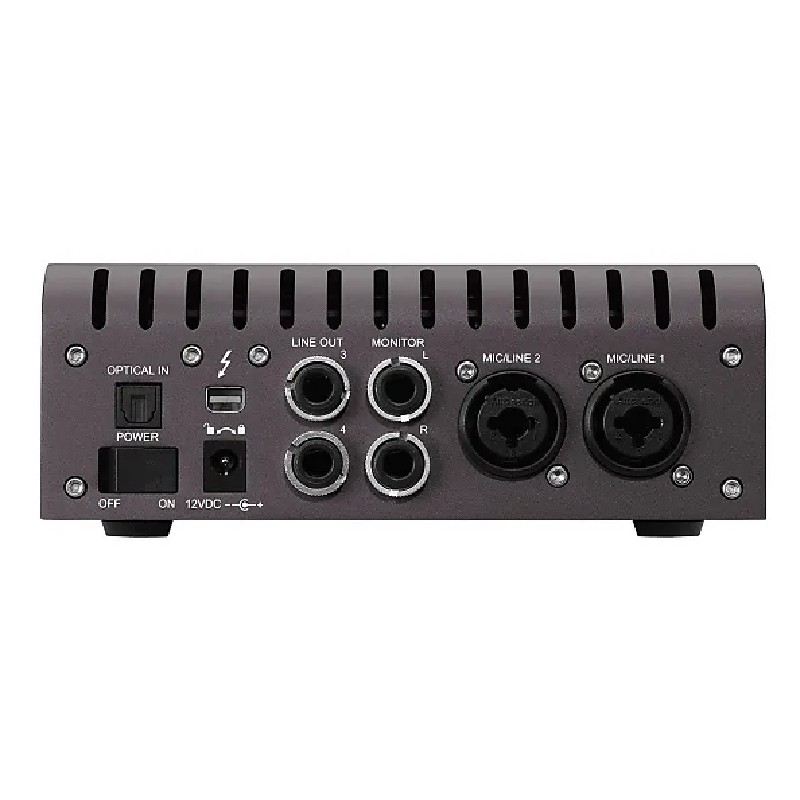 Universal Audio Apollo Twin DUO MKII
Okay, so, Universal Audio doesn't make the most budget-friendly interfaces or plugins around, but they are some of the best. The UA Marshall Super Lead 1959 plugin is one of the best software versions of the legendary amp out there.
The plugin is, however, only available to UAD hardware and Apollo users. So, if you're using one of these already (or are in the market for an excellent interface) and you want the ability to dial up classic-sounding Marshall crunch, it's definitely worth the cost for the plugin.
You've got total control over all the settings, as if you would with the real thing, plus there are three different microphone combinations so you can select the voicing that really works for you. Obviously, with it being a plugin, you don't have to run it at any particular volume—dial in the volume on the virtual amp for that beautiful Marshall crunch, and run your monitors at whatever level you need to. Presto! You've got the Marshall Plexi tone at sensible volumes for less cash.
---
Carl Martin PlexiTone
Get the Plexi sound in pedal form. This is a two-channel "amp-in-a-box" pedal with an additional boost switch. The crunch channel offers Plexi-style drive, from subtle bite though to powerful, organic overdrive. Run this pedal through pretty much any clean amp, and you've got a great, affordable Plexi alternative.
The second channel offers even more gain, so if you're a fan of certain modded Marshalls, then you might find yourself spending more time here. It's great for classic rock, old school metal, and even more contemporary stuff. Having the two channels alongside a clean boost offering up to a 20dB increase in volume makes for a really versatile pedal that's sure to please any fan of the classic Marshall sound.
---
Bogner La Grange
Bogner La Grange
The Bogner La Grange is a feature-laden Plexi-in-a-box-style pedal that gives you a great replication of the '60s Plexi sound, alongside some other famed Marshall tones.
Think of the pedal's namesake—ZZ Top's hit "La Grange"—and you'll know what to expect form this beast of a pedal. There are several features that make it one of the best Plexi alternatives out there. A three-way gain switch allows you to choose the intensity of the gain, and the variac switch emulates the starved input voltage to give you more sag and compression—a sound made famous by Eddie Van Halen.
The channel blend knob allows you to essentially patch or jump the channels on a four-input Plexi, and the two footswitches on the pedal work independently, allowing you to have a more subtle crunch tone and a more saturated sound at your feet.
---
Wampler Plexi Drive Deluxe
Wampler Plexi Drive Deluxe
This is a Plexi style drive pedal with lots of tone-tweaking capabilities. It's the deluxe version of Wampler's classic Plexi Drive pedal (which is better-suited to those that prefer fewer knobs on a pedal) and gives players more control over the EQ, as well as an additional boost footswitch. It aims to deliver a range of old-school Marshall tones, covering different periods in the Plexi's history.
Having the additional EQ section can be really useful if the amp you're playing it through isn't quite giving you the sound you're after. It also means you can tweak it to suit whatever pickups you're using, like when you're switching from single-coils to humbuckers. The brightness switch also does a good job of adding extra high-end and presence when you need it, and the bass boost helps deliver the low-end thump you'd get playing through a 4x12.
---
Two Notes Le Crunch
Two Notes Le Crunch
Forgoing the traditional amp set up and going straight from a pedal into a PA system or FRFR speaker is becoming more and more common. The Two Notes Le Crunch preamp pedal allows you to do this while delivering some great-sounding Plexi-style tones. You can, however, choose to run it in front of or in the effects loop of your amp, so you've got plenty of options.
It's got two separate channels that can be used independently or together—either in series or parallel. Channel A gives you some classic Plexi cleans/crunch sounds, and Channel B allows you to dial in a hotter, more aggressive sound. Combining the two in different ways really lets you unlock a myriad of tones, suited to everything from old school blues, to modern metal.
When set at medium level gain, the Le Crunch really sings, offering a lot of the bite, power, and dynamics of an old-school Plexi. It even features a 12AX7 for that classic tube warmth and response, plus there's a cab-sim enabled DI output should you wish to send your signal to front of house.
---
Honorable Mention: Nux Reissue Plexi Crunch
Nux Reissue Plexi Crunch
For those on a tighter budget, the Nux Plexi Crunch Reissue is great alternative to the legendary Marshall. With the gain set low, you can dial in some subtle British crunch, but carry on going and you'll unlock some hot-rodded Plexi sounds. Its three gain stages allow for some really cool metal sounds, as well as classic rock, blues, and loads more.
The tone and presence knobs allow for dialing in your EQ, and the master and preamp knobs mean that you can easily balance both your gain and volume—no having to deafen yourself just for the sake of overdrive here.
The sound isn't the most refined, and it doesn't quite deliver the Plexi tone, but it isn't a million miles away. This is definitely worth a look, especially considering the price.