Dibiase. Photos by: Roland and Nassirah Nelson
Dibiase is a pioneer in the world of live beats, achieving prominence in the late 2000s after winning Red Bull beat competitions and regularly uploading dope beats to SoundCloud.
His head-rocking SP-404 sets are now well documented all over YouTube. Even with pandemic restrictions, he is active, regularly providing live streams with Serato Studio and hosting beat battles on social media.
His beats have significantly influenced the lo-fi instrumental hip hop genre— releasing a complete discography of instrumental albums full of rap quotations and Black film dialogue samples layered over astral boom-bap. In addition, he is one of the leading musicians blending video game fandom into his art, as seen in his recently released Bonus Levels LP, which was entirely composed using 8-bit chiptune samples.
In recent months, Dibiase has been a top figurehead in the SP world and recently collaborated directly with Roland while beta-testing the new SP-404MKII.
While the 404 may be the first instrument that comes to mind when thinking about his music; Dibiase enjoys experimenting with various machines, programs, and approaches while making beats. His enthusiasm for gear began in the late 1990s when he was still learning how to sample and loop using whatever he could get his hands on.
We had a long conversation where we talked about making beats with gear from both the past and present. Because of the length of our chat, we've cut the interview down to focus on just the key pieces of equipment Dibiase discussed.
Gemini DS-1224 DJ Sampler
I've never even heard of this mixer until now. How did you use this?
I was using the [12]-second sampler with a tape deck. I would just loop a drum pattern, let it play for two minutes, and then I'd record it to the tape deck. Then I'd sample some pianos and I'd play that on top of the drum loop for two minutes. It was crazy.
It has this thing called "roboplay." It kind of had a signature sound. It sounded like a wild flutter effect, especially if you played chords on it. That roboplay, man. I haven't heard that sound in forever though. If I ran some beats from the Pocket Operator to that on that roboplay, oh my goodness! [Laughs.]
Akai S-900 & S-950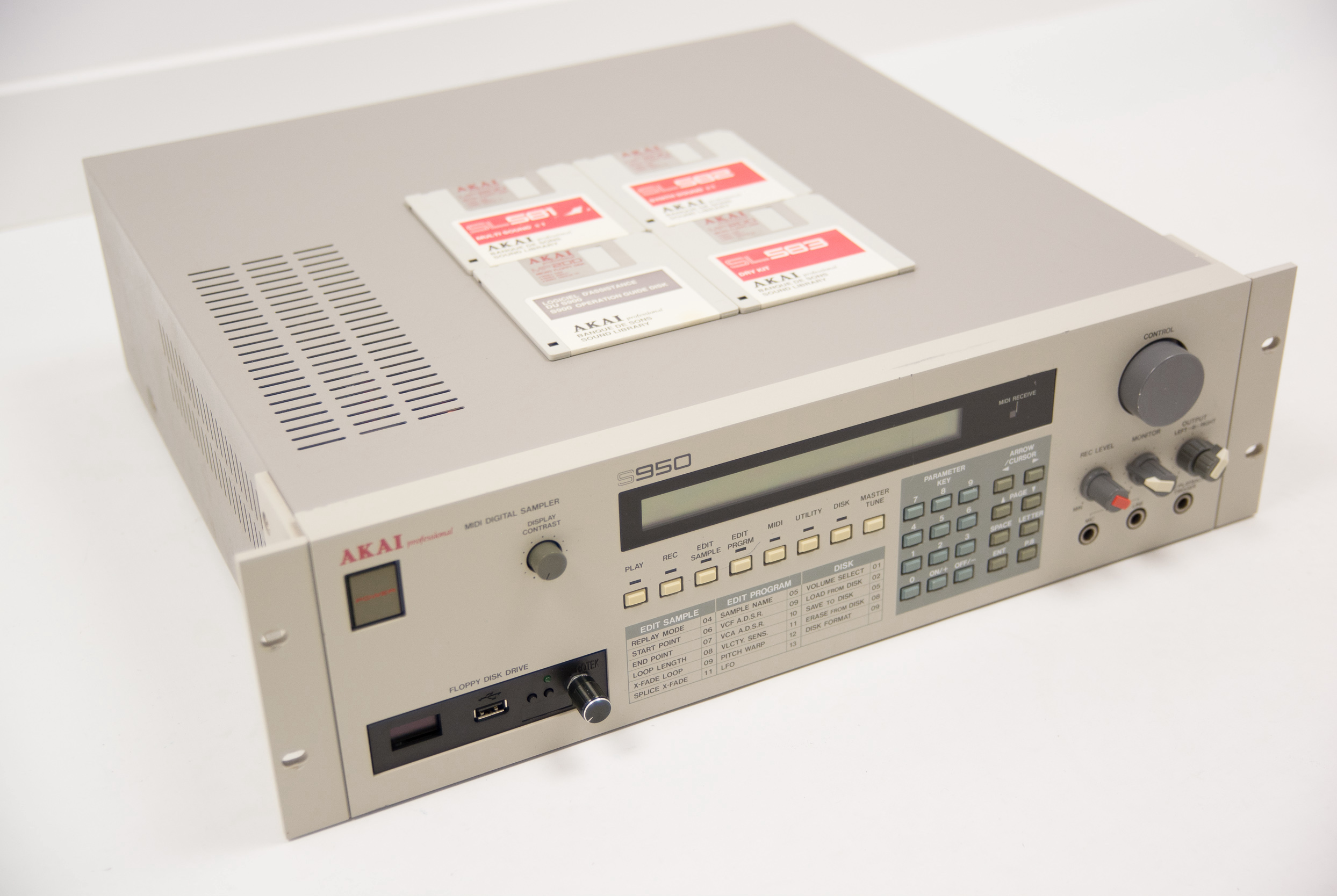 So you've had both the Akai 900 and the 950. What are the differences between those two samplers?
The 900, it's the same sampling engine as an MPC60. It has the same filter. The 950 has more LFO options. And, it sounds a little crispier.
But the 900, it gets a little muddier with the frequency range. The 950 gets a little higher, so it's a little cleaner. But both have the same bit-rate and all that. The 900 has a cool low-pass [filter], but you can't do all the tricky wah-wahs on it like that.
Do you usually connect the S-900 to a MIDI keyboard?
I can MIDI it to the Maschine, the MPC, or the [E-Mu] SP-12.
You've got to make a program on an MPC2000[XL]. You just got to make the key groups. And then, once you make the key group, you just save it on a floppy. Because with the MPC, in the XL, you have to rearrange each pad's chromatic order to like C1, C2—all in order so it matches up with this. So, every time you turn it on, it [plays back] automatically in order.
A rather lengthy process.
Yeah. It takes a minute to do it, but once you lock it in by making your template, you don't have to do it again.
Akai MPC2000XL
Tell me about when you first got an MPC.
One of my homies that I grew up with, he saw I had the Roland R-8 drum machine and he was like, "Man, if you're going to mess with the big boys, you're going to have to get that MPC."
You would see them in The Source [magazine] and all that. But there wasn't any video actually showing you how to use it unless you went to a studio and saw it in action. I was going to different studios and I noticed cats had the MPC MIDI'd up to a keyboard.
For a good two years, I didn't know the MPC could sample because everybody had it MIDI'd it to the keyboard. So I thought it was just keyboard sounds. I'd say around '97, I went to this one studio. This cat had a bunch of vinyl and turntables. I saw him with the MPC and he was chopping the record up.
I was like, "Oh snap! This is what they use. This is what they use to chop the records!" After that, I'd say in October of '97, I opened up the credit at Guitar Center, my grandmother helped me with that, and got the MPC.
I think of producers from the same era as you honing their skills with little sample time, have made a distinct sampling style today. Because now, compared to then, there's much more sample time, right?
Yeah. I remember putting the memory into the MPC, expanding the memory. I think I had a janky memory card because it wasn't giving me the full upgrade. It gave me, like, 60 seconds though.
But I was cool with that because it felt like that was a lifetime compared to the 20, 23, 24 seconds that it came with. I probably got the right RAM maybe six or eight months later. I wasn't in a hurry to switch it, because I was good with the 60 seconds.
Before the DAW era, how were you recording your beats?
I had a single cassette deck that could record and one of them Radio Shack Realistic 4-channel mixers. I would hook up the line out from the mixer and record to tape. I didn't have compressors or none of that stuff. I didn't understand compression or nothing.
Eventually, I got a MiniDisc recorder, and then, we was like, "Oh, shit! We digital now!" It had the good EQs on it and it was pretty crispy, man.
Now, it's like the VSTs do that. You can boost stuff up with the compression. I didn't understand none of that back then. Maximizers, limiters, compressors—none of that. It was just straight to the tape machine and that's it.
Roland MC-101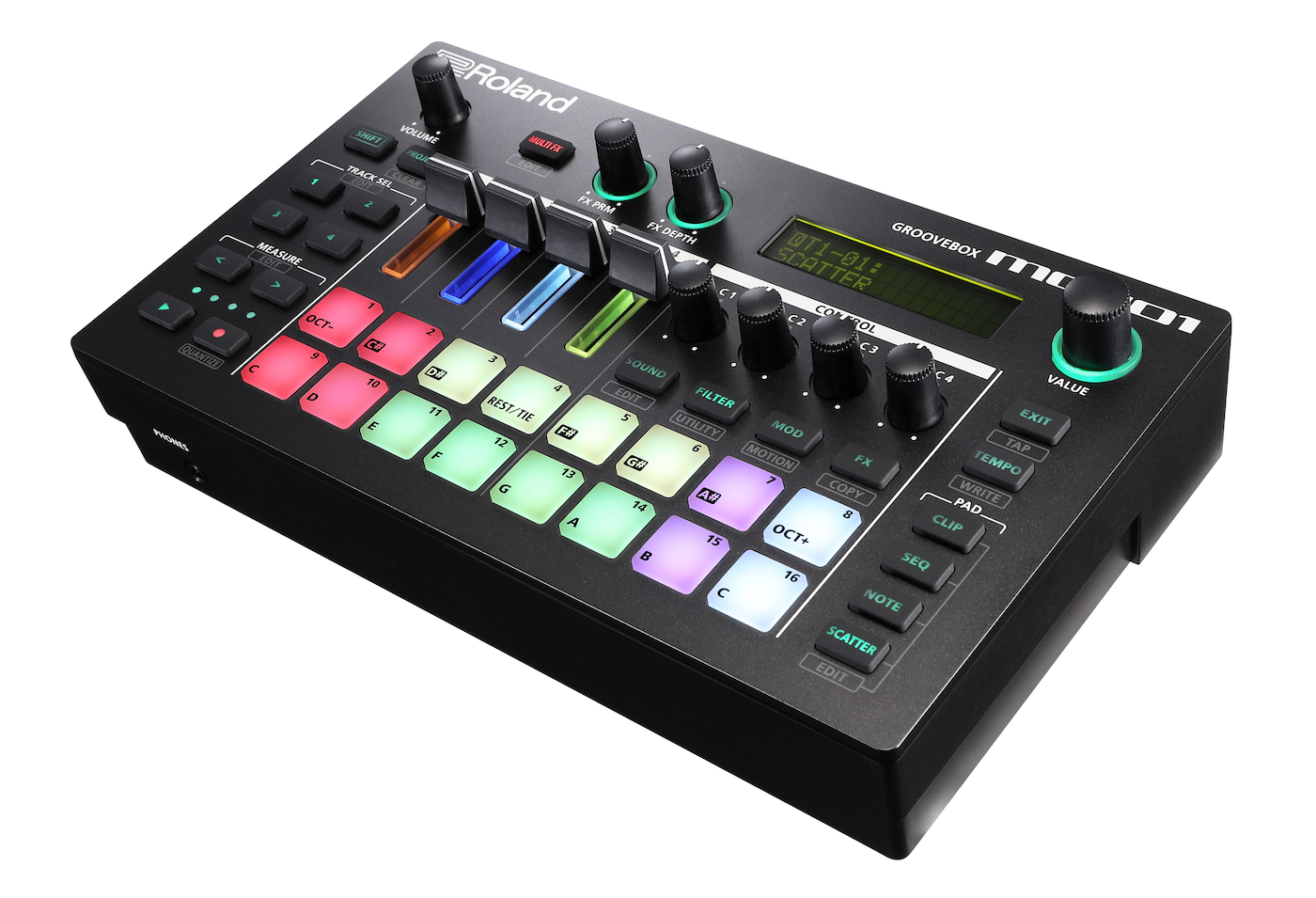 Does the MC-101 remind you of any of the other gear you came up with?
The MC-101, that's a fun box. It reminds me of the 404 and [Novation] Circuit combined. Because it has the 404 effects, the DJ effects looper—all of that—the compressor. It actually has way more effects than the SP though. Then it has the built-in keyboard sounds inside of it.
You have four different tracks. You have the drum track. You have the tone track, which is your synth sounds. Then you have a looper track. The looper track is two minutes. You can only use two minutes. So, when you sample into a looper track, you can time stretch and all that.
And battery powered too?
Oh, yeah. It's a real small thing. You got your knobs. You got your faders. You can map it and all that stuff. Sometimes, I be mapping it to Koala [Sampler]. It's a good controller for that.
Teenage Engineering PO-33
Following your Instagram, I've seen you post several bangers that you made with the little PO-33.
Sometimes, I'll sample into the Pocket Operator and pitch my drums up and sample it into the SP-12 and then, pitch it down. I like how that sounds.
You get 40 seconds [sample time] and I think it's 12-bit, along with a decent filter on it. Sometimes, I'll speed up, pitch up my samples, put it in there, and pitch it back down. It gives it a certain knock to it. I kind of combine it both ways, adding the new to the old. It's crazy, man.
Or I'll sample into the Pocket Operator and then sample into the 2000XL and it gives it a nice grit. It does something to it, because you can kind of push the limit a little bit when you record into the Pocket Operator. So as long as it's not clipping, just get right to that point before it clips and then add a little filter to it.
I dump that into whatever drum machine and then it's good to go. It adds a little character.
Is there a magic piece of gear that you wish to see come out in the future?
Man, I feel like we spoiled right now, dog. I feel like a kid in a candy store, dog. It's like, I don't [have] complaints. When I see these people in the forums complaining about certain stuff, it's like, man, I don't know how you could. We can make stuff on the phone now.
A Pocket Operator is like 80 bucks. If I was a kid in high school, I would just save my lunch money and cop that. I would just buy a bunch of them joints and just stock up on them.
I was saving up to buy tapes when I was in high school and whatever. Whatever, rap tapes. So, I know if it was equipment like this around, oh my God. [Laughs.]