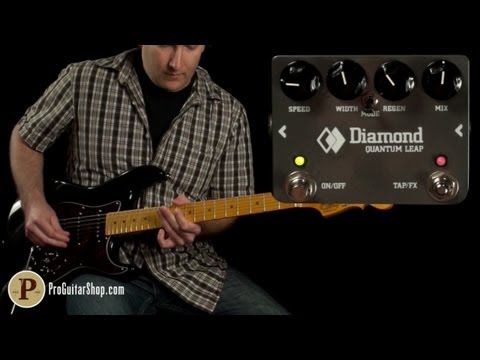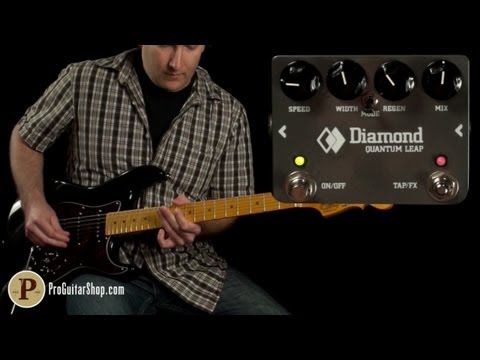 Diamond Quantum Leap
About This Listing
The Diamond Quantum Leap offers an impressive assortment of unique delay effects that make it a pedal unlike any other. In addition to as much as 600ms of perfectly precise delay, the Quantum Leap features an up-only toggle switch that lets you select 5 different operational modes, each identified by a different color or color combination in the Tap/FX LED. A Low Frequency Oscillator (LFO) gives you beautiful Flange and Chorus effects whose rates can be set via the Tap Tempo footswitch, or slowed down to ¼ time mode for a long sweep that creates a dramatic effect. The Filter mode gives you a quasi-comb fixed filter which you can toggle between two settings for a striking lead/rhythm tonal contrast. The Tap Delay mode gives you as versatile an effect as you would ever hope to find in a stand-alone delay unit, with the additional harmonic delay effect that gives you a brilliant wash of sound that will turn your creativity inside out. The Pitch Ramp mode offers an array of pitch-shifting options that will take your sound to parts as yet unimagined. Speed, Width, Regen and Mix Controls take on different functions for each mode and are saved for each mode so that you can return to favorite settings as you need them. The Diamond Quantum Leap can be set for true bypass or a buffered bypass for delay trails that fade out naturally when you step on the On/Off footswitch and comes with a 10-page manual that details a whole world of creative possibilities.
Diamond Quantum Leap Features:
Speed, Width, Regen and Mix Controls
Tap Tempo/FX Footswitch
5-Mode Toggle Select
Flange, Chorus, Filter, Tap Delay, Pitch Ramp Delay
5-Color Tap/FX LED
True Bypass or Buffered Bypass with Delay Trails
Standard 9vDC or Battery Operation
4.7" (11.93 cm) x 3.7" (9.39 cm) x 2" (5.08 cm)
Buy now, pay later – from 0% APR
As low as $14/month with Affirm monthly payments.
View Full Listing