Reverb Payments
Sell more while saving money
Reverb Payments
Sell more while saving money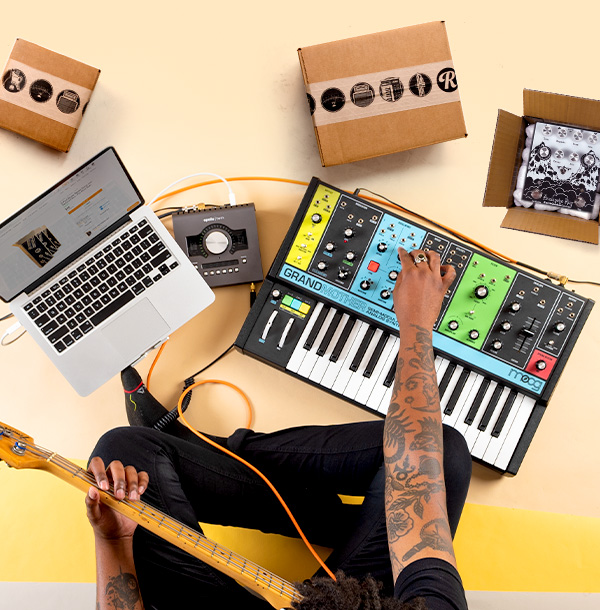 Reverb Payments
formerly Direct Checkout
Make it simple and safe for buyers to purchase from you, no matter what payment method they prefer.
Reverb Payments allows you to safely accept the most popular payment methods and receive funds directly in your bank account. It leads to higher sales, saves you money, and provides an overall better experience.
Why Use Reverb Payments?
Give buyers what they want
Enable buyers to pay with credit and debit cards, PayPal, Apple and Google Pay, Reverb Bucks and gift cards* and other prefered payment methods. You can even offer financing options.*
Keep more of your money
It doesn't cost anything to opt in to Reverb Payments, and our simple straightforward fee structure can be up to 25% less than PayPal.
It's simple and safe
Buyers no longer need to leave the site to log into PayPal. Our system is secured and encrypted with around-the-clock fraud detection processes to guarantee your transaction is safe and secure. Plus, all transactions made through Reverb Payments qualify for Reverb Protection.
Control your funds
We'll deposit all sales directly into your bank account in your local currency, no matter how buyers pay. Want your money even faster? Enable Reverb Bucks* and receive payouts immediately upon shipment of a sale. Plus, get a 1% discount on purchases.
How does it work?
You can opt in by going to your Shop Policies. You will be required to verify your identity as well as publish refund and return policies for your shop. Reverb handles all of the payment processing, fraud prevention, and chargeback risk. When payment is verified, the funds are deposited directly into your bank account. See here for details on payout timing.
How will this affect my sales?
Reverb Payments lets buyers around the world pay you quickly and securely, in their preferred local method, without leaving our site, leading to more sales. Most shoppers prefer the convenience and ease of paying by credit card to using PayPal. Turning on Reverb Payments also allows buyers to use Reverb Bucks and gift cards* at your store (but no worries—you'll still be paid out by direct deposit.)
How much does it cost?
It doesn't cost anything to opt into Reverb Payments. Like PayPal, fees are only charged as a percentage of the total sale after it's made. Because of local processing regulation, fees vary by country, but in general are up to 25% less than PayPal. Preferred Sellers qualify for an even lower rate. See your country's costs here.
Example costs
USA

2.7% + $0.25

USD per transaction
2.9% + $0.30 USD per transaction
Canada

2.7% + $0.25

CAD per transaction
2.9% + $0.30 CAD per transaction
France

2.7% + 0,25€

per transaction
3.4% + 0,25 € per transaction
UK

2.7% + £0.25

per transaction
3.4% + £0.20 per transaction
*International transactions will incur a 1% additional cross-border fee. Transactions within the European Economic Area (EEA) are considered domestic and will not incur a cross-border fee.
**PayPal charges up to 4.4% for international transactions.
See more country rates here.
When will I receive my funds?
For your first sale, Reverb initiates your payout 1-2 business days following confirmation of delivery. For subsequent sales, Reverb initiates a payout when a valid tracking number shows the item is in transit. Payout approval can take up to two business days.** A valid tracking number MUST be provided in order to confirm the item has been shipped before dispersing payouts. Payout times vary based on existing feedback ratings, sales volume, Preferred Seller status, price of the item, and shipping destination. Read the full Reverb Payments Terms of Use for specifics.
Note: US Sellers that exceed $20,000 in gross Reverb Payments Sales (not including refunds) and do more than 200 transactions in a calendar year will receive a 1099-K at the end of the year from Reverb.
*Reverb Bucks and Gift Cards are limited to certain countries. See the full list of available payment methods here.
**AMEX can take up to 5 (five) business days.