Maybe it was inevitable that Joe Naylor would start a guitar company. For those who knew him, it must have seemed a logical next step when he launched Reverend Guitars in the late '90s. Joe had played guitar since he was 19, studied at Western Michigan University in Kalamazoo for a degree in industrial design, and taken an intensive course in guitar making at the specialist Roberto-Venn School of Luthiery in Phoenix, Arizona.
After that, he returned to Kalamazoo and started making carved-top solidbodies. "I thought I was going to be this guy who sits in his basement and builds extremely expensive guitars, one every six months or so, and charges outrageous amounts of money for them," he recalls. "But as honorable as that sounds, I soon realized that was more work than I bargained on. I thought, There's got to be easier ways to make money in this business."
Joe turned to repair work, found he enjoyed it, and started to trade in used guitars as well. "Doing repair and buying and selling used instruments is really an education itself, which you really should be doing before you're building guitars. I kind of approached it backwards at first. Dealing with all these older guitars forces you to study what came before. And also it forces you to interact with the customers—and they'll certainly tell you what they want or don't want. It all makes for a good foundation to then design and build your own guitars."
First came marriage, a move to the Detroit area, and his store, Joe's Guitar Exchange & Repair. That lasted about a year, until Joe started to wonder about manufacturing. He launched J.F. Naylor Engineering speakers, and then around 1994, he converted the store and started Naylor Amplifiers.
"We were one of the first if not the first to do a Marshall-style boutique hand-wired amplifier, the Naylor Super-Drive Sixty," he says. "The guy who did the amp repair for us when I had the store was Danny Russell, a Marshall amp expert and to this day one of the best amp techs that I know of. So we collaborated, and that's how we came up with the Naylor amplifier. But I think the market was more confused than anything," Joe adds with a laugh, "it was like: 'How come this is $1,400?' We did OK, though, and it resonated with a few high-profile players, like Ron Asheton, George Lynch, Steve Stevens, Kenny Olson, Joey Mazzola and Mike Cross of Sponge, and Jag Tanna of I Mother Earth."
The amp partnership ended, Joe sold his interest, and in 1997 he started Reverend Guitars, at first operating in the same ex-store and ex-amp-making premises in Eastpointe. The amplifier episode wasn't planned—it just sort of happened. It was guitars that Joe always aimed to build. So he thought that now he really ought to try what he originally wanted to do.
Joe knew he'd have to compete, to come up with something he could produce relatively easily in a small building. In short, he had to get resourceful. He didn't have the large sums needed to buy a state-of-the-art facility with CNC machines and spray booths and so on. How could he do this?
His first idea was to eliminate painting, pretty much the toughest job for any electric guitar maker. So he came up with a body design that did not require painting. It had a moulded rim, onto which a pre-finished laminate top and back was added. This would be trimmed up, routed out, the hardware put on, and that was pretty much it. He wanted a guitar he could make in the US and sell for just under $500. "And aside from that," he says, "it was a very unusual looking guitar."
He admits to a fascination with old Danelectro and Silvertone guitars and their small semi-hollow bodies. He had a couple of Dano-made Silvertones and was amazed by their sound. "Both of them sounded incredible, and I figured out it was because they resonated. You could literally feel the body resonating every time you strummed."
That Dano resonance was a quality Joe tried to duplicate in his quest for resourcefulness. "I guess in a way I was trying to do something similar, to see what I could do with what was available—inexpensively, but more modern, with nicer hardware and nicer build quality. That's what led to the body design of the early Reverends, which I ended up getting a patent on—I called it the High Resonance Body."
One of the first Reverend catalogues described the body: "A wood-based phenolic top and back are laminated to a six-inch-wide white mahogany centre block, to which a small steel sustain bar is embedded." Joe laughs when I ask him what exactly wood-based phenolic is. "Sounds a lot nicer than Formica, because that's what it was. An early attempt at marketing, I guess."
A Reverend Avenger from 1997, the company's first year. Photo by
Asbell Paul
.
And the center block makes us think of a 335, right? He explains that the block goes the length of the body, with a cutout in the mid treble-side where the pickups and wiring go. "We also do a little cutout into the mahogany at the opposite end of the neck, where we would bolt a small block of steel, which weighed about half a pound. That helped the sustain quite a bit, but it also balanced the guitar. It wasn't part of the original plan, but the guitar was so light that it was neck-heavy without the steel block. That definitely increased sustain, and of course it fixed the balance issue."
Joe recalls maybe a dozen different prototypes to reach the final design. He'd started thinking about this type of construction back at the Roberto-Venn School of Luthiery, so the notion had been rattling around his head for 10 years or so. Leading up to Reverend, he experimented with different materials to check their effect on sound. He recalls trying tops of acrylic or aluminum, center blocks of pine, mahogany, or redwood.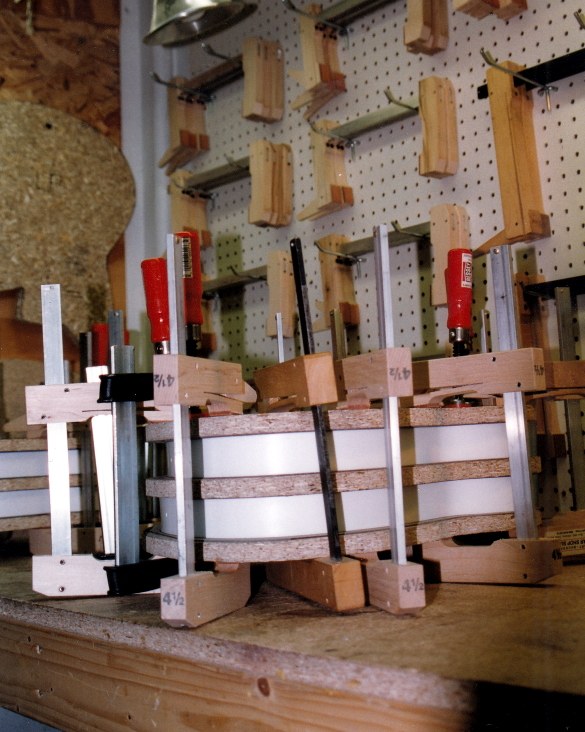 Bodies being glued-up and clamped. Photo courtesy Joe Naylor.
"I remember one with an aluminum top and back and a center block of foam, like the construction foam you'd insulate a wall with. But that resonated so much it sounded like a 12-string," Joe says, adding with a smile: "Also, if you leaned too hard on the body you'd leave a dent."
With body construction decided, shape was the next consideration. At first, he was all over the board. He began with some single-cutaway ideas but quickly shifted to double-cutaway, mostly for balance, because he wanted a long upper horn to avoid a heavy neck. The Reverend shape he landed on had its influences for sure—some Fender here, a little Rickenbacker there—but Joe's prime intention was to draw enough from the classics to provide familiarity but add enough of his own flair to create something original, which is not as easy as it might sound.
He suggests that it's a matter of straddling the line between weird and unique. And that is a fine line. "Customers are very finicky about that," he says. "And the first thing they look at is the aesthetics. A guitar is something you wear. It's almost like buying a shirt, you know? So if the aesthetic is not spot on, then the sale's over, they're not gonna buy it."
People often ask Joe what the most challenging thing is about designing guitars. "I always tell them the hardest thing, first off, is the body shape. And then the second hardest thing is the headstock shape. And then maybe the pickguard shape after that. There's a certain aesthetic balance that, when you see it, you know you've got it. But the hardware, electronics, all that stuff—none of that stuff has changed a whole lot from the '50s. Obviously, hardware has advanced quite a bit, but the hardest part is making it look like something someone will buy."
Joe recruited Kent Armstrong's WD Music to supply pickups. The types and combinations defined the major differences between the original Reverend models. This, too, was part of the drive to build something as efficiently as possible, and in this case that meant universal pickguards that simply had different pickup sets in them. The debut models included the Avenger, with a Strat-like layout; the Avenger GT, with two Strat-style single-coils and a bridge humbucker; the Commando, with a slanted lipstick at the neck plus bridge humbucker; the Rocco, with two humbuckers; and the Slingshot, with two P-90-like pickups; plus a couple of basses.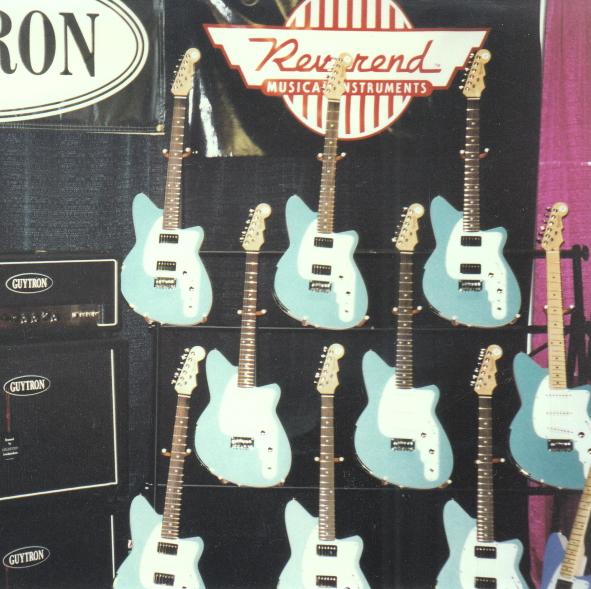 Reverend's first NAMM booth, 1997. Photo courtesy Joe Naylor.
Reverend guitars—the brand name came when Joe saw a feature on Reverend Gary Davis in a blues magazine—were first seen in public at a NAMM trade show in July 1997. Joe recalls this as a pivotal event in the firm's early history. "My wife, Kristen, and I rented a 20-foot moving van, packed it full of guitars, drove it to Nashville, and set up our booth. We filled it entirely with turquoise guitars. That was the only color we brought. We thought it was the coolest color and that no one could ignore a booth full of turquoise. And it worked! We landed about a dozen dealers, some pretty big ones—and I thought OK, maybe I'm not so crazy after all. Maybe this can work. I'm sure Kristen was quite relieved as well."
There was a natty Two-Tone Teardrop case in line with some of the deco leanings of Joe's design vibe. At first, all Reverends had a banjo-style armrest, a Gretsch-like chromed guard that sat on the top body edge where your arm might reside. Joe says people either loved that feature or really, really hated it, with not a whole lot of undecideds. His own view is that you can never have too much chrome on a guitar. "That's how we think in Detroit! The Cadillac line of thought. More chrome? Why not."
Finishes for the phenolic tops soon blossomed into a vibrant array of possibilities. By the year 2000, options included Fireball Red,Powder Yellow, '69 Lime Green,Deep Purple, as well as some glittery metal finishes, from Engine Turned Aluminum to Bug Eye Black Chrome and Lava Swirl to Diamond Plate. These were achieved with aluminum bonded to phenolic laminate described by the catalogue as "a three-dimensional finish and a unique tone with increased attack, sustain, chime, and harmonics."
The metal finishes did quite well, Joe says. "The Bug Eye Black Chrome was definitely the most popular, and probably one of the most popular finishes that we did during that era. At one point, in fact, we decided to do all metal finishes and discontinued the regular colors—though I'm not sure it was the smartest move as we got a little pushback on that. But nobody had really done anything quite like those finishes."
Shop manager Kraig Sagan routing body cavities. Photo courtesy Joe Naylor.
Those standout finishes helped the visibility of Reverend in the early years of the company, but also some notable players began picking up on the guitars. Joe mentions a few of the early adopters: Ron Asheton of The Stooges; Carl Verheyen, the LA studio ace; Henning Rümenapp of Guano Apes; Jeff Ross, with Candye Kane; Billy Corgan of Smashing Pumpkins; and Rick Vito, then in Bonnie Raitt's band.
Billy Corgan tells me he met Joe at a trade show in 1999. "We just hit it off," he says. "I think I bought five guitars and basses that day, and I used them almost immediately on what became the Smashing Pumpkins album Machina." The Reverends Billy acquired were a mix of Slingshot guitars and Rumblefish four and five-string basses.
"What attracted me to Reverend was the build quality of the guitars," he remembers, "and the unique use of materials at that time. Sort of a new take on old instruments that felt fresh." And how did they fit in with his other guitars at the time? "The Reverend tones seemed smoother and had more depth than my normal '70s Strats," he concludes. "Let's call it a different kind of clarity."
Rick Vito had a fine guitar design of his own, the deco-drenched Streamliner. He'd had the custom one-off built in the late '80s by Toru Nittono, a Japanese luthier who worked then as a repairman at Norman's Rare Guitars in Reseda, California. Rick's inspiration for the distinctive look of the Streamliner came from the deco lap-steels of National and Supro. "I love the deco era," he tells me. "I love how it morphs into mid-century modern, '50s style, how it even in a way entered into the early part of the '60s. It's my favorite period of design." Rick debuted his Streamliner when he joined Fleetwood Mac in 1987.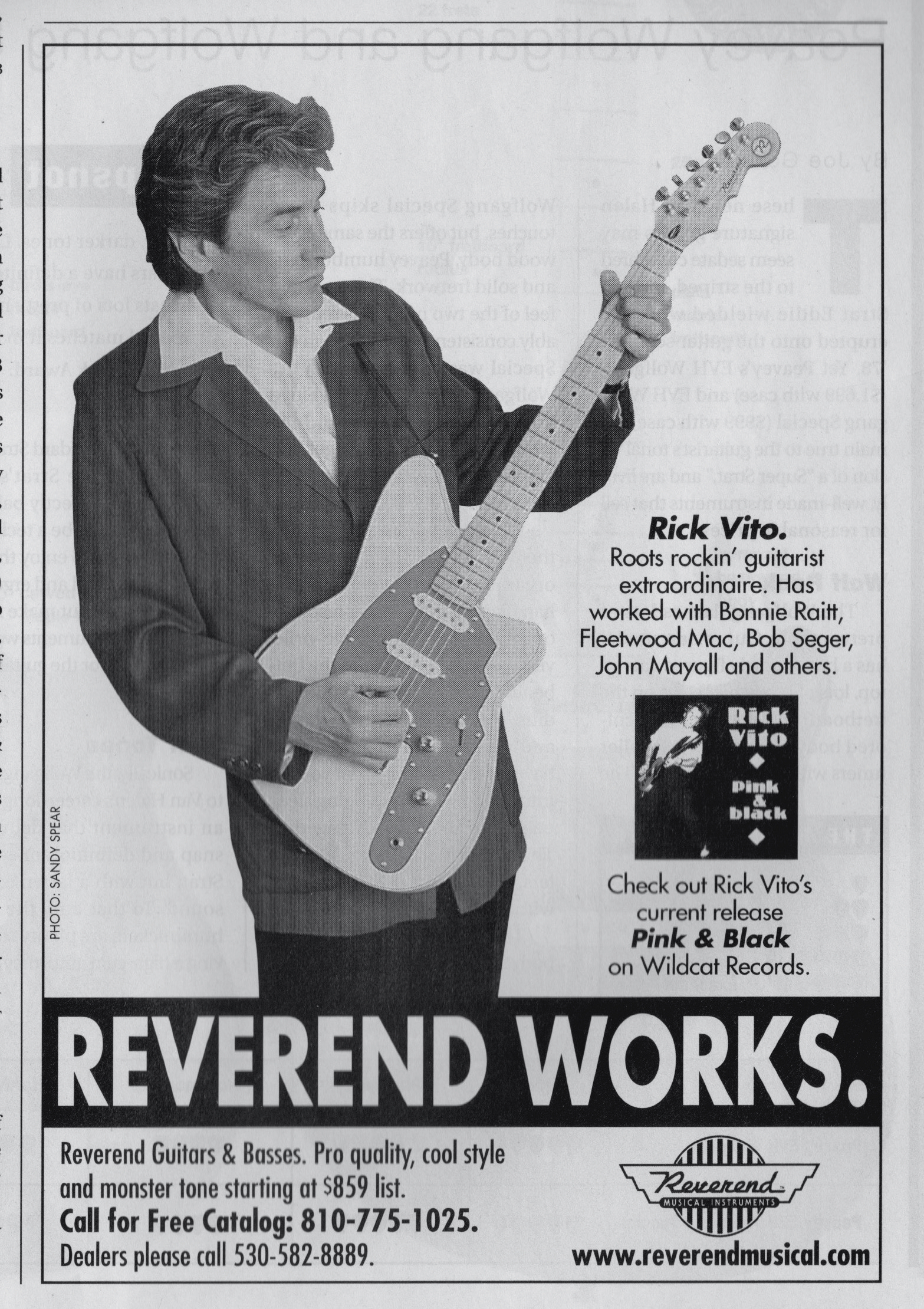 Rick Vito ad, 1999.
"That guitar was a pleasure right off the bat, it just worked, and I've used it on tons of recordings and tons of tours," he says. By the time he came upon Reverend Guitars in the late '90s, his main slide guitar was a '56 Les Paul TV—the instrument he'd used in the studio for Bob Seger's "Like A Rock"—plus a James Tyler Tele with two custom-wired humbuckers. He also had an original Burst, Broadcaster, and Nocaster. "I've always been a vintage guitar collector and user, always loved traditional as well as trying to go into my own realm a little bit."
Those collectables became too valuable to trust to the vagaries of touring, and his fears in that direction helped steer him toward Reverend. "They were making quality guitars that I wouldn't feel uncomfortable about bringing on the road," he explains. A friend showed him a cool black Reverend with lipstick pickups, and toward the end of '98, as he was about to go out with Bonnie Raitt in Europe opening for Eric Clapton, he called Joe.
After trying a lipstick-equipped Reverend Spy on that tour, Rick switched to a Slingshot, with P-90s. "I loved it," he recalls. "It was everything I'd said I was hoping for. Played like a dream, sounded great. The Kent Armstrong P-90s they used had a little bit of a brighter sound than your average dark P-90—sort of a cross between a P-90 and a little brighter Fender-ish sound. You could really control it by rolling off the tone a bit to get more into Gibson, and if you had it full up it was slightly more Fender-ish."
Further Reverends followed for Rick, among them a Slingshot with a pink front and black back, to chime with his Pink & Black solo album, and a Rocco with a palm motif on an aluminum front. "They had a Fender-style C-shape neck at that point, very comfortable to play. They used really nice medium-jumbo frets, which made it even more easy to play, and I loved the lightweight quality of the original guitars, which were chambered on the inside. I used to hear people say you need the density of the wood and all that. Well, you don't need that to have a great sounding guitar, and the Reverends proved it to me."
Joe points out that a lot of the players that Reverend started working with in this early period are still on board today. Rick and Billy are good examples—the current line includes the Billy Corgan Signature and Billy Corgan Terz models as well as the Rick Vito Signature Soulshaker.
Back in the early days, as the word spread, the practicalities of running a guitar-making business became more evident to Joe on a day-to-day basis. "When you build a guitar from the bottom up, there's so many suppliers you've got to deal with," he says by way of example. "Building one guitar I think involved maybe 36 suppliers, or something like that, when you count everything—hardware, screws, plastics, wood, and all the rest."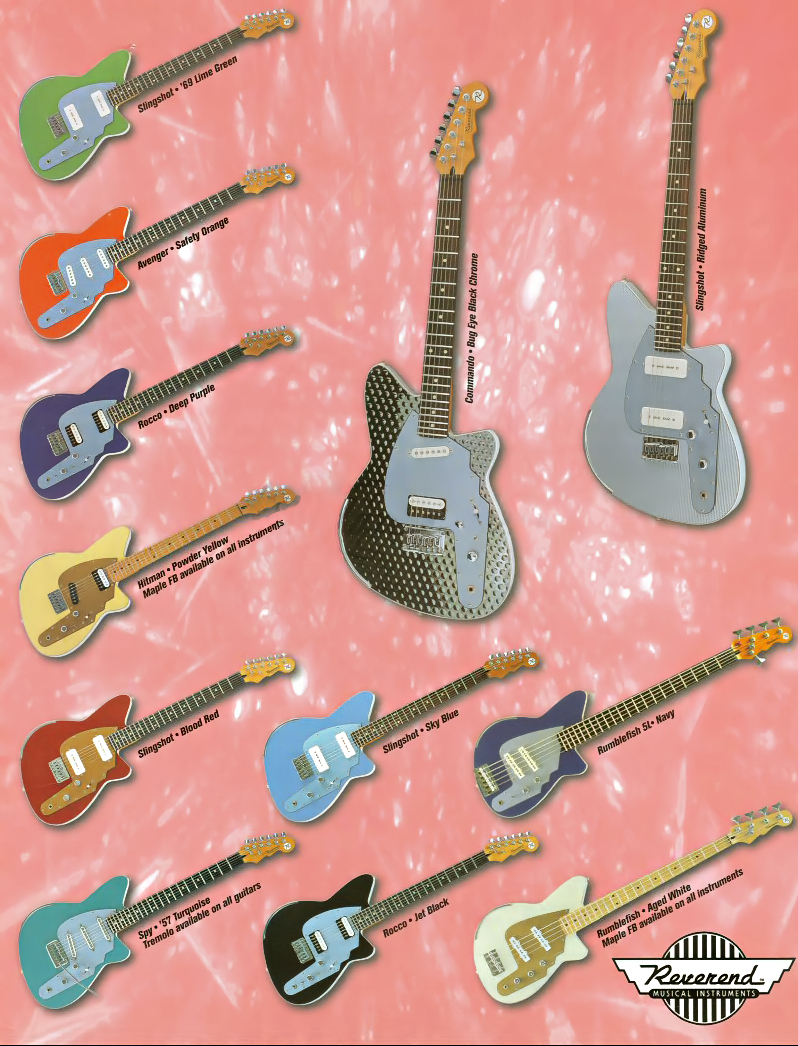 Reverend 2000 catalogue cover.
It was a running challenge to keep all that organized, to keep the supplies flowing, to ensure they did not run out of essentials. On top of that, somebody had to sell the guitars. At first, besides running the company, Joe was the guy selling everything. And then on top of that, he found himself going to a guitar show every six to eight weeks or so, and that usually involved driving across the country. "So," he pauses and laughs, "well—it was very grassroots in the first few years."
Slowly and satisfyingly, Reverend guitars began to enjoy growing success in those formative years at the end of the '90s and into the 2000s. "We just wouldn't go away, for starters," Joe says, laughing some more.
"The guitars were very unusual, and even if you didn't like them, you never forgot them. You always remember Reverend—because you love it, or you think it's ridiculous. We were able to put our name on the map pretty early on, because they were so unique. We were doing advertising and promotion, and we ran the infamous Kid Rock ad in '98, where he's flipping the bird. And that really put our name on the map. They say there's no bad publicity, and we went with that. Everybody knew who we were, right away!"
By 2005, Reverend was ready for a sweeping change. The brand began to offer an imported line, at first called the Stage King series, and the following year Reverend officially discontinued all USA guitar production. Building at home had become more and more expensive.
---
Reverends on Reverb
---
"By the time we discontinued the US guitars, they had almost tripled in price from the original '97 price," Joe says. "That was simply down to just labour and supplies. It became impossible to build them here and still keep it a high-value at least mid-priced guitar. We were no longer able to hit that target. Sales were already starting to decline, and of course by then all the competition had already started importing. So we were already a little bit behind the curve. It was just an inevitable situation."
Joe had taken a solo visit to NAMM where he went around asking people who they were working with, and then visited all the import Asian manufacturers' booths, inspecting everything in detail. Everybody he talked to kept pointing him to Mirr Music of South Korea. They had a good reputation and, crucially, were capable of doing custom work.
When Joe talked to Hank Cho, who runs Mirr, Hank said he could build anything Joe wanted. "He told me if I sent him a drawing, he could do it, no problem. So he was very open to custom designs, and he could do them in reasonably small quantities, too. Some of these guys won't talk to you unless you're doing a few thousand guitars a month or something like that, and we were nowhere close to that when we started out with the import thing. He could do custom and he could do low quantities. It was kind of a no-brainer."
But this all marks the start of another story for another day. We'll leave Reverend for now at the turning point of their first era, in 2006, and on the cusp of the success that continues today amid a much-expanded line (and a record sales year in 2020). In 2010, Ken Haas became CEO and Penny Haas became COO, but Joe is still very much the brand's chief designer, and the firm is headquartered in Toledo, Ohio, following a move in 2015.
Back in the late '90s, when Joe saw the first Reverends completed and ready for shipping, I wonder if he ever thought he'd be here now, still busy designing, developing, and supporting Reverend guitars. "I did," he replies, with a refreshing absence of false modesty. "I felt like we had longevity, and when Ken became CEO and I was allowed to just design guitars, that put me in a very comfortable situation where I could do what I feel I do best. And not have to worry about running the company. That's when I felt that this could go for a long time."
---
About the author: Tony Bacon writes about musical instruments, musicians, and music. His books include History Of The American Guitar and Electric Guitars Design & Invention. Tony lives in Bristol, England. More info at tonybacon.co.uk.