Jimi Hendrix (1967). Photo by: Michael Ochs Archives,
Getty Images.
Editor's note: This post was originally published in June 2021. In celebration of Hendrix's 80th birthday this month (the legendary guitarist would have turned 80 this November), we are resharing it. Read all of our Hendrix-related Reverb News articles here.
That favorite guitar of yours over there, is it worth more to you in one piece or smashed to bits? It doesn't take a genius to determine your likely answer. You may be surprised, however, to hear that some people disagree. To demonstrate, we're going to consider as a case study a certain Fender Stratocaster owned at one time, apparently rather briefly, by a certain James Marshall Hendrix.
It's June 1967, and love is all around. Jimi Hendrix is dressed in his brilliantly colored stage clothes and is busy tuning guitars in a dressing room backstage at the Saville Theatre in London. In the distance, he can hear Procol Harum playing in the main hall. He moves methodically between his main Strats and a Flying V, but also he prepares a special Strat that he plans to sacrifice at the end of his set in the evening performance.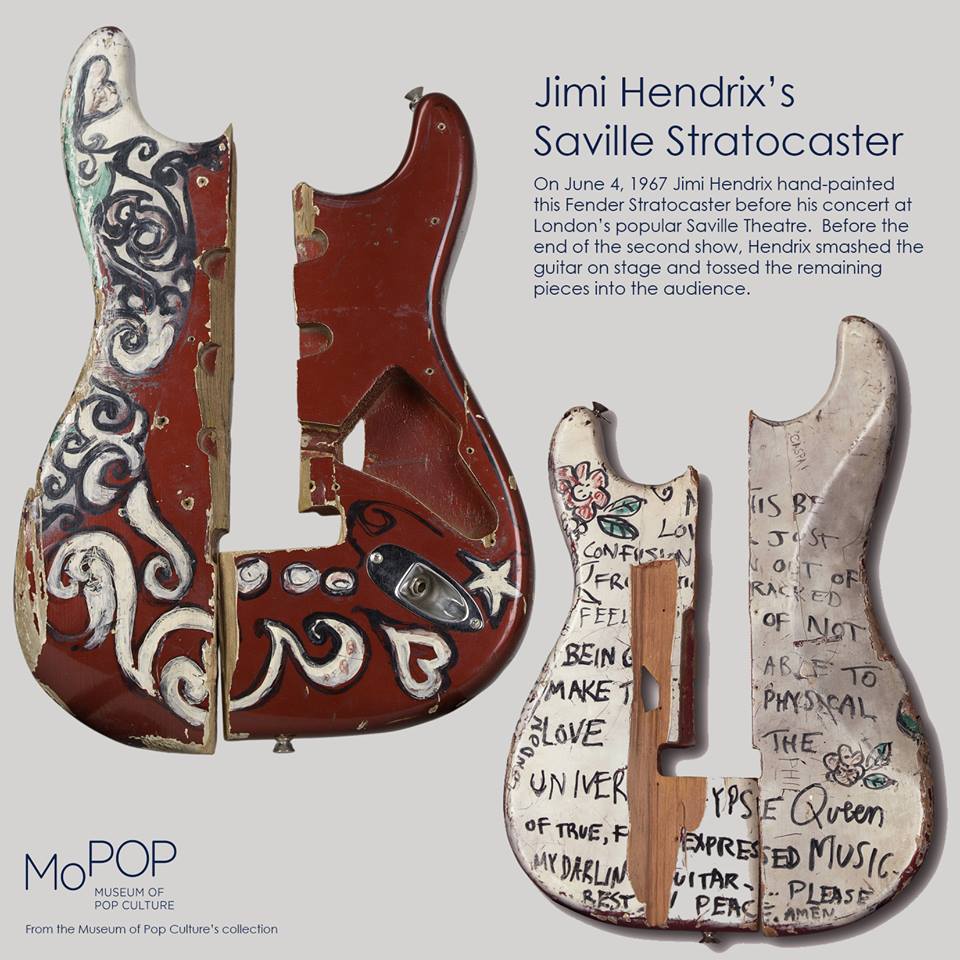 An ad for the Saville Strat exhibit at the Museum of Pop Culture, showing off the splintered remains of the guitar.
Jimi arrived in London from New York in September the previous year, 1966. With his manager Chas Chandler, he soon recruited Noel Redding and Mitch Mitchell to form the Experience, where he played Stratocasters right from the start. In our case study here, however, we'll focus on an example with a Candy Apple Red body that became the sacrificial Saville guitar.
Jimi and his roadie were in the habit of exploiting Fender's bolt-together construction and would swap bodies, necks, pickguards, and more to make amends for the damage Jimi inflicted during his wilder on-stage antics.
Regardless of where the bits and pieces of this particular guitar originated and how long they'd been mated, we do know how much guitars cost back in the mid-'60s. A brand new custom color Stratocaster similar to Jimi's red one had a UK list price then of £180/12/0. That's 180 pounds (£), 12 shillings (after the first /), and zero pence (after the second slash), which decimalized Brits would write later as £180.60.
In London in early '67, Jimi would have shelled out between about £60 and £100 for a secondhand Strat. In February, for example, the Pan shop above London's Flamingo Club advertised a "Fender Stratocaster, good, red" for £65. Let's assume this was about the price the Saville guitar cost The Jimi Hendrix Experience. It didn't stay "good" for long, though, because Jimi managed to whack a large split in the body during a lively Scandinavian gig in May.
The damaged Fender seemed beyond repair, but Jimi decided to make good use of it. The Saville show was the last British gig before the band went off to the United States until August—including the Monterey Pop Festival where he would destroy another decorated Strat—so he wanted this gig and this guitar to mark a sort of farewell.
Jimi painted the front of the battered red Strat with black and white swirly foliage and hearts. The back he painted over in white, handily covering the split, and he added a couple of flowers and a message in black marker pen: "May this be love or just confusion, born out of frustration-wracked feelings of not being able to make true physical love to the universal gypsie queen of true, free expressed music. My darling guitar, please rest in peace. Amen." Jimi wrote the date and location of the gig alongside.
Hendrix playing "Sgt. Pepper's," not at the Saville.
At the Saville, Jimi's trio went on to play their final set. Knowing that Paul McCartney and George Harrison were in the audience, they opened with a cover of "Sgt. Pepper's Lonely Hearts Club Band," released a matter of days prior. After a delay caused by problems with mics and amps, they soldiered on and finished triumphantly with "Are You Experienced." During that finale, a roadie had the prepared Strat ready.
"A packed Saville Theatre audience erupted on Sunday night as Jimi Hendrix announced that this would be his last gig in Britain "'for a long, long time,'" Hugh Nolan reported in Disc and Music Echo, "and then [Hendrix] proceeded to smash a beautifully-painted guitar and hurl the pieces into the clamoring crowd—a guitar he'd painted in glorious swirling colors and written a poem on the back dedicated to Britain and its audiences. Bathed in a flickering strobe light, he crashed the guitar about the stage and hurled what was left of it to eager souvenir-hunters in the audience."
Those souvenir hunters evidently saved their treasure for nearly 25 years. Let's jump forward to Sotheby's auction house in August 1991. Lot 420, to be precise: "Two Pieces of a Guitar Smashed by Jimi Hendrix, 1967." Perhaps the owners perked up the previous year, 1990, when a Strat—sold as the guitar Jimi used at Woodstock—went for a record £198,000 (about $325,000 at the time).
Maybe that persuaded them the time was right to have a rummage in the attic. They were right to do so. The auction estimate for an "incomplete body of a Fender Stratocaster," along with an accompanying Saville concert programme, was £4,500–£6,500. The two halves, split right along Jimi's original Scandinavian crack and with most of his poem intact on the backs, sold for a hefty £29,700.
There are a few ways to work out what a historical amount of cash might be worth in today's money. None of them are precise, which is hardly surprising, because the calculations involve things like average earnings—but how average is average?—and treacherous mathematical stuff like price indexes and inflation fluctuations.
With those caveats in mind, such calculations can give us a rough idea about the then-and-now of the sums we've been juggling.
* The Saville Strat would have cost the equivalent in today's money of about £3,800/$5,300 when it was a new guitar in the '60s (remember that original £180.60?).
* You'd need to have about £1,200/$1,700 today to match the 65 quid or so Jimi paid when he picked up the Strat secondhand around the early months of '67.
* The £29,700 realized at auction in 1991 for the dismembered body parts would be about £68,000/$96,000 in today's money. As for what it might make if current owner, the MoPOP Museum of Pop Culture, in Seattle ever decided to sell—well, shall we guess at comfortably six and possibly seven figures?
* And suppose Jimi never smashed that guitar. Let's presume its true identity was lost over the years as it was sold and traded around. Such a relatively anonymous mid-'60s Strat in Candy Apple Red could be yours, for sure, just so long as you can afford today's ticket price for this kind of collectable. Let's say around £15,000/$22,000 or so—depending on the exact year, originality, and condition, of course.
Fed up with figures? Right, put down that favorite guitar of yours for a moment, and let me once more ask you the question we started with. Now that you know all this, do you still think your instrument is worth more completely intact, or could it soar in value once it's shattered in pieces?
Reviewing Jimi's Saville gig in 1967, the unimpressed music critic Chris Welch wrote in Melody Maker: "Running half an hour overtime, the group concluded with a freak-out of guitar smashing by strobe light. Bits of the guitar were then thrown into the audience for collectors, while Mitch's drum stand was left in a state of collapse. Own up lads, who needs all that?" What a pity Mitch Mitchell didn't put his collapsed kit out of its misery and smash it to smithereens. Who knows what all those bits might be worth now?
---
About the author: Tony Bacon writes about musical instruments, musicians, and music. His books include London Live and The Stratocaster Guitar Book. Tony lives in Bristol, England. More info at tonybacon.co.uk.
Buying Guide: Stratocasters
Learn everything you need to know to choose the right Stratocaster for you.
Learn More