When it comes to putting price tags on classic synthesizers, there are all sorts of factors in determining its value: condition, classic status, flexibility of its features are only just a few.
The synths highlighted below are among the most expensive to have ever passed through Reverb—and since the chances of us owning one of these ourselves is slim to none, we're also sharing some of the more affordable alternatives manufacturers make today.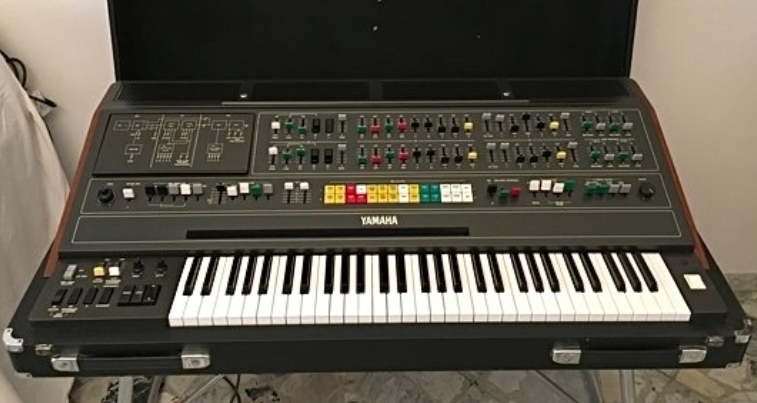 From "Billie Jean" to the Blade Runner score, the reputation of the Yamaha CS-80 precedes the classic polysynth. As one of the first to boast both velocity and touch sensitivity, it commanded the highest price in the synth market long before our site's inception. That in mind, it's only natural that the eight-voice beast commonly called Japan's first great synthesizer was the most expensive synth to sell on Reverb earlier this year at a whopping $45,999. Other CS-80s have sold on Reverb for $37,999 (in 2021) and $34,000 (in 2020).
Alternatives for the rest of us: The synth sounds most closely associated with the CS-80 can be easily reproduced on other less-overwhelming vintage polysynths, like Korg's DW8000 and Trident—but for those in pursuit of a faithful reimagining of the instrument should look no further than Black Corporation's Deckard's Dream rackmount synth, or its Eurorack synth voice equivalent, Deckard's Voice.
Inspired by the similarly monstrous ARP 2500 and EMS Synthi 100 before it, the architecture of the modular Analogue Solutions Colossus lives up to its name. With 12 oscillators and VCAs, 8 filters with dedicated envelopes, and a pair of 64-step sequencers, spring reverbs, and ring modulators, the Colossus harkens back to the days of early electronic production studios and practically has the look of a museum piece. This Colossus in question sold for $30,000 in 2021 and remains the only listing of the workstation on Reverb.
Alternatives for the rest of us: Though recreating the behemoth of the Colossus on a budget would pose quite the challenge, Analogue Solutions has a wide range of Eurorack modules, effects units, and desktop synths available on Reverb at regular price points.
When it was introduced in 1981, the Jupiter-8 arguably could have been perceived as Roland's response to the CS-80. Packing eight voices of polyphony and two oscillators per voice, split keyboard functionality, and Roland's iconic chorus effects, it quickly earned its reputation as the synth that serves as the soundtrack to the 1980s. This Jupiter-8 was modded to include MIDI functionality—not present on the original synth—and was sold earlier this year for an impressive $35,000, beating its Reverb record of $27,995 in 2021.
Alternatives for the rest of us: In recent years, Roland has offered a number of recreations of the Jupiter-8's sound, including the full-sized Jupiter X and the smaller-sized JP-08 desktop module. For more insight into getting the sound of the Jupiter-8 for less, check out our guide to some affordable alternatives here.
After Moog Modular systems were first developed in the 1960s, it wasn't long until other synthesists sought out successors. This Polyfusion System 2000 was built in 1975 and—according to its Brooklyn-based seller, who added a few modules to the original—was one of 30 systems ever built by their team. This rarity was sold on Reverb in 2019 for a total of $30,000.
Alternatives for the rest of us: For synthesists eager to take a deep dive into the pre-Eurorack era of modular synthesis, the Synthesizers.com (aka Dotcom) system format is their best bet. While it's much smaller than the Polyfusion System 2000, the Dotcom Portable 22 System will surely offer some of the classic thrills and is available for around $2,500 used.
When Octave-Plateau released the Voyetra-8 in 1982, it was among the first programmable rackmount synths—to this day, it remains one of the most versatile digitally controlled analog synths of its era. According to its Washington-based seller—who sold it earlier this year for $27,000—this Voyetra-8 was used on a variety of records, including Depeche Mode's Ultra and Pretty Hate Machine by Nine Inch Nails.
Alternatives for the rest of us: The Voyetra-8 is definitely a rare breed among the other synths on this list, but a large-format polysynth like the Behringer Deepmind or the UDO Super 6 may scratch a similar itch.
The only digital synth to make this list—a Waldorf Wave, first introduced in 1993—also happens to be among one of the most advanced wavetable synths of all time. This "shadow"-colored 76-key, 32-voice behemoth was formerly owned by Nickelodeon cartoon composer Drew Neumann, and it sold in 2021 for $29,999.
Alternatives for the rest of us: Wavetable technology has developed even further since the Wave was released—Waldorf themselves would follow it up with their Blofeld desktop synth, but if you're after an instrument with keys, consider Korg's recently-released Wavestate, or the ASM Hydrasynth.
Oberheim's Four-Voice—also known as the FVS-1—marked the start of a golden age for the legendary builder, boasting four dual-oscillator SEM modules complete with their own filters and envelopes (no small feat when it was introduced in 1975). This fully restored unit was sold for $20,000 shortly after it was listed in 2018, and the price for current listings is on its way to doubling that.
Alternatives for the rest of us: Oberheim has enjoyed a revival in recent years with the release of their Oberheim OB-X8, and in its previous collaboration with Dave Smith Instruments, the OB-6. For a deeper dive into Oberheim's lush instruments, check out their brand page here.
Anyone who has ever been hypnotized by Pink Floyd's "On The Run" has surely heard the sound of the EMS Synthi VCS3, a wood-cased three-oscillator monosynth complete with a matrix-based patch system. While it's the oldest in origin of all of the synths on this list, this particular VCS3 was a reissue built between 1999-2014 and made its way to a new home to the tune of $20,000 in 2019.
Alternatives for the rest of us: Erica's fully-modular Syntrx desktop synth does a great job of the experience of playing an EMS Synthi—better yet, it can also be used as a submixer and as an effects processor.