Photo by Chad Jenkins, courtesy of the artist.
Back around the late 2000s, Mark Lettieri was just out of college and playing guitar in a rock band with some friends, and when they decided to make a record at the local studio, the engineer asked Mark to add some extra texture with the studio's baritone guitar.
"I was familiar with the baritone idea," Mark recalls, "as I think most guitar players were, through country western music, movie soundtracks, that kind of thing. But this was the first time I'd ever used one, as a studio tool. Kinda cool—but I didn't think too much of it at the time."
PRS Fiore Mark Lettieri Signature Model Guitar
Cut to today, and Mark is a successful guitarist, most famously for his contributions to the instrumental band Snarky Puppy, who he's been working with since 2008, as well as a pile of session work with everyone from 50 Cent to David Crosby. And while his instruments of choice naturally center on regular guitars, not least his recent PRS Fiore signature model, he's also become a big fan of the baritone guitar. So much so that in 2019 he made Deep: The Baritone Sessions, an album dedicated to its distinctive sound, and then last year a follow-up, Vol. 2.
So, Mark, what exactly is a baritone guitar? "It's a guitar tuned to fall in the range in between bass guitar and standard-tuning guitar. Most baritones, if you were to get them in a store, would probably be tuned B to B. I tune a little lower, A to A, and sometimes I'll drop the low A to a G if I want to do the one-finger drop-D kind of voicing."
The other main difference to a regular guitar is scale length, and it's another factor that positions the baritone between regular guitar and bass—given that Fender, for example, mostly uses a 25 1/2-inch scale for guitars and a 34-inch scale for basses. "Most baritones have a scale length around 29 inches," Mark explains. "If you were to get a Danelectro baritone, for example, those have a 29.75-inch scale."
Which leads to the question of string gauges. For a baritone with one of those typical scales around 29 inches, Mark would use a 14 for the high string and a 68 for the low, and personally he'd tune that instrument A to A. He says, though, that you could just as well use a 13 to a 62, say, and tune it B to B. Some of the other baritones he owns, however, have slightly shorter scale lengths.
When he tours with his own Mark Lettieri Group and plays baritone music, he reaches for a PRS SE 277, named for its 27.7-inch scale. "It's a pretty good rock-sounding instrument," he reckons, "but it can get funky, and I replaced the pickups with some P-90s to brighten up the sound a little. On that scale I'll use a 13 on the top and a 72 on the bottom, so I can get some good rhythm tones and play some leads on it without feeling like I'm having to work too hard. I like lower gauges for the rhythm stuff, but sometimes, depending on what kind of leads I'm doing, you want a little bit of that loose feeling on the top end. Not too much, though, because then it's harder to keep in tune. It's all in the balance."
The PRS sits alongside several baritones in his collection. Another one he uses a lot is a Bruno Bacci Leonardo, from an Italian builder based in Tuscany. The Leonardo has a 29.75-inch scale, maple fretboard, and a Tele-like pickup layout. It's featured in many of Mark's videos, and he's very fond of the way that for him it nails the baritone funk rhythm sound.
He also has a Big Six. "That's a pretty wild fan-fret guitar from Hybrid Guitars out of North Carolina," he says, "and a real fun tool. Mine is Jazzmaster shaped, and it came tuned like a six-string bass, E to E bass octave, so that's how I use it, mainly for basslines. You can hear it, for example, on the pretty nimble bassline for a tune called 'Magnetar' on Baritone Sessions Vol.2."
How about your Supro Hampton Baritone, with its shorter 26.75-inch scale? "That has three gold-foil pickups and a cool Strat-y sound, so I use that sometimes. And I use my Danelectro '56 Baritone a little bit, too—because only a Dano sounds like a Dano," he adds with a laugh.
That was his first bari, bought after using one for some of the Snarky Puppy album Family Dinner (2013). "I got the Dano to have as part of my session guitar player arsenal and started incorporating it into my own music as well. Around 2015, I began to explore more of the funk/R&B side on the baritone, and that's when it became a different voice for me. I started composing what I call baritone funk music. Looking back, I remembered the Joe Satriani album [1995] and on I think 'Luminous Flesh Giants' there's a rhythm track played by Andy Fairweather Low on a baritone. It's a rock tune but it has kind of a funk groove to it, and Andy's playing a pretty cool syncopated baritone guitar part. I didn't learn it was a baritone until much later, but that always stuck with me."
Mark decided, as he puts it, to take things all the way to Minneapolis. Or thereabouts. His funky inspirations were Prince, George Clinton and Parliament, Sly & The Family Stone, Earth Wind & Fire—but played on a baritone.
Given the territory a bari inhabits, he finds it provides enough of the funk snap and attack of a guitar, but also the thump of a bass—which are pretty much his two favorite things about funk music, all rolled into one instrument. He says you need to fit baritone parts carefully into your overall arrangements, in a way that doesn't muddy the bass and avoids clouding up the guitar, but instead positions them in their own realm.
There's a useful trick that Mark employs to help keep those elements discrete. "On my studio records, I'll sometimes omit bass guitar altogether and use synth bass. Then, you can technically go even lower than a bass if you need to, with a keyboard, and of course you can manipulate the tone enough so it doesn't even sound like a guitar—obviously, because it's not a guitar."
Keep It On Your Mind - Snarky Puppy
There's a good example of this on the opening cut, "Keep It On Your Mind," of the most recent Snarky Puppy album, Empire Central. "I'm basically playing a riff the whole time, and it's myself on baritone, Michael League on a Moog, and Bill Lawrence on a Clavinet, all playing the same riff. Quite a sound!"
His two Baritone Sessions albums are glorious showcases for putting the funk into baritone. The idea took flight when Mark began to get active in social media around 2016, posting a lot of Instagram and Facebook videos. He decided to feature some little baritone jams he was making, because he felt it was something particular to him, and something he hadn't heard before.
In effect, he was writing minute-and-a-half jam videos, and they prompted quite a response on the socials. It took less than a moment for him to realize that what he was really doing was pre-production for an album, so he began to flesh out the jams into real tunes and started to record what became the first Sessions record. "That was almost like an EP," Mark recalls, "with seven tunes."
When it came time to make the second one, he decided to pull out the stops with a full-length album. "I called up a lot of my talented friends to play on it, and it was during the pandemic, so everything was done remotely. They recorded at their home studios or elsewhere, so nobody was in the same room playing together, which is pretty wild considering how everything turned out. The big influence for the whole record was late '80s/early '90s R&B and then—well, metal," he concludes, laughing. "Kind of all over the place a little bit, but I'm a product of my influences, which happen to vary quite widely."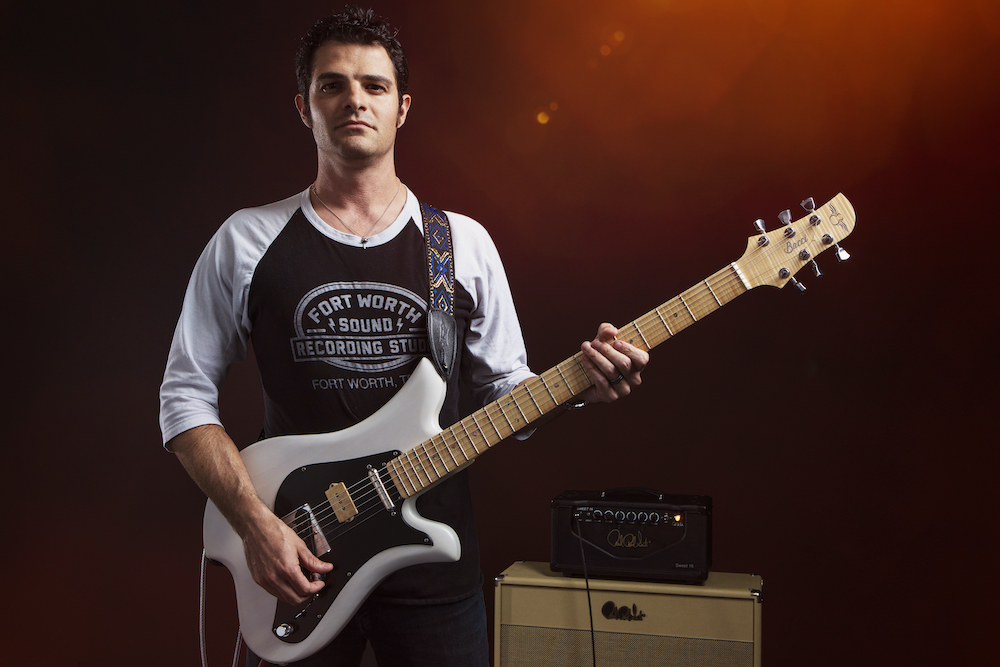 Mark Lettieri. Photo by Chad Jenkins, courtesy of the artist.
Mark's played baritones through loads of different amps, and he's pretty sure there's no such thing as a best amp for the purpose. "Recording-wise, if I'm doing it at home, I'll use a Kemper or a Neural DSP plugin. I've found out how to get some great sounds—plus it keeps the volume down at the house. No rattling windows. Amp-wise, you don't need to run baritones through a bass amp or anything like that. Just be mindful of how you EQ the amp."
Any advice for someone considering their first dive into the baritone world? "Get a guitar that's comfortable for your hand, and for your height, something that's comfortable for you to play," he says. "And start off just playing simple things. You don't need to dive straight away into baritone funk. Or maybe you do? I don't know—it all depends on your level. And maybe save the receipt in case you don't like it," he adds, laughing again. "I guess that would be my main advice, that if you don't like a baritone, it's not your fault. It's just not for you."
How about you, Mark? How does the baritone fit into your musical life these days? "It's like an alter ego," he says. "It's as if I've put on a costume, like an outfit. Sometimes I'm a jeans and T-shirt guy, sometimes I like to wear a suit. You know what I mean? It's all still me—I'm just presenting it in a different way. But if it's what sets me apart, and people want to identify me that way, I'm OK with that."
---
About the author: Tony Bacon writes about musical instruments, musicians, and music. He is a co-founder of Backbeat UK and Jawbone Press. His books include Flying V/Explorer/Firebird and Legendary Guitars. Tony lives in Bristol, England. More info at tonybacon.co.uk.