What's new in the world of gear? You can always be in the loop by keeping up to date with this page.
Bookmark this page and check back often. Or, visit Top Sellers & Recent Releases to find the best-selling new gear.
Synclavier Returns as a Desktop Synth
Check out Synclavier Digital's demo of the Synclavier Regen.
The Synclavier, once a very expensive digital sampling synth, was first introduced to the world by New England Digital (NED) in the late 1970s. At the time, only successful musicians—like Michael Jackson, Duran Duran, and Chick Corea—commercial studios, and sound designers could afford one.
But now the Synclavier's sound engine returns in Synclavier Digital's first hardware synth in 30 years: the Regen.
Handmade in Nova Scotia, Canada, Regen is set to reestablish Synclaivier's place on the Mount Rushmore of digital synthesis. The sleek desktop interface features a full color visual display, silicone-based select buttons and a patented slider control that mimic the ease of use on today's touchscreen devices.
The synth engine has been updated from the original Synclavier II DSP, and it is still based on both FM and additive synthesis. You can layer up to 12 different sound generators with unique effects per partial, with full support for polyphonic aftertouch and MPE. In addition, it comes with more than 250 "timbre presets" that include six artist timbre libraries containing hundreds of samples from the original NED era.
Regen is an ideal choice for anyone who wants the full power of the Synclavier II in a standalone form. It will be priced at $2,499—more than 10 times cheaper than the original Synclaviers—and is available now.
Get the new: Synclavier Digital Regen.
Shop all: Synclavier.
Learn more: Resynthesize Samples with Arturia Synclavier V.
ThorpyFX's ER-2 Is an Incredible Uni-Vibe
Watch Andy Martin put the "vibe" in Uni-Vibe.
Any guitarist that's ever loved Jimi Hendrix (and that's… all of us, right?) knows the power of a Uni-Vibe. ThorpyFX—makers of top-notch pedals of all kinds—just released its own Uni-Vibe in the form of the all-analog ER-2. It sounds absolutely great, with all the classic lamp-and-photo-cell vibrato and chorus you could dream of.
Get the new: ThorpyFX ER-2 Uni-Vibe.
Shop all: Browse all ThorpyFX.
Learn more: Video: A Brief History of Rotary Speakers & Pedals.
Fender Releases Limited Edition Cory Wong Strat
Fender has teamed up with Vulfpeck guitarist and producer Cory Wong to release two new versions of his limited-edition signature Stratocaster. The scaled-down alder body guitar follows in the footsteps of the Highway One Stratocaster that the funk maestro first fell in love with as a teenager.
It's outfitted with a maple Modern "D" neck, a set of Seymour Duncan Cory Wong Clean Machine pickups, and a vintage-style six-screw synchronized tremolo. It even comes with a hair tie for muting the tremolo springs, so you can easily replicate Wong's rhythm tone.
The guitar is available in two colors—Surf Green and Daphne Blue—and is shipping now at a price of $2,249.
Get the new: Fender Cory Wong Signature Stratocaster.
Shop all: Fender Strats.
Learn more: Video: Fender Precision vs Jazz Bass. Can You Hear the Difference?.
Boss' New Analog Delay Machine Is Here
Watch the official release video for Boss' DM-101
Boss' DM-101 Delay Machine is certainly not just an introductory course to delay. In what the company calls the "ultimate analog delay pedal," you get 100% analog signal processing for a dozen different modes, from Vintage to Ambience. And with stereo I/O, MIDI connectivity, and 127 user memory slots, you'll be amazed at how Boss has married the modern and digital with BBD circuitry.
Get the new: Boss DM-101.
Shop all: Browse all delay effects.
Learn more: Video: Analog vs. Digital Delay.
Erica Synths and Richie Hawtin Introduce Bullfrog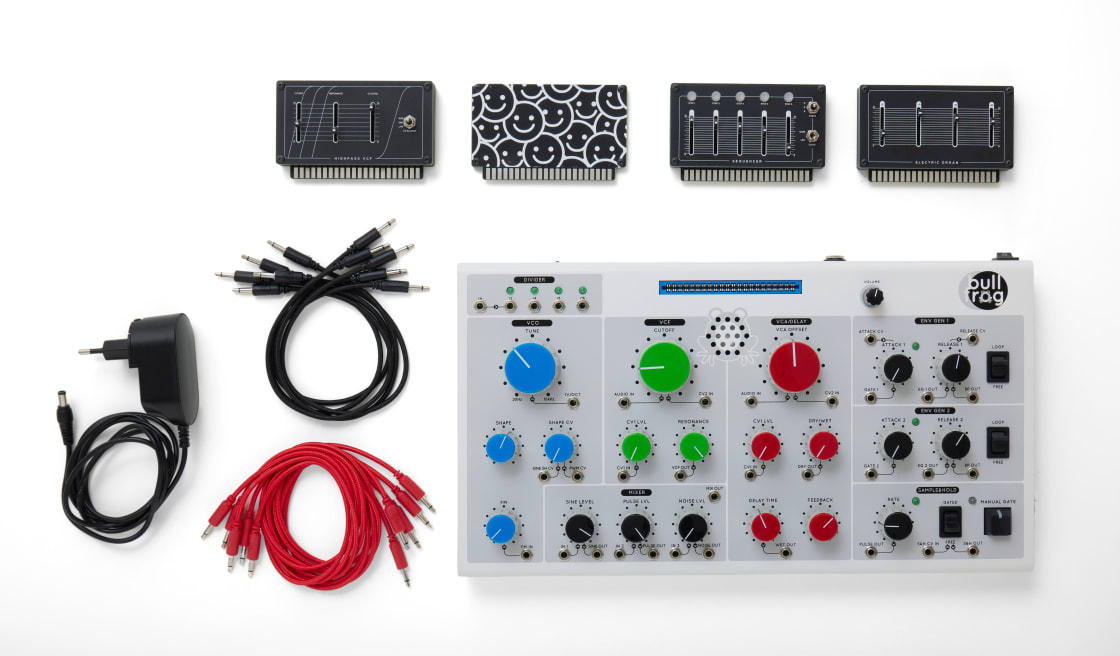 Techno legend Richie Hawtin and Erica Synths have collaborated on a new semi-modular analog synth designed to invigorate professionals and inspire beginners. At its core, Bullfrog is a classical subtractive synthesizer that comprises several modules for sound generation, treatment, and control, and with additional voice cards, you can add new functionalities such as sampling, looping, sequencing, or even adding a groovebox. The Bullfrog is expected to be available globally in early August.
Shop all: Erica Synths.
Learn more: EMS For Less: The Synth Market's Best Affordable Alternatives.
Moog Music Acquired by inMusic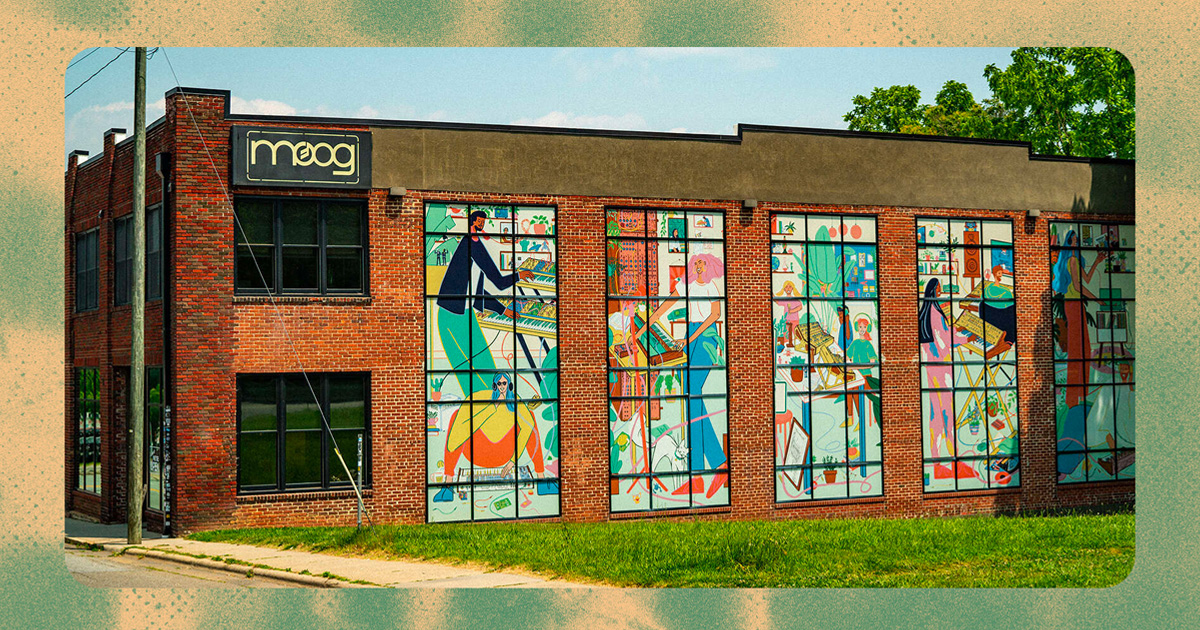 Legendary electronic musical instrument manufacturer Moog Music has been acquired by inMusic, which owns several acclaimed music technology brands, including Akai Professional, Alesis, Rane, and Numark.
According to a press release from Joe Richardson, president of Moog, the new chapter will help address manufacturing challenges faced by the company, while preserving Moog's own product development, innovations, and Asheville location. Under inMusic, they'll be able "to reach new communities and continue to push the boundaries of music technology."
Since 2015, Moog employees had owned stakes in the company through an employee stock ownership program (ESOP). With the sale to inMusic, anyone with shares has been bought as, as reported by CDM and confirmed by Moog.
Shop all: Browse Moog instruments.
Learn more: Moog's Missing Link: An Interview With Doug McKechnie.
Walrus Audio Releases Canvas Passive Re-Amp Unit
Mark Johnston gives a walkthrough of the Walrus Audio Canvas Re-Amp.
The concept of re-amping is powerful and the new Canvas Passive Re-Amp by Walrus Audio makes it incredibly easy. With an XLR output, a pair of 1/4" ins and outs, volume control, mute button, and other nifty features, you can re-amp recorded tracks with ease, and experiment to your heart's content.
Get the new: Walrus Audio Canvas Passive Re-Amp Unit.
Shop all: Walrus Audio.
Learn more: Basics of Home Recording: A Guide to Building and Using Your Home Studio.
Fender Announces Mikey Way Signature Jazz Bass
Fender Limited Edition Mikey Way Jazz Bass
Three cheers for sweet revenge. Hot off the heels of his band's glorious return to the stage, Fender has teamed up with My Chemical Romance bassist Mikey Way to release his signature Limited Edition Jazz Bass. Boasting a glamorous Silver Sparkle finish, "it's as if the bass jumped straight from my dreams into reality," Way said of his signature instrument. "It's my most favorite instrument I've ever played."
Get the new: Fender Limited Edition Mikey Way Jazz Bass.
Shop all: Fender basses.
Learn more: Video: Fender Precision vs Jazz Bass. Can You Hear the Difference?.
Epiphone Releases Emily Wolfe "White Wolfe" Sheraton
Epiphone Emily Wolfe "White Wolfe" Sheraton
Two years after first teaming up with Emily Wolfe on her signature Stealth Black Sheraton, Epiphone has released the guitarist and singer-songwriter's second signature instrument. The "White Wolfe" is the yin to her other signature Sheraton's yang: It's equipped with an Indian laurel fretboard and a striking headstock decorated with a mother-of-pearl tree of life inlay on the front and Emily's Wolfe logo on the back. "The White Wolfe is a showstopper of a guitar," said in a statement. "It's a true symbol of how bold and unafraid we can be as guitar players."
Get the new: Epiphone Emily Wolfe "White Wolfe" Sheraton.
Shop all: Epiphone guitars.
Learn more: Video: The "Forgotten" Holy Grail Epiphones of the '50s & '60s.
Squier's New Super-Strange Paranormals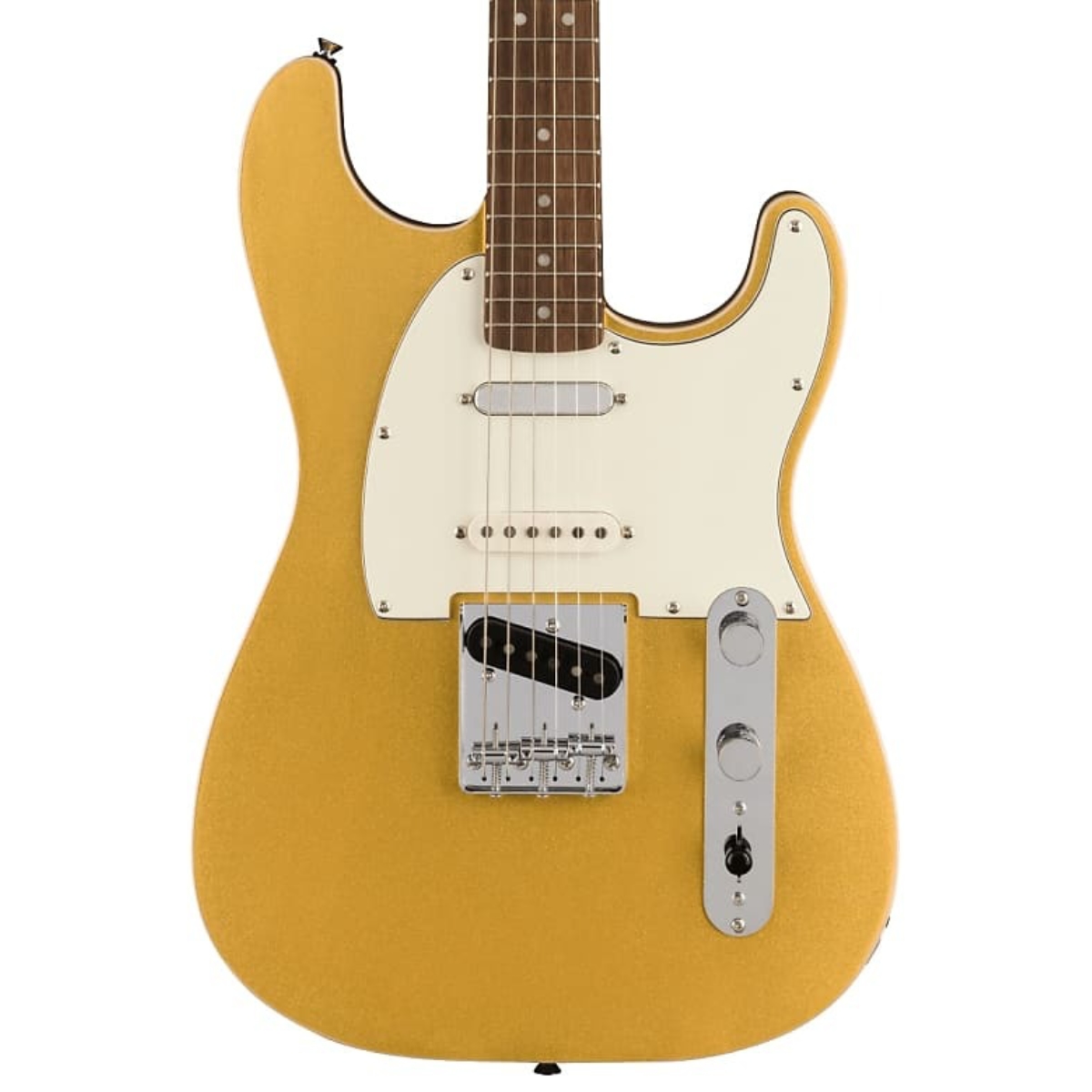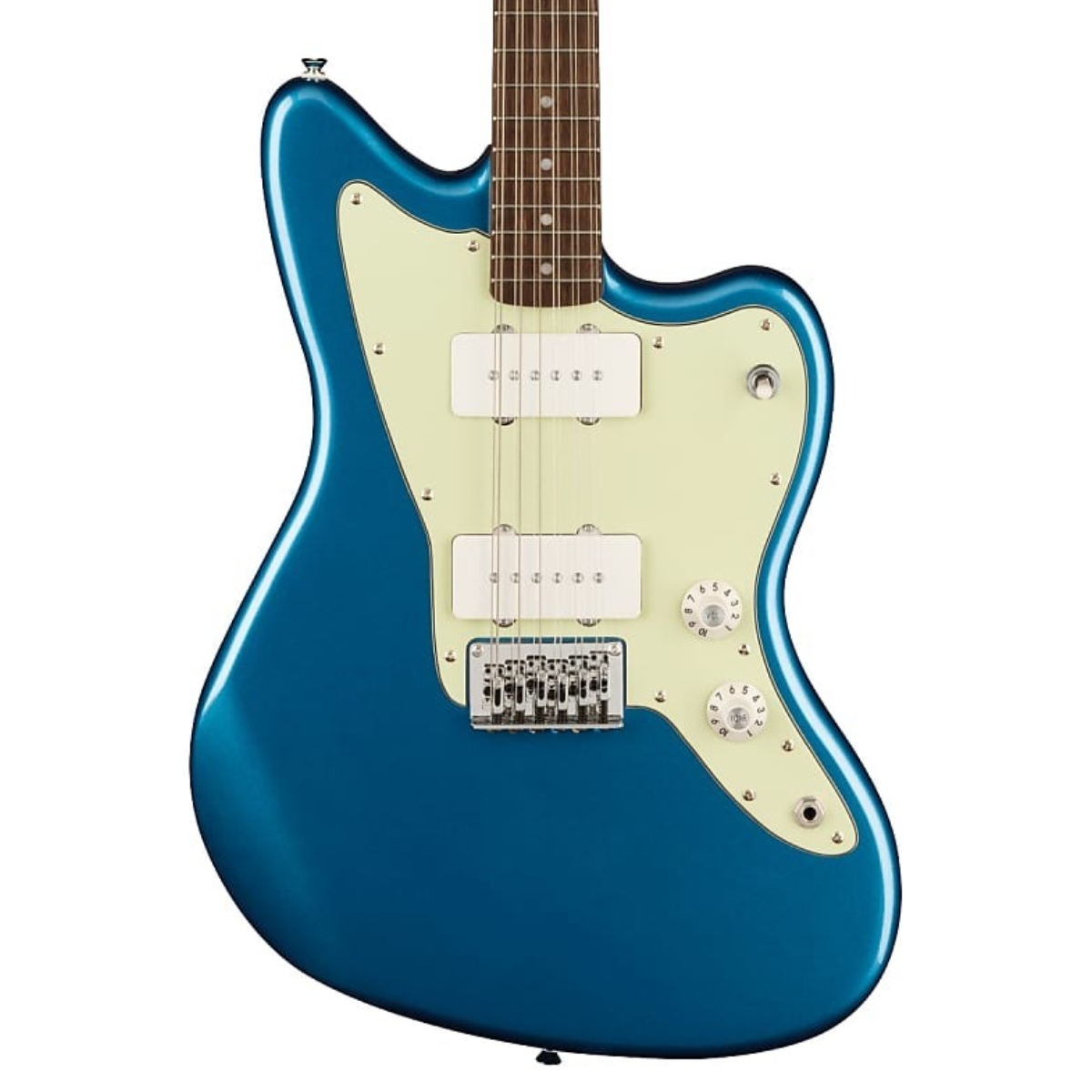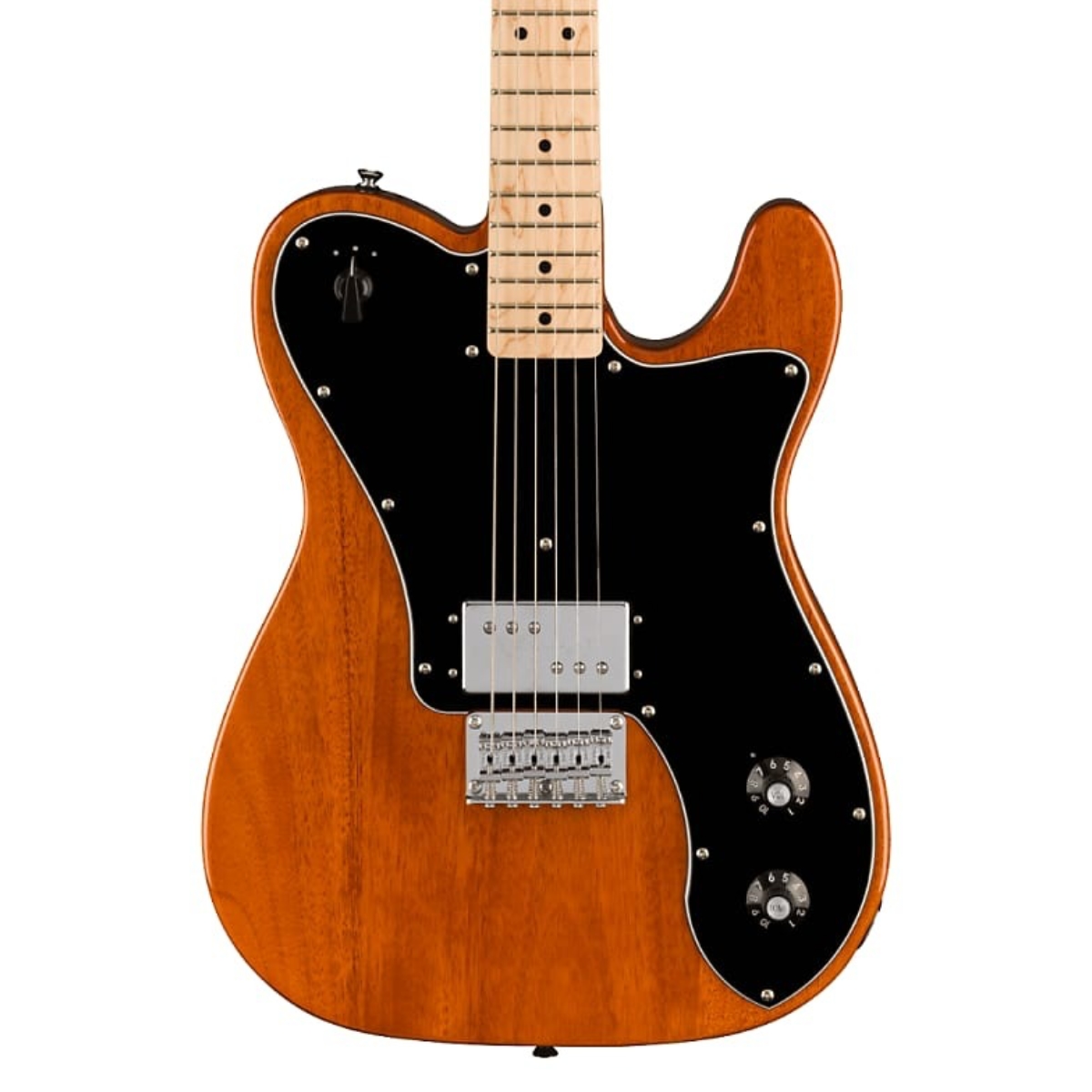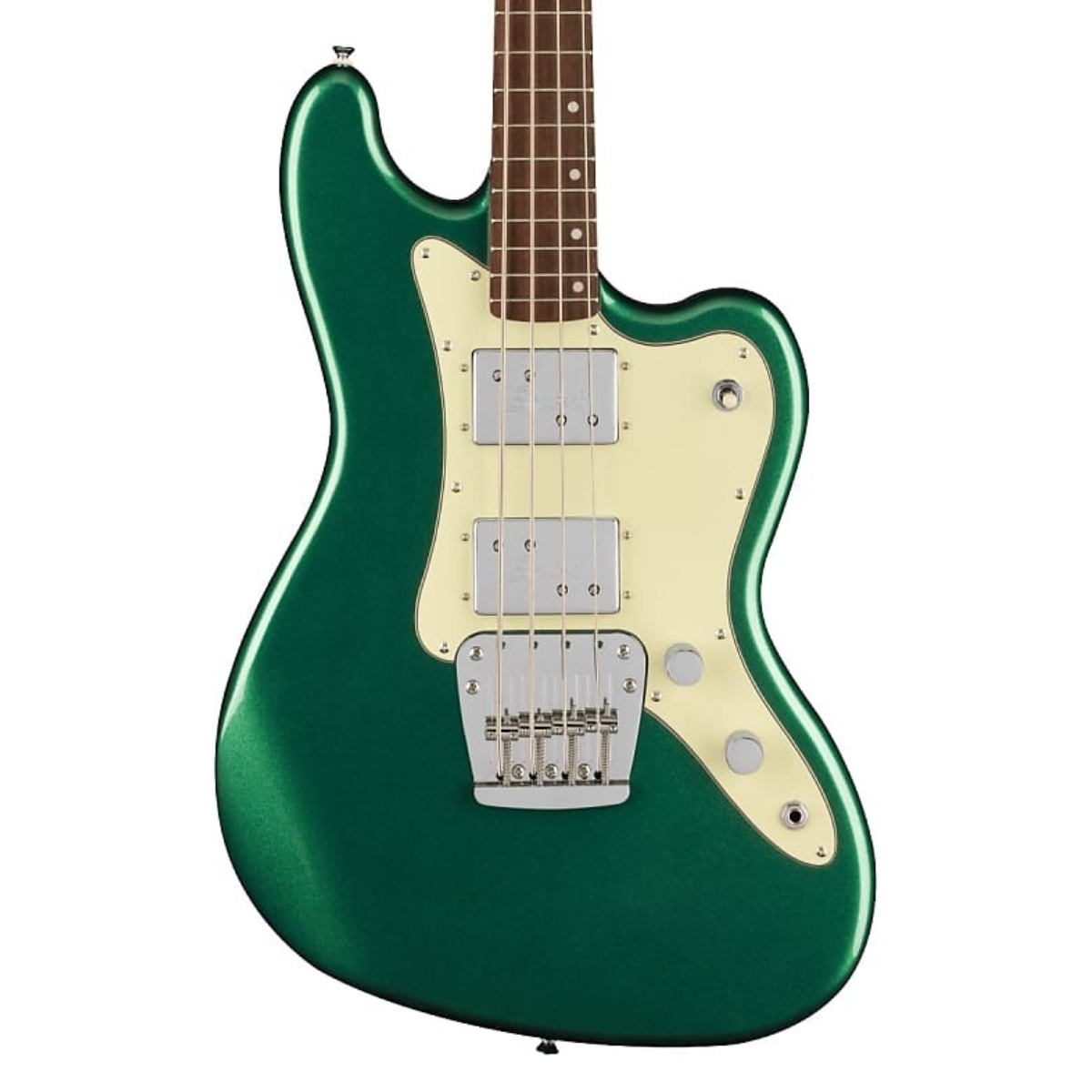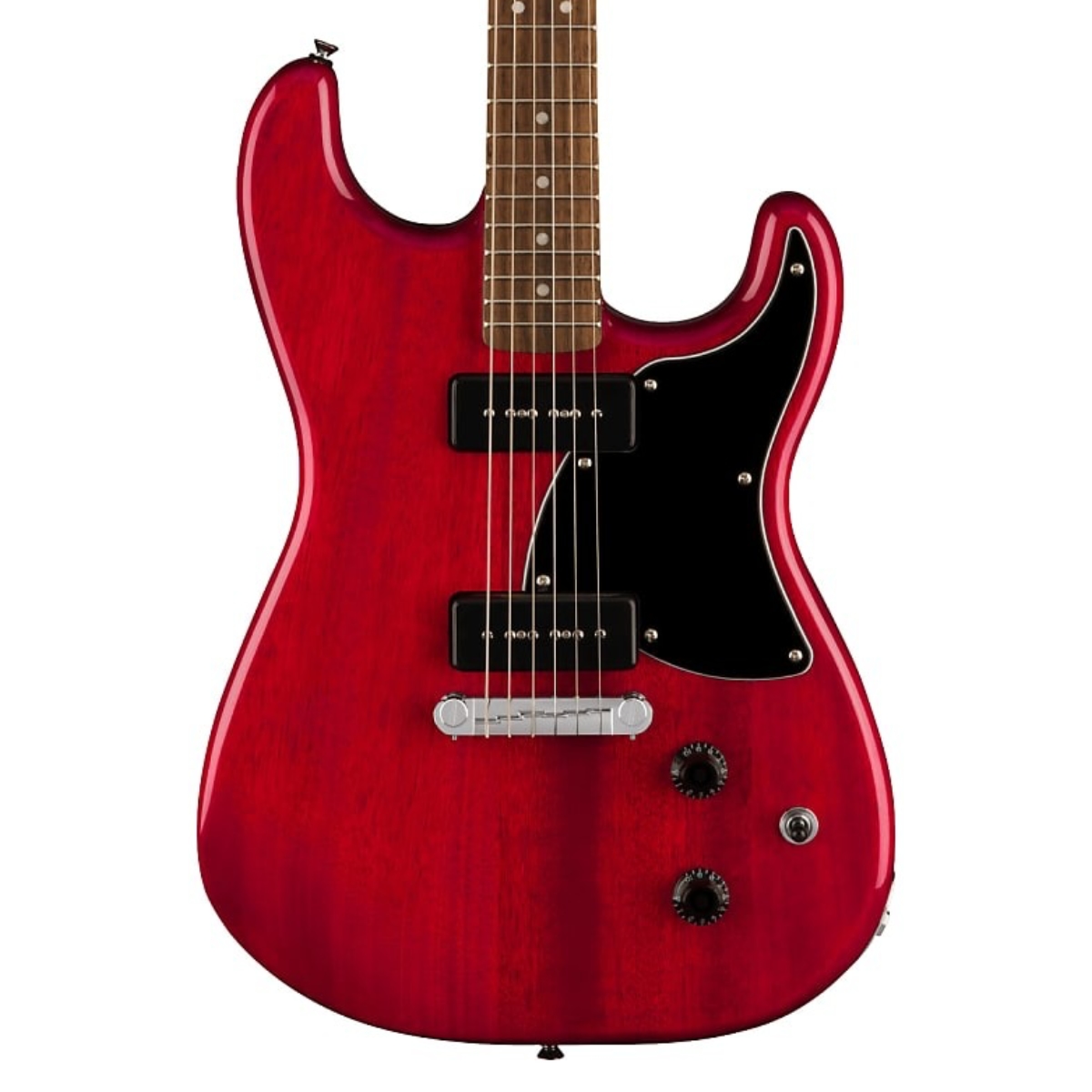 A whole new crew joins the freak ranks of Squier's Paranormal series—four brand-new guitars and one bass—each, a delightfully strange take on classic Fender designs.
What might a Player Plus Telecaster look like as a Strat? What if a '70s Tele Deluxe was in fact an Esquire? Why not put 12 strings on a Jazzmaster? Such dreams are now reality in the new Paranormal range.
Scroll through the gallery to see them all, and click the links below to learn more about each.
Death By Audio Unveils Disturbance Lockable LFO Modulator
Death By Audio Disturbance
Death By Audio describes their new Disturbance pedal as an "extreme modulation unit teeming with wild, unbridled, and experimental sounds." The lockable LFO modulator toggles between filter, flanger, and an 8-stage phaser with adjustable effect intensity and feedback. Controls for Center Point, Width, and Speed control the modulation LFO for an unruly, limitless variety of modulation effect. To top it off, the Disturbance includes a custom modulation core that enables players to freeze the LFO and a CV out, making this an ideal addition to a synth rig. As with all DBA products, it is handbuilt in NYC with a metal chassis, and it's currently available for $250.
Get the new: Death By Audio Disturbance Lockable LFO Modulator.
Shop all: Death By Audio.
Learn more: Video: Death By Audio Intros the Space Bender Chorus Modulation Pedal.
Soldano's New SLO-30 Combo Comes in Flashy Colorways
Watch Alberto Barrero's great review of the SLO-30 Combo
Once only a head, the SLO-30 is now available as a 1x12" combo. The 30-watt amp, which offers classic Soldano tones without the full 100-wattage power of the company's most famous SLO-100, also comes with some bold looks. So if you like your Tolex to be as loud as your riffs, you're in luck. Choose from classic black ($3,199 USD), or purple or snakeskin ($3,399).
Get the new: SLO-30 Combo.
Shop all: Browse all Soldano.
Learn more: Video: The SLO as a Pedal.
Rupert Neve Designs Releases 5034 Newton Channel Strip
5034 Newton Channel Strip by Rupert Neve Designs
If you're in the market for a top-of-the-line channel strip that can handle any studio or live sound application, look no further than the 5034 Newton Channel Strip by Rupert Neve Designs. The Newton packs a serious punch and features the latest iteration of Rupert Neve Designs' VCA compressor. This compressor allows you to precisely dial in the desired amount of harmonic density, with Silk Red and Blue modes that offer different levels of saturation and warmth. Whether you're tracking vocals, guitar, drums, or anything in between, the 5034 Newton Channel Strip is the perfect tool for the job. Available now on Reverb.
Get the new: 50 34 Newton Channel.
Shop all: Rupert Neve Designs.
Learn more: Inside Love Magnet, LA's Coolest Small All-Analog Studio.
TC Electronic Releases Infinite Mini Sample Sustainer
Check out this launch video of the Infinite Mini Sample Sustainer from TC Electronic.
Sample sustaining just got smaller: TC Electronic has released a mini pedal edition of their Infinite pedal, a favorite of soundscapers, shoegazers and ambient artisans alike. Much like the original, the three-knob stompbox allows users to take their signal and sustain it perpetually—its Infinite mode lets you combine different layers and morph them seamlessly. What sets this sustainer apart from the others is its analog-dry-through circuit, which preserves the original character of your dry signal. It's available and shipping now at $119.
Shop all: TC Electronic.
Learn more: TC Electronic Challenges the EBow with Its New Aeon Sustainer.
Mooer Challenges Positive Grid With New SD30i
Mooer's announcement video of the SD30i
With features and a look all very reminiscent of Positive Grid's ever-popular Spark 40 modeling amps, Mooer's SD30i appears to be a new direct challenger in this corner of the market. How's it compare? While functionality is for the most part similar (lots of digital amps, effects, and more to choose from via an app), there are fewer sounds available via the Mooer Cloud vs. Positive Grid's. But it does have its own positives, including a built-in looper and 5-hour battery (both lacking from the Spark 40).
Get the new: Mooer SD30i.
Shop all: Browse all Mooer gear.
Learn more: Video: On Tour With the Positive Grid Spark MINI.
New Additions to PRS Silver Sky SE Lineup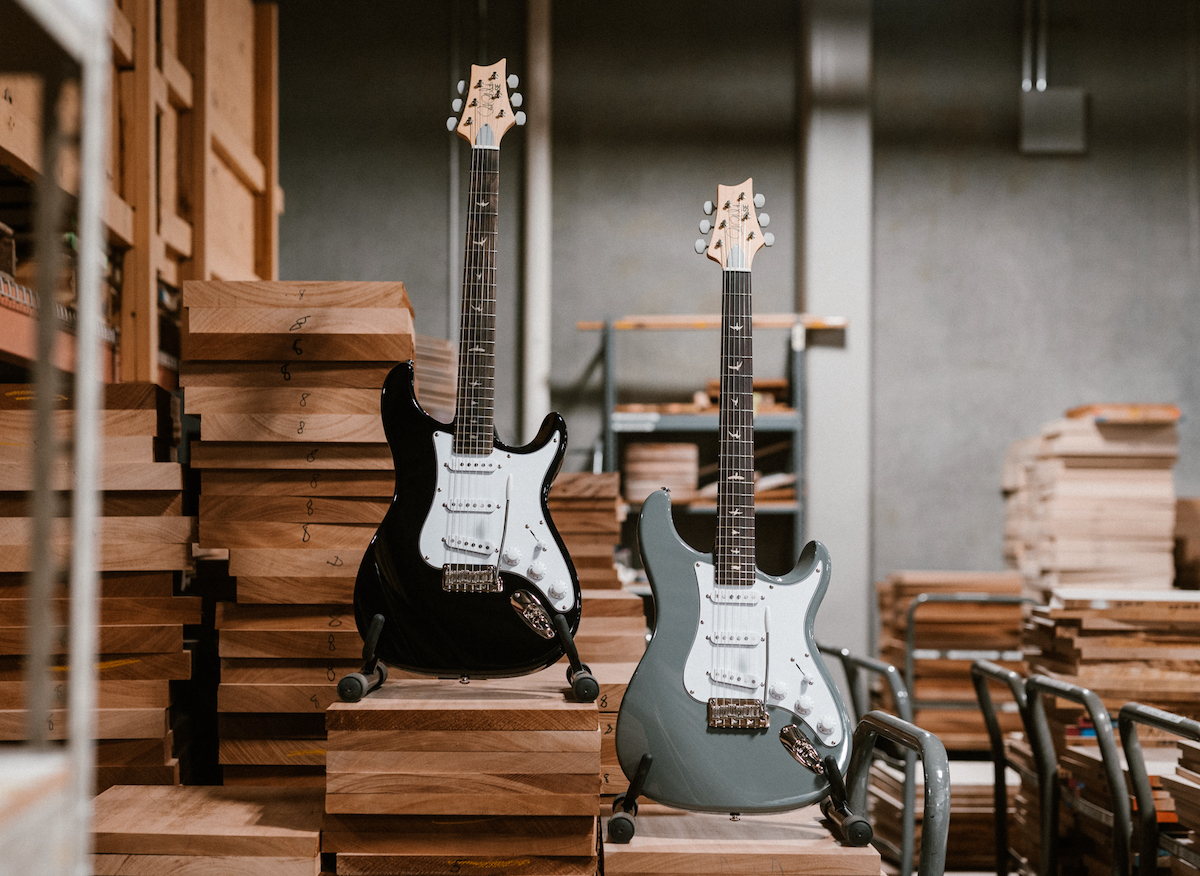 New PRS Silver Sky SE: Piano Black and Storm Gray
PRS just added two new colors to its SE Silver Sky rosewood-fretboard lineup: Storm Gray and Piano Black. Also a new maple fretboard option that not only adds a new aesthetic appeal, but it also offers a slightly brighter tonality compared to its rosewood counterpart. It maintains the original carve, ensuring that the guitar still feels familiar and comfortable to play. Whether you're a longtime fan or a newcomer to the SE Silver Sky, these new offerings are definitely worth checking out.
Get the new: PRS SE.
Shop all: PRS.
Learn more: The Walkmen's Very Vintage Live Rig.
Spaceman Effects Introduces Meridian Time Modulator
Spaceman Meridian Time Modulator
Portland-based pedal company Spaceman Effects returns with a sophisticated stompbox that will shift your signal astronomically. The Meridian is an analog chorus built with a MN3008 bucket brigade chip for endless possibilities in experimentation. With an LFO section comprised of three waveshapes (Sine, Triangle, and Flux) combined with a delay line that runs a wide range (0.8ms to 50ms), it's capable of pitch-shifting vibrato, shimmering Leslie-style rotary tones, a slow flanger and and a lush, liquid chorus depending on how you dial it. The Meridian is available now at $329 in silver and purple sparkle editions.
Get the new: Spaceman Meridian Time Modulator.
Shop all: Spaceman Effects.
Learn more: Video: Spaceman Releases the Mission Control Expressive Audio System.
John 5's Supreme-Nodding Ghost Telecaster
Check out John 5 playing and talking about the development of The Ghost.
John 5 is no stranger to signature guitars, having released numerous models with Fender over the years, including CEO Andy Mooney's personal favorite. But after seeing Fender's all-white and red collaboration with streetwear brand Supreme, he wanted in on the colorscheme. The result is The Ghost, a limited-edition Telecaster with a white body, neck, and fretboard, with red knobs, and a mirrored pickguard.
Get the new: John 5 Signature Ghost Telecaster.
Shop all: Browse all John 5 gear.
Learn more: Interview: Fender CEO Andy Mooney on MIJ Superstrats and the Future of Guitar.
Dave Mustain's Slew of Signature Vs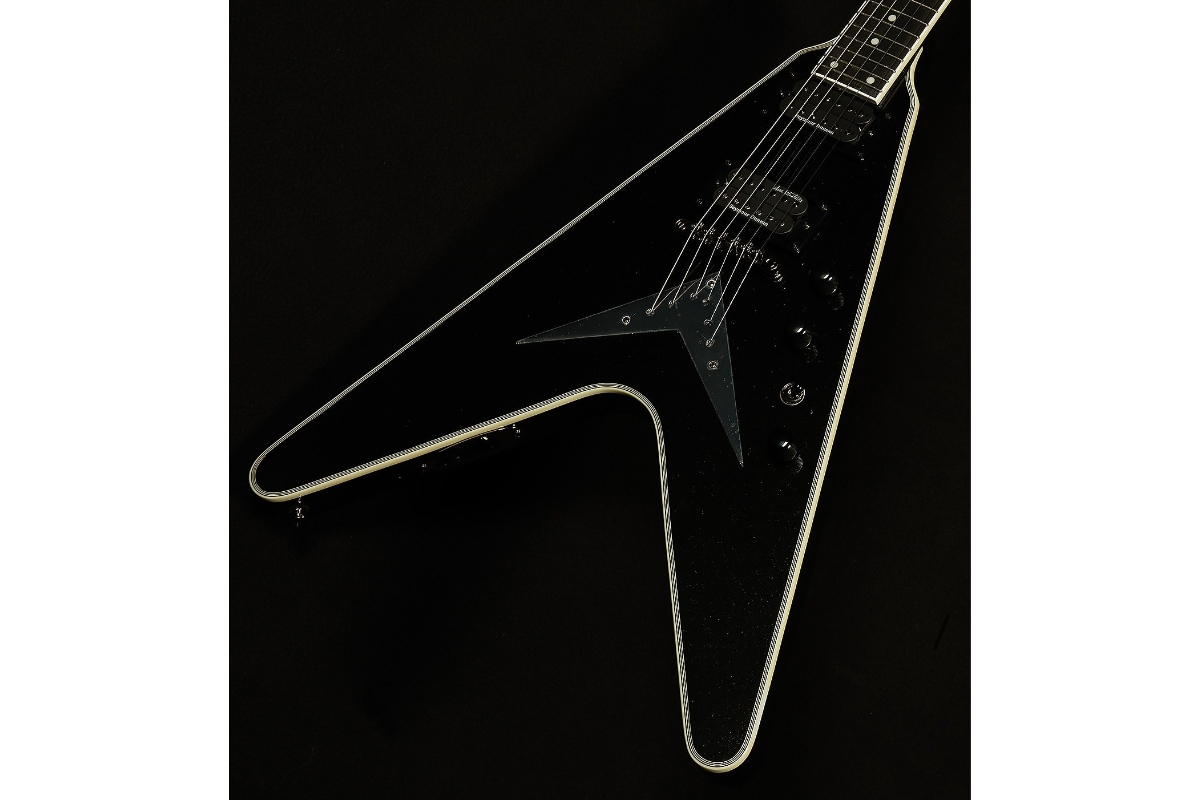 Bringing Megadeth's Dave Mustaine on as a global brand ambassador in 2021, Gibson has made Mustaine signature guitars their business, and business is good. The latest include the Kramer Dave Mustaine Vanguard ($1,299)—with a more symmetrical V-style body than Vanguards of the past—and two Vs from Epiphone: the Dave Mustaine Flying V Custom ($1,399) and Dave Mustaine Flying V Prophecy ($1,499).
Get the new: Kramer Mustaine Vanguard, Epiphone Mustaine Flying V Custom & Mustaine Flying V Prophecy.
Shop all: Browse all Mustaine gear.

Solid State Logic Release UF1 Single Fader Controller
Solid State Logic UF1
Producers and engineers: have you ever wished you could control your DAW with a single fader? Solid State Logic has now made that possible with the UF1, a controller that delivers the advanced workflow the British audio legends are famous for to in-the-box productions. Packed with a 100 mm motorized fader, dual high-resolution displays, rubber keys and a weighted jog wheel, the UF1 allows for complete control of your pans and plug-ins with ergonomic ease. The controller is integrated with SSL's Meter plugin and their SSL 360° software, and users can even program up to 46 soft keys for custom workflow. The UF1 is shipping now at $699.
Get the new: Solid State Logic UF1.
Shop all: Solid State Logic.
Learn more: SSL Announces Its First Personal-Studio Audio Interfaces | NAMM 2020.
Ibanez Launches New Paul Gilbert Signature Models
Paul Gilbert introduces his two newest Ibanez signature models.
Mr. Big and Racer X guitarist Paul Gilbert's range of Ibanez signature models have expanded with two new instruments. The black-finished PGM50 combines a five-piece maple and walnut neck with an American basswood body, and comes equipped with DiMarzio pickups—Air Classics at the neck and bridge, and a PGM single-coil in the middle position. Meanwhile, the cream-finished PGM1000T comes with two Air Classic pickups, painted f-holes and a neck-through build with a three-piece maple neck.. Both guitars are fitted with 22 frets and will be available later this year.