Way back, in what feels like eons ago, Korg unveiled the Drumlogue alongside the Modwave, ARP 2600 M, and full-size MiniKorg 700 at the virtual January 2021 NAMM show.
Details were scant at the time, but we were told it was an analog and digital hybrid, a futuristic drum machine that would sound great right out of the box and, through the "logue" features, could be personalized to a player's own tastes.
Now, the Drumlogue is officially released. And the 11-voice drum machine and synth is all it was promised to be.
The Korg Drumlogue's Main Features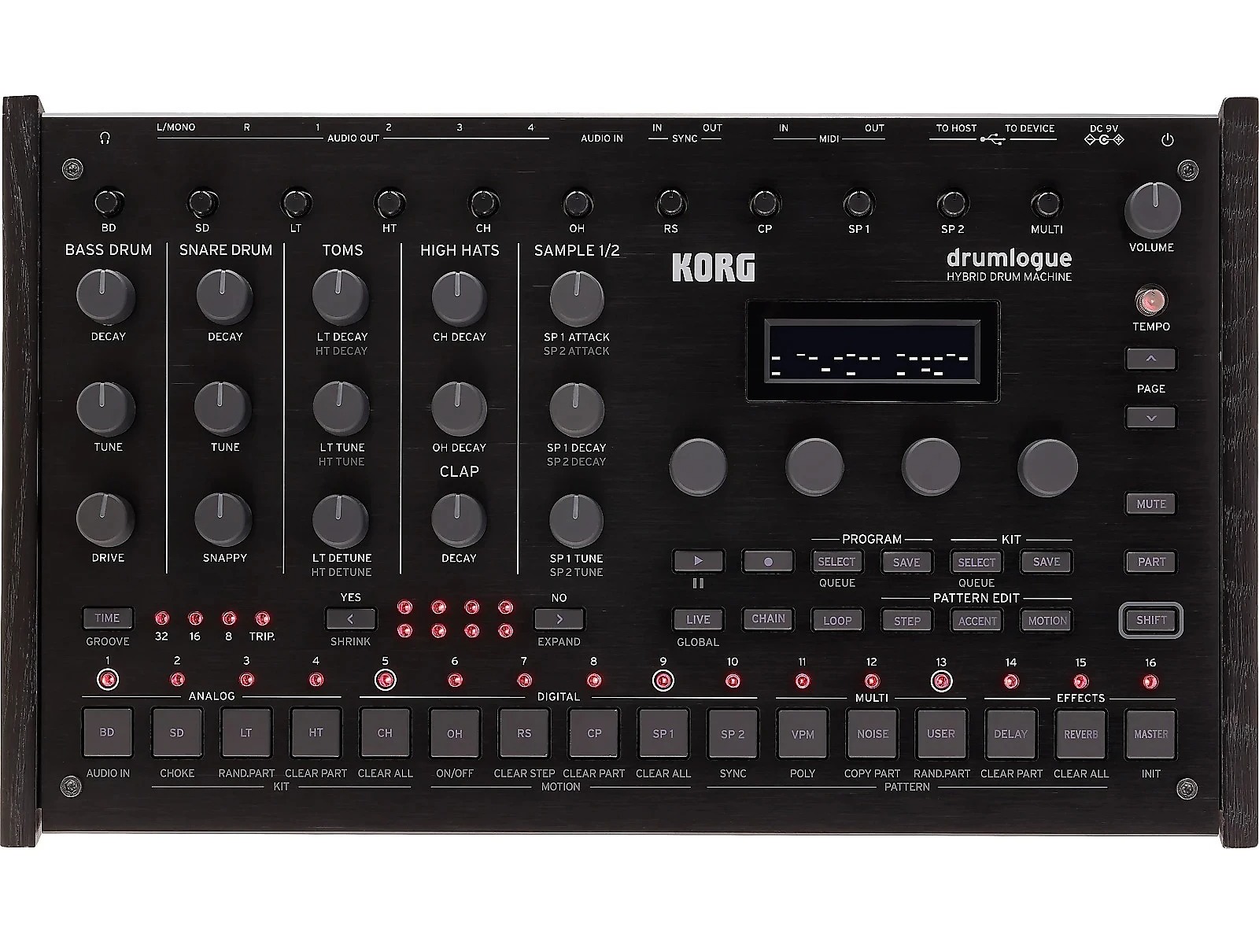 With true analog circuitry and a powerful digital engine, the Drumlogue is a flexible, 11-voice drum machine for all kinds of rhythm-making.
Korg is calling this hybridization a "paradigm shift"—though they are not alone in this approach. Elektron's Syntakt, released earlier this year, combines its own analog circuitry with digital sounds and flexibility as well, in a combination that blew us away.
The Drumlogue's analog circuits were developed by Korg's Junichi Ikeuchi, who has also been responsible for the ARP 2600 M, MS-20 mini, and ARP Odyssey. There are four distinct analog voices in total: one for basses, one for snares, and one each for low and high toms.
All of these can be set and tweaked hands-on, right from the machine's front panel. Then, if you prefer, you can also dive deep into the editing system and change more parameters via the OLED display.
In addition to the four analog voices, the Drumlogue adds seven digital voices (six of which are PCM sample-based and one synth multi-engine).
While there are plenty of preloaded banks to keep you busy and happy, you can also load your own samples via USB. Once music makers have time to get their head around the Drumlogue, this seems like it will be one of the key features producers can exploit, combining their own preferred drum hits with the Drumlogue's analog sounds and other digital voices.
The onboard step sequencer is also intuitive and easy to use, with 16 trigger pads that allow for up to 64 steps, variable swing, and other features you'd expect from an x0x-style sequencer.
The Drumlogue's specs, according to Korg, include:
Polyphony: 11 voices
Sound Engine: 4 analog, 6 PCM/user samples, 1 multi-engine (NOISE, VPM, User Synthesizer)
Number of Programs (including rhythm patterns): 128 (64 preset programs by factory default)
Number of drum kits: 128 (64 preset kits by factory default)
Effects: Reverb, Delay, Master
Inputs / Outputs: Headphones, Output(L/Mono, R, audio, 1-4 individual outs, sync in/out, audio in, MIDI in/out, USB A(to device, only for MIDI controllers), USB B (to host)
Power supply: AC adapter (DC9V)
Dimensions: (W × D × H) 317 × 189 × 73 mm/12.48" × 7.44" × 2.87"
Weight1.4 kg/3.09 lbs.
Included items: AC adapter, Precautions, Quick Start Guide
What "-logue" Means in Practice
Like the Prologue and Minilogue XD before it, the Drumlogue will allow users to add third-party oscillators, drum synths, and effects to the synth multi-engine voice through a Drumlogue SDK. (Unfortunately, the plugins that Korg users have created for those previous instruments are not compatible, at the moment at least.)
To give a taste of what you can do, Korg is including the Sinevibes Nano plugin for free. This is a brand new virtual analog synth developed by Sinevibes, a popular plugin maker and a builder of many Korg SDK plugins for the Prologue and Minilogue XD.
Up to 24 user synths can be loaded into the Drumlogue's multi-engine, meaning there's plenty of room to expand once the Drumlogue SDK community gets off the ground.
The Korg Drumlogue is available now on Reverb for $599.99.