Phoebe Bridgers (2020). Photo by:Rich Fury / Staff,
Getty Images.
Chicago-based musician Julia Steiner of Ratboys wasn't in the market for an electric guitar. Then she saw the red 1998 Danelectro DC-3 on the wall of The Guitar Emporium in her hometown of Louisville, Kentucky. Despite playing guitar since she was 13 and owning an electric in high school, she considered herself to primarily be an acoustic player. "I never performed with an electric guitar all the way up until I was 21," she says.
But while browsing at her hometown shop, something about the fiery six-string called to her. "I was just really attracted to the way it looks. It's like a very symmetrical, clean-looking guitar." But she was about to leave town and wasn't positive the electric guitar was for her.
"If it's still there when I come back into town in three months," she told herself, "maybe I'll buy it!"
Sure enough, the Danelectro DC-3 was still for sale a few weeks later when she revisited the shop. True to her word, she bought it and an amp. "I have the picture from the day I bought it. I was so excited. I took a picture of it in my car."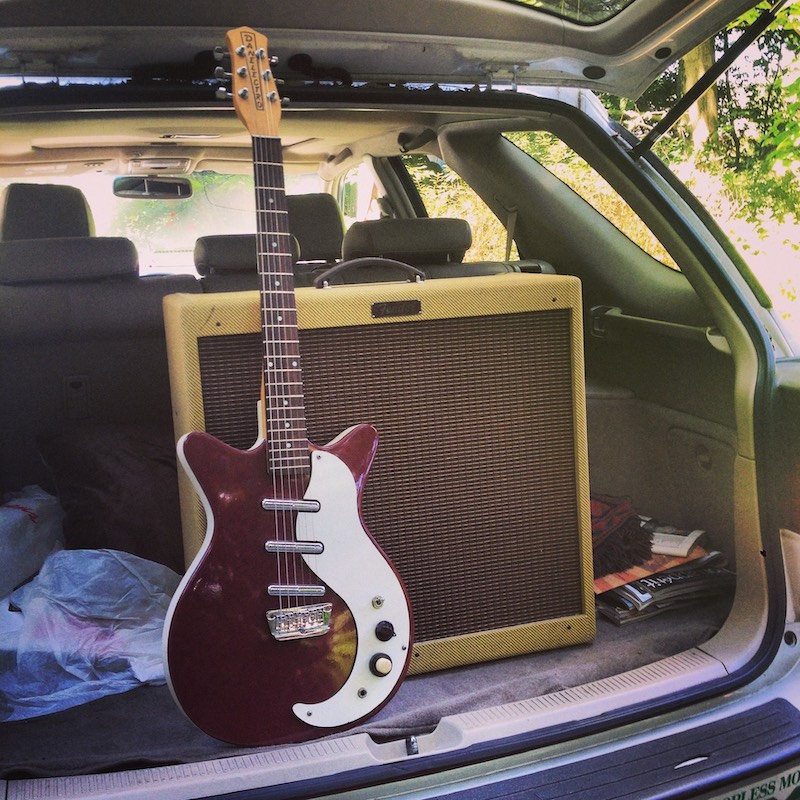 Julia Steiner's photograph of her then-new Danelectro DC-3 and Fender amp.
Julia Steiner isn't the only musician to discover (or rediscover) Danelectro guitars. Even though they've long been considered by some to be student- or intermediate-level guitars, Danelectros have found their way into the hands of rock legends and current stars alike.
From Alana Haim playing a Danelectro guitar at the 2021 Grammy Awards to Phoebe Bridgers giving her Danelectro baritone a whopping 16 thwacks against a prop monitor wedge on Saturday Night Live, Danelectro guitars have recently been featured on some of the biggest stages in music.
The Early Days of Danelectro
Though most often associated with guitars and the 1960s, Danelectro was founded by Nathan "Nat" Daniel (the "Dan" in Danelectro) in New Jersey as an amplifier company. By the time he launched Danelectro in 1947, he was already an innovator in the guitar world, having previously designed and built Epiphone's Electar amps. Danelectro's early amps were some of the earliest (and in fact maybe the very first) to include a built-in tremolo unit. (Daniel's earliest is said to have been built in 1947, and he received a patent for his design in 1949. Multivox released its own tremolo-equipped amp, the Premier 66, in '47.)
---
Original Danelectros
---
In 1954, Daniel moved from amplifiers to guitars after being approached by Sears to make an affordable electric guitar. Instead of using heavy and comparably more expensive wood for his guitar bodies, he turned to vinyl, masonite, and formica. Masonite is a composite material that's lightweight, affordable, and robust.
The pickups for these early guitars are as unique as their body shapes and materials. Low-output alnico pickups were placed into literal lipstick tubes (thus the moniker "lipstick pickups") and were a hit with stars of the day like Duane Eddy. They feature a scooped-mid, trebly tone profile that sounds wonderful when slightly overdriven—a tone that's considered classic vintage and nostalgic today.
---
More Original Danelectros
---
Over the years, Daniel would continue to experiment with new designs, including the first-ever electric 12-string guitar, 4- and 6-string bass guitars, baritone guitars, double-neck guitars, electric mandolins, and an electric sitar.
In 1966, Daniel sold ownership of Danelectro to Music Corporation of America (MCA), which continued to manufacture instruments under the Danelectro name, mostly to wholesalers like Sears. In 1969, as MCA's business model shifted to selling products to independent guitar stores rather than massive department stores and catalogs, they ceased production on Danelectro guitars.
The '90s Revival
In the 2020s, it's not unusual to see older brand names get purchased and reissued by modern companies. In recent years, Bond Audio has rereleased famed Supro models as well as new inventions, and BandLabs Technologies has seen success revitalizing the Teisco and Harmony brands as well.
In the late '90s, this wasn't such a common practice. That's when the Evets Corporation purchased the Danelectro name and began reissuing Danelectro guitars as well as building new lines of guitar pedals. (Jerry Jones had also been building Dano-style guitars since the late '80s, garnering fans and appearing as a kind of vintage anomaly at the 1991 NAMM show.)
---
Modern Danelectros
---
These new Danelectros stayed true to their roots as affordable and sturdy tools for musicians. The initial response was promising, but in 2001 production on Danelectro guitars ceased once again in favor of pedals. Then, in 2006 the Evets Corporation changed ownership. And these new owners wanted to make more guitars.
Nowadays, a limited number of new and reissued Danelectro models have been constructed and released each year.
A Brand New Fanbase
With the Evets Corporation bringing Danelectro guitars back into production came a brand new fanbase for the distinctive, affordable instruments. Legendary guitar heroes like Joe Perry, J.J. Cale, Ronnie Wood, Dave Grohl, and Elvis Costello had been playing Danelectros throughout their careers, and now younger artists were getting in on the fun, too.
Ratboys
Despite its long and storied history, Julia Steiner of Ratboys didn't have any rock 'n' roll idols who played Danelectros. But between its unique look, jangly sound, and its light weight, she was sold.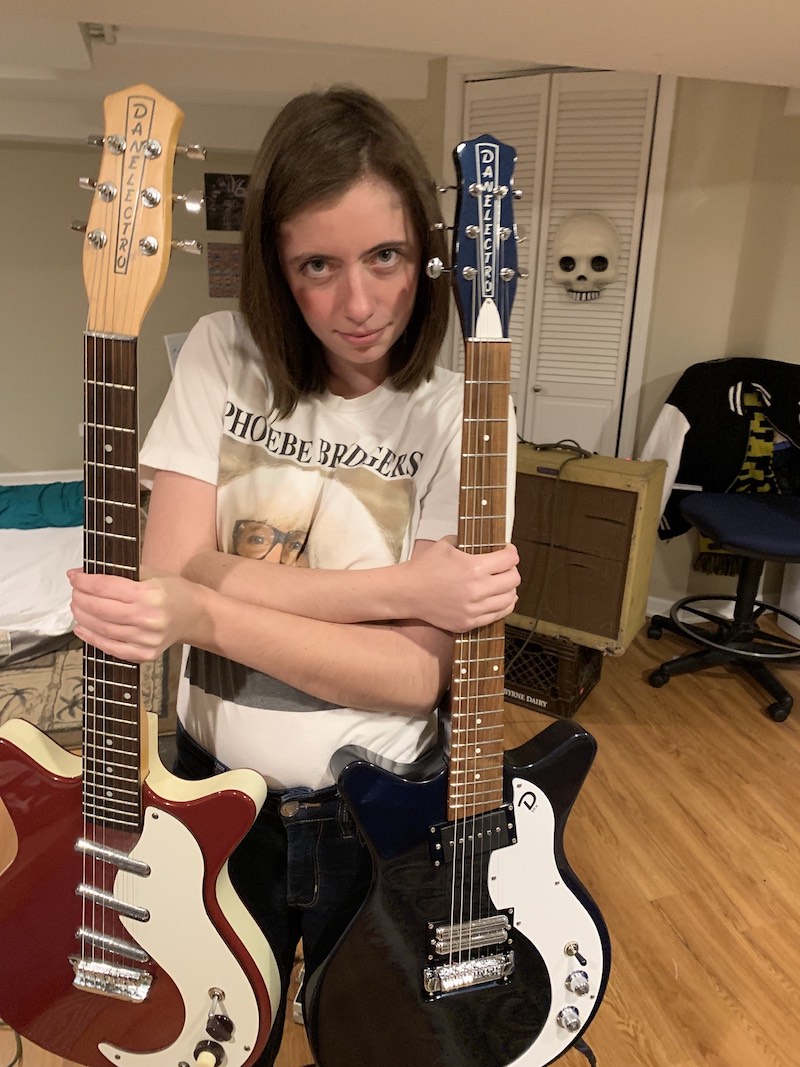 Julia with two Danelectros.
Since buying her first Danelectro, it's become a staple of Ratboys' live shows and recordings.
Julia stresses the importance of the weight of her Danelectros as a main reason she's so committed to them. "For me as a small, fairly petite [person], It's nice to have a lightweight guitar to play, especially with playing every night," she says. "I don't have a ton of stamina when it comes to playing a super heavy guitar; it wears on your neck and your back."
Julia even expanded her Danelectro family later with a 2018 '59XT, which has since become her go-to live guitar. "It kind of has all of the charm and like jangly newness of the older Danelectro that I had, but it's made from solid-body composite materials. So it just has a little bit more drive and presence for the rock 'n' roll songs that we were writing and playing," she says.
"It was perfect; really suited to those kinds of songs. I'm kind of obsessed because it can pretty much do anything."
Elvis Costello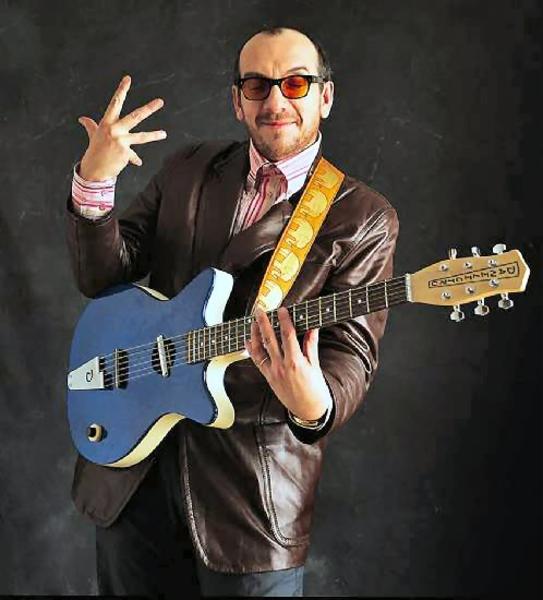 Elvis Costello.
Rock 'n' Roll Hall of Famer Elvis Costello might be most famous for his walnut Jazzmaster, but his love of Danelectro guitars is also well-documented. The British singer and songwriter was even featured in advertisements in the late '90s for the revival of the Danelectro brand, and the unmistakable tone of those lipstick pickups can be heard on his 2002 record, When I Was Cruel.
The use of vintage-voiced instruments on Costello's 2002 release feels as much a metaphoric choice as a sonic one. When I Was Cruel illustrates a time of introspection and nostalgia for Costello. This is clear from the first track and hit single "45," which features that slightly overdriven vintage guitar tone that lipstick pickups are famous for producing while he sings about events in his life, including purchasing his first record at nine years old.
Haim
Guitarist Alana Haim has played Danelectro-made instruments on the world's biggest stages. She showcased her vintage Danelectro-made Silvertone U-1 both in her band's 2020 NPR Tiny Desk and 2021 GRAMMY performance.
Alana's sister, Danielle (who is the lead singer and drummer of Haim), has also been spotted in Haim's promo videos, live performances, and social posts playing a vintage Silvertone U-1.
Haim: Tiny Desk (Home) Concert
The jangly quality of Danelectro (or, at least Danelectro-built) guitars is well-suited for the laid-back pop-rock that Haim has become known for. That's perfectly illustrated in Danielle Haim's instructional video for their recent hit, "The Steps." The almost-not-clean, scooped-mid sound of the U-1 is the driving force of the track, and its tone perfectly matches the vintage vibe of the recording as a whole.
Phoebe Bridgers
Phoebe Bridgers Tiny Desk
Phoebe Bridgers may have inadvertently created one of the best advertisements for the fortitude of modern Danelectro guitars. During her second Saturday Night Live performance in early 2021, she ended her song "I Know The End" by taking 16 swings at a prop monitor wedge. (She later auctioned the battered guitar to raise money for GLAAD.)
But that wasn't the first time Bridgers has been seen with a Danelectro baritone. Her main electric guitar for several years has been a metal flake-finished Danelectro '56 Baritone, which has become a visual and sonic signature for her.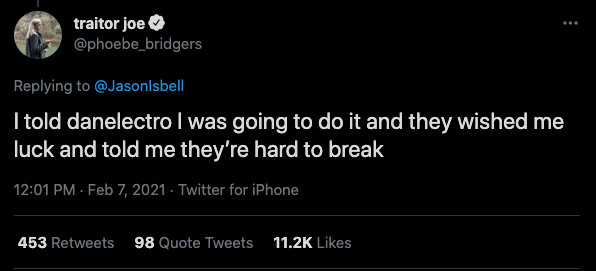 Her breakout single, 2017's "Motion Sickness," features the baritone prominently and the very first notes of her Grammy-nominated album Punisher features the ringing notes of that same baritone.
"There's something about the key of it, it makes everything darker and less Americana," she told Josh Gardner for Guitar Magazine in 2020. "I can write a folk song on it and it sounds nothing like a folk song. If I'm covering a song and want it to sound like my version, all I have to do is plug in a baritone."
Mason Stoops
While Mason Stoops may not yet be a rock star on par with others in this list, he's spent the past several years building his reputation as a session and touring guitarist (you may have seen him with Jackson Browne), composer, performer, and demo artist.
In 2016 during a conversation with Jason Verlinde of The Fretboard Journal, Stoops discussed one of his secret weapons for his TV scoring gigs—a Danelectro baritone."[The client will tell us] 'We don't want any guitar but we would love some just great, energetic like rock 'n' roll guitar sounds, but without guitar.'"
His work-around to this odd request? "I learned that when they say they don't want guitars, we record baritone [guitars]. I have an old Danelectro baritone that you put on there, leave a little bit of treble, leave a little bit of reverb and they're like, 'That's exactly it! We love that.'"
The Marketplace
How has this new visibility and availability of these nostalgic instruments affected the marketplace for Danelectro guitars? From a quick look at historical sales data, prices on even newer Danelectro builds are rising.
---
More Modern Danelectros
---
Looking at the Danelectro U-2 Reissue from the 2000s, we have over seven years of data. When we look at sales year-by-year, prices have increased almost 6% each year on average. In 2013, you could find a U-2 for $228. In 2020, that same model would cost you $315—a 37.79% increase.
The Danelectro DC '59 has similarly seen a boost in recent years. In 2016, the DC '59 average sale price was $268. It increased to $368, on average, in 2020.
This upward trend in pricing coincides with some slightly increased search volume for "Danelectro" on Reverb as well. Search volume has been steadily trending upward for the past two years, reaching a high in February of this year.
With Danelectro reissuing another batch of three '50s era models—the Danelectro '57 and '59 Divine—in 2020, giving players another opportunity to snag the classic body shapes and vintage-voiced pickups in brand-new models, it'll be interesting to see if the price of original vintage Danos will continue to trend upward.