A huge number of the guitar amps we buy, play, and cherish are reworked or straight-up reissued from the classics of the '50s, '60s, and '70s. But while you might think the major-brand and boutique makers alike have already dredged up all they can from the glory days of tube amplification, there are still loads more hip and tasty models of yesteryear that are ripe for reissue.
Back in October, we called out underappreciated models from Gibson, Vox, Fender, Selmer, WEM, Mesa/Boogie, and Traynor. Now it's time to dig up seven more amps in need of a reissue—a few of which are also from these makers, and several from further down the vintage playlist.
1957 Fender Vibrolux Combo
---
Others have danced around this format—tweed Deluxe reissues and Champ-type combos hitting the high and low sides, for example—but the tweed Vibrolux of the late '50s is one of the sweetest-sounding, most easily and tonefully recorded amps of that era… yet it's missing from today's market in any sort of genuine Fender-branded reissue.
1957 Fender Vibrolux Combo
Bigger than the Champ and Princeton of the era, yet smaller than the Deluxe, the Model 5F11 tweed Vibrolux is just right for cranking up in the studio. It's great for achieving fully fledged tweed tones in a small club setting, yet it also yields delectable clean tones when reined in.
Expect about 10 watts of output from a dual-6V6 back end, through a dynamic 10" Jensen P10R Alnico speaker. The front end carried two 12AX7 preamp tubes (rather than using a lower-gain 12AY7 in the first position like most tweed Fenders), and the tremolo effect was the lush, rich, bias-modulated variety like many other amps of the era.
Added to all of that is the fact that this is one irresistibly cute-looking little combo, and light as a feather (or, well, 20-odd pounds of feathers anyway). The cab is the usual high-quality, finger-joined, solid-pine affair, with the "floating" speaker baffle that contributes so much resonance and character to the amp's overall sound.
Many players have already figured out that the dual-6V6 Harvard model of the era is largely the same thing without the tremolo. Also, the brownface 1x10" Princeton of the early '60s is a broadly similar amp too, if different in a few essential ways—though it isn't that much cheaper on the vintage market these days.
If you're not a major peruser of vintage-guitar-tone exposés or a hardcore Beatlemaniac, chances are you've never heard of this little British combo from the late '50s and early '60s. Regardless, the AC-55 contributed mightily to the launching of not one but two major rock 'n' roll legends, and is well worthy of a reissue today—if, perhaps, a slightly tweaked one.
1958 Elpico AC-55
Manufactured by Lee Products Ltd. alongside a range of radios and gramophones, Elpico guitar amps were sold largely in British appliance stores. They were somewhat the UK's equivalent of the "catalog guitar amps" that populated Sears and Wards sales literature in '50s and '60s America.
The first amplifier ever purchased by Paul McCartney was an Elpico AC-55, which he and other members used on several early recordings and performances by the pre-Beatles incarnation The Quarrymen. A few years later, Dave Davies of The Kinks snapped up an AC-55 that he saw in the front window of an electronics store down the road from the London studio where they were attempting to record "You Really Got Me," and famously slashed the speaker with a razorblade to help achieve what is considered one of the most formative distorted guitar sounds in early rock.
This cute little trapezoidal green combo carries two EL84 output tubes, although its wattage is well shy of the 15–20 watts you'd get from a similarly equipped Vox AC15, thanks to the low voltages used on those tubes, and the small output transformer. And that's probably a good thing: The undersized, elliptical Celestion speaker probably wouldn't handle much more than the 10 watts or so that the AC-55 likely delivers. Otherwise, the amp had inputs for both Mic and Gram (gramophone), and independent Treble and Bass controls. Maybe a reissue with a bigger OT and a slightly sturdier, more traditional speaker? Crank it up!
Gibson has a lot of weird and wonderful guitar amps that never quite achieved the status of their guitars from the same era (or the amps of competitor Fender, for that matter), and the GA-79RVT, made from 1961 to '67, is one of the more interesting. There was a time in the late '50s and early '60s when much of the guitar industry, like the audio industry in general, assumed that stereo was the way forward for all things sound-producing, and the GA-79RVT is the result.
1962 Gibson GA-79RVT
Designed to partner up with Gibson's so-called stereo guitars of the era such as the ES-355, the GA-79RVT carried two independent output stages, each powered by a pair of EL84 (aka 6BQ5) tubes for 15 watts per side through individual Jensen C10Q speakers. Alternatively, flip the switch to link the channels and blast it out as a 30-watt 2x10" combo. The front end of each channel came courtesy of unusual 6EU7 preamp tubes (similar to a 12AX7 in performance, but with different pin connections—so don't try to substitute them), and each had its own independent Treble and Bass controls.
Of course, anyone can tell at first glance that the GA-79RVT is far more exotic than even these specs imply: Dig that wedge-shaped cabinet. The goal here was to achieve a wide stereo soundstage, although the near-90-degree dispersion angle can leave a bit of a hole in the middle when you're standing right in front of the amp... but it sure fills the room from farther back.
The "RVT" in the name denotes the tasty reverb and tremolo on Ch1, both tube-driven, and capable of some lush atmospherics when used together.
1978 Marshall Master Model 2204
---
Marshall has reissued several close cousins of this model, but I'd like to think that a period-correct re-creation of the late-'70s Master Model 2204 could be the missing link between them—and arguably one of the more desirable of the post-Plexi-style reissues. Less recognized than its predecessors of the '60s, the 50-watt 2204 and its 100-watt sibling, the 2203, are nevertheless the sound of late-'70s and early '80s rock. Say the word "Marshall" and most people think "Plexi"—but hear the word "Marshall" and chances are your mind's ear is hearing a 2204 instead.
1978 Marshall Master Model 2204
Many players think of the 2204 and 2203 as models within the JCM800 range, but they actually came about several years before that series was brought to market. In the wake of Mesa/Boogie's popularization of cascading-gain preamps and master-volume controls other big amp makers adapted these design trends through the course of the '70s, and Marshall followed suit in 1975 with the release of its Master Model range.
Initially the 50-watt 2204 had just the master volume and no major preamp tweaks, while its big brother the 2203 added cascading gain (in which the signal flows from one preamp tube into another to exponentially increase the gain). Part way through '77, however, the 2204 gained the same cascading-gain front end, so amps manufactured after this point tend to be more desirable, and more thoroughly representative of the breed.
These heads are not channel-switchers (via footswitch, at least), but you can plug into the Low Sensitivity input to tap just one initial gain stage for a clean sound (though one that's a little thinner than the traditional vintage Plexi sound), or the High input to run through the cascaded preamp stages.
Otherwise, these heads are classic Marshall through and through, with the cathode-follower Treble, Middle, Bass tone stack, and dual EL34 output tubes in the amps made for the UK and European markets, or dual 6550s in the US market. (The 6550s were adopted because they were more easily attained in North America, and therefore limited warranty issues—but the change to EL34s is a simple mod, and most players using 6550s find them entirely Marshall-esque regardless).
This one might at first seem a head scratcher because original examples are priced low enough that you'd likely have to charge more for a reissue built to the same standards (modest as those standards may be), but this is such a cool, convenient, and appealing design—both sonically and stylistically—that it warrants a reboot.
1962 Silvertone 1482
The Silvertone 1482 was one of many products, alongside other amplifiers and Silvertone guitars, that were made for Sears Roebuck by the Danelectro company. Find one of these originals from the early '60s advertised for sale today and the listing will invariably refer to it as "a poor man's Fender tweed Deluxe", and that does capture some of the Silvertone 1482 combo's appeal, but it is simultaneously something less, and so much more.
In addition to the basic two-channel, 1x12" combo format using two 12AX7 preamp tubes, two 6V6GT output tubes, and a tube rectifier, the Silvertone adds a decent-sounding bias-modulated tremolo driven by one 6AU6 tube, while subtracting some of the output power to deliver a more modest 10 or 12 watts (original catalogs advertised "15 watts of power," but this is likely somewhat optimistic). The result is an amp that's more easily overdriven without rattling the walls, and one that achieves an appealingly gnarly, B-list-grade distortion when it gets there, too, plus a soft and compressed attack thanks to its inefficient 6X4 rectifier tube.
Added to all of that, it's just one nifty- and original-looking little combo, with its side-mounted controls and chassis (kudos to Tone King for capture some of that swagger in its Falcon model), and a super-light carry as well. One thing any reissue might want to address is the speaker baffle: Replacing the original thin, cheap particle board with proper plywood would only be a good thing.
1956–'57 Watkins Westminster
---
The first installment of this series tipped a hat to the rockin' WEM Dominator MkIII of the '70s, but in Part 2 we dive deeper down the well to retrieve an earlier offering in Charlie Watkins's amplifier lineup, from a time before he decided to change the brand name to WEM to ape VOX's increasing success.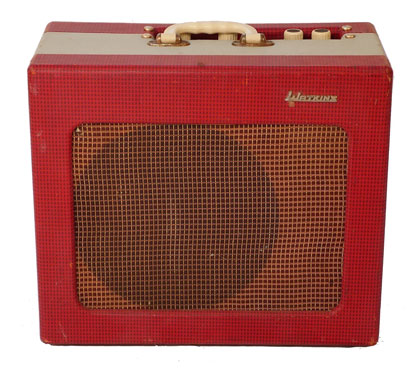 1956–'57 Watkins Westminster
In part, the Westminster deserves resurrection just because examples from this era are so darn tasty-looking, in a red-and-white two-tone Rexine covering in '55–'56, and green-and-white in '57–'58. That aside, they are crankable little Brit-rock monsters any day of the week.
Powered by a pair of EL84 output tubes pushed by ECC83 (aka 12AX7) preamp tubes, these attain the archetypically sweet, lush clean shimmer and juicy, harmonically saturated overdrive that other smaller British beauties like the Vox AC15 and Marshall 18-watter are known for, but with their own distinct, slightly ratty edge and the inefficient characteristics of the single Goodman's 10" speaker.
Perhaps give the reissue a sturdier 10" speaker or even big it up a little with a good 12", and firm up that thin, bent-steel chassis, and we're in business.
1973 Traynor Studio Mate YGM-4
---
Traynor did reissue the Guitar Mate YGM-3 a few years back, but there's something quirkily marvelous about its sibling the YGM-4. Inside the chassis the amp is very similar, but run it through a 4x8" speaker complement in a closed-back combo cabinet, and something very different happens.
1973 Traynor Studio Mate YGM-4
Think Fender Super Reverb meets mini-Marshall and you're close, but the Traynor has plenty of its own thing going on too.
Circuit-wise, the Studio Mate doesn't necessarily copy from anyone, but it does offer elements familiar from both of the major makers name-checked above.
The ECC83/12AX7-derived preamp does take a few nods from Fender's blackface designs with the EQ stage and its two tone controls sandwiched between the two gain stages provided by the first preamp tube, but the volume potentiometer is placed before the tone pots for a slightly different response, and several of the component values are different too.
Which is only to say, this is no Fender copy, by any means, and has very much its own thing going on.
Driving it all into two EL84 output tubes via a robust long-tailed-pair phase inverter lends the tone a sweet blend of crispy articulation and meaty overdrive, and the onboard tube-driven reverb and tremolo are both pretty luscious too.
The four 8" speakers contribute a fast, detailed response to the amp's overall sound, although any reissue might benefit from slightly upgraded drivers to improve the performance at higher volumes, and reduce the tendency to fart out in the lows when pushing the amp's full 20 watts.
Full
In Need of a Reissue
Series