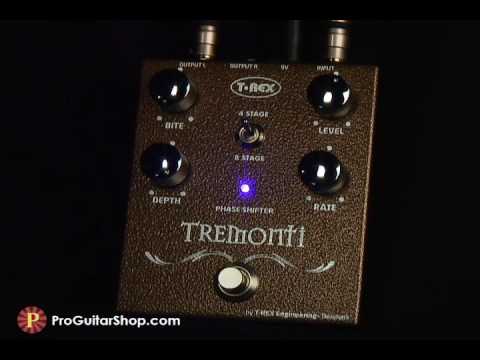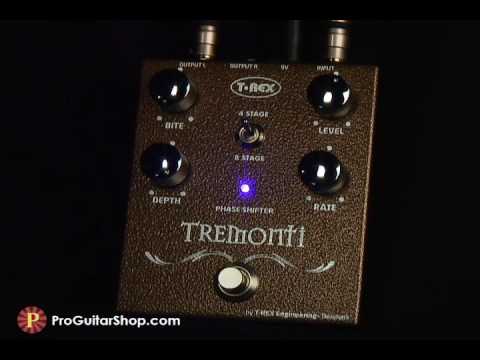 T Rex Tremonti Phaser
About This Listing
TREMONTI PHASER - Phaser per Chitarra - Per creare il nuovo Phase-Shifter, T-Rex ha collaborato con un maestro del rock & roll dei nostri tempi: Mark Tremonti (chitarrista degli Alter Bridge e fondatore dei Creed). Mark è un devoto utente dei pedali T-Rex e stava cercando il phaser ideale da aggiungere al suo arsenale da palco. T-Rex ha dunque prodotto un pedale di cui Mark è orgoglioso endorser. Tremonti ha stabilito un nuovo standard nel suono phased. Il TREMONTI PHASER ti da tutte le cose che ti aspetti da un phaser e anche di più. Lo "Stage" switch ti permette di passare da un suono vintage, crudo ad uno più moderno e più ricco. Il controllo "Bite" aggiunge un po' di overdrive al suono. Lento o veloce, profondo o superficiale, vintage o moderno, il Tremonti phaser porta il tuo suono in un altro mondo - Controlli: Bite + Depth + Level + Rate - Switches: 4 Stage/8 Stage + On/Off

From classic to modern, the Tremonti signature delivers.

The Tremonti Phaser, the signature phase shifter guitar effect pedal brought to you by T-Rex and guitarist Mark Tremonti, gives you everything you could ask for in a modern phaser and then some. From a raw '70s grind to a 21st-century sophistication, a few simple controls on the Tremonti pedal put you in charge of the entire history of phase-shifted tone.

Warped, swirling, twisted, spacey—it isn't easy finding words to describe the sound of a classic phase shifter. But the last 30 years of rock music wouldn't be the same without it, and Tremonti's signature stompbox delivers. The Stage switch lets you choose between a raw, vintage-sounding effect and a richer, more modern swirl. And the ingenious Bite knob adds a sexy overdrive edge to any setting. Fast or slow, deep or shallow, vintage or modern, the Tremonti Phaser pedal delivers extraordinary-sounding phased modulation that takes your playing to another world.
FEATURES
Mark Tremonti signature model
Lets you dial in just the right vintage or modern phaser tone

SPECIFICATIONS
Tremonti Phaser Guitar Effects Pedal

Input Impedance @1kHz: 464 kOhm
Output Impedance @1kHz: 37 ohm
Power supply: 9V DC (Power tool 9)
Minimum Power supply Voltage: 8.5V DC
Maximum Power supply Voltage: 12.5V DC
Current Draw @ 9V DC: 81 mA
Maximum Input signal Vp/p: Adjustable
Battery Type: 9 V battery 6F22
Battery Life: 30–60 min.
External connectors: Input Jack.
Output Jack (L), Output Jack (R),
9V DC jack
Controls: On/Off, Level, Depth, Rate, Bite, 4-stage / 8-stage switch
Dimensions: 4" W x 2-1/5" H x 4-7/10" D
Weight (excluding battery): 1 lb.

Please note that shipping costs outside Europe are approximate and can vary radically. Please contact us with your Country and Post/Zip Code for an accurate quote. Many thanks. Please also note if you are outside the EU we will not charge you tax on your purchase but you may be liable for import duty in your country.

Please also note that all our stock is sold for the European market. If you are buying from outside EU, please check that it is suitable for use in your country before purchase.