Extra! Extra! Read all about the value of used music gear.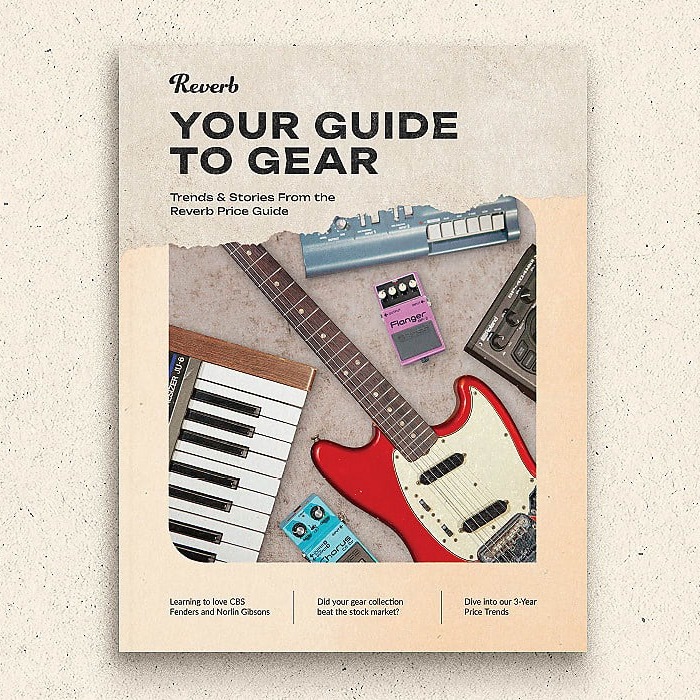 Your Guide to Gear:
Trends & Stories From the Reverb Price Guide
Pulling price trends from the Reverb Price Guide and diving into the stories behind them, we've created a 108-page publication on the fluctuating values of the music gear we know and love.
How did '70s Fenders and Gibsons go from being despised to some of the hottest vintage commodities around?
Why are producers driving up prices for '90s samplers and tape machines when there's a wide world full of DAWs?
Has some of the gear in your practice space appreciated in value so much that it's even beaten the stock market?
These are just some of the questions you'll be able to answer after reading Your Guide to Gear: Trends & Stories From the Reverb Price Guide.
If you're at NAMM 2023 in Anaheim this year, stop by Reverb's booth (5420) to get a free hardcopy of the magazine. Or download a free PDF version right now.
When people buy used music gear on Reverb, we share this data for everyone to see in the Price Guide and in the graphs and tables it powers on product pages across the site. We use it to offer estimated values, to track up-to-date price trends, and to help sellers know what a competitive price for their listing might be.
Every page of this magazine points back to this richness of transaction data that everyone can and should seek out on the Reverb Price Guide, whenever you really want to know what gear is worth.
So we hope you enjoy perusing the Reverb's Your Guide to Gear, but even more, we hope you'll dive into the Price Guide itself and find price trends and gear stories that speak to you.