"It was a matter of retrieving a lot of things," says Tom Murphy. Tom is the legendary guitar-aging expert who since 2020 has run the Murphy Lab at Gibson's Custom Shop. Here, though, he's talking about the early days of Gibson's serious attempts to reproduce the hallowed Les Paul Bursts, a concerted effort that began almost exactly 30 years ago.
Back in the early '90s, Tom continues, it was as if Gibson's methods to make those great old guitars had been thrown out during the intervening decades—scattered across the factory floor, perhaps, or swept under a table. "But they were still there, somewhere," he tells me, adding with a smile: "I won't take credit for designing the '59 Les Paul. That was done when I was nine years old. But I will take credit in unearthing and finding some of those key old things."
You'll know about Gibson's original Bursts, those classic Les Paul Standards made in Kalamazoo between 1958 and 1960 and since regarded by some as the most remarkable solidbody guitars ever—and some of the most valuable, too. Gibson discontinued the Bursts, but despite the number of high-flying players who rediscovered them in the '60s, the company was slow to react to the growing interest.
At last, in 1968, Gibson introduced a pair of reissues: the relatively rare two-pickup Les Paul Custom, along with a Les Paul Goldtop with P-90s and Tune-o-matic bridge. Not bad guitars—but where was the sunburst with humbuckings that everybody wanted? With new owners from '69, Gibson made changes to the Les Pauls it produced in the '70s, including pancake-style layered bodies, three-piece laminate necks, and a volute or lump added just below the point at the rear where neck becomes headstock.
In '69, Gibson dropped the recently reissued Goldtop model, replacing it with the Les Paul Deluxe. The Deluxe had humbuckers! But they were mini-humbuckers, using up old stock. At first the Deluxe was only available in Goldtop finish, but gradually sunbursts and other colors were introduced (and a shortlived revised Goldtop came along in '71, with wrapover bar bridge). The Deluxe had its own sound, but still it was not a proper humbucker'd Les Paul.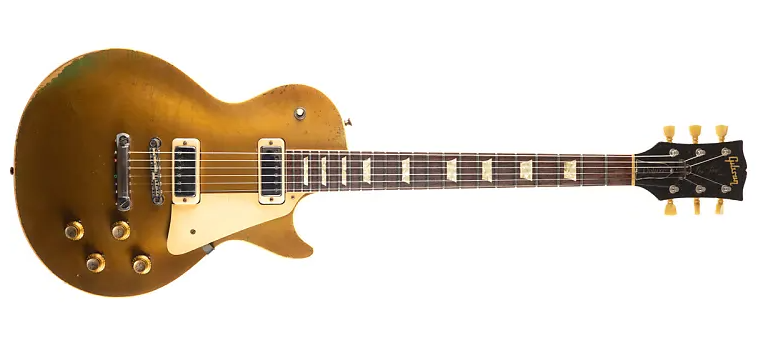 In the mid- to late '70s a few US dealers, frustrated by Gibson's inertia, began placing special orders for Les Pauls with the details they wanted. Strings & Things in Memphis was among the first. They had Gibson make them a very small number of sunburst Les Pauls with full-size humbuckings.
Other dealers, such as Sam Ash, got some Deluxes with full-size 'buckers. Jimmy Wallace, of Dallas dealer Arnold & Morgan (and later Sound Southwest in Sunnyvale), saw the Strings & Things guitars and ordered Les Pauls with nicer tops, too. And in the early '80s, Guitar Trader in Redbank and Leo's in Oakland also had Gibson make them some extra-pretty Les Pauls.
Gibson finally gave way in 1976, introducing the Les Paul Standard, a production model manufactured at its new Nashville factory and formally listed in catalogues and pricelists. It had a cherry sunburst top and proper humbucking pickups. It was nowhere near the guitar that vintage fans wanted in terms of period detail, but at least a first step in a suitable direction.
Tim Shaw joined Gibson in 1978 and soon worked with Bruce Bolen in R&D at the existing Kalamazoo factory (which Gibson would finally close six years later). Together with Chuck Burge and Abe Wechter, Tim built prototypes and artist guitars and developed new and revised designs, one of which turned into Gibson's first all-out attempt at an authentic recreation of the original Burst. It wasn't a regular production guitar, though, but was announced as a limited edition. Launched in 1980, the Heritage Series Standard-80 models lasted for just a couple of years, moving a little closer to older pickup specs and boasting pretty figured tops.
In the wake of the Heritage Standards, Gibson began to shed some of the '70s production quirks: the volute went; necks gradually reverted to one-piece mahogany. Another set of new owners arrived at Gibson in 1985, and since '83 the firm had been making what it termed the Reissue Outfits—a revised attempt to recreate more accurately the old-style Burst and Goldtop. By the time the '90s rolled around, there was at last a coming together of people and ideas that resulted in a big push for a better, more accurate Burst reissue.
J.T. Riboloff worked at Gibson from 1987 to 1998. "When I went there in '87," he tells me, "the Les Paul reissue was basically a regular Standard with a flame top. Slowly but surely, they let us get away with a little more." He worked on the Les Paul Classic of 1989, which hinted at features of a '60 Burst, even if its pickups were decidedly modern.
Tom Murphy's first stint at Gibson was from 1989 to 1994, at the Custom Shop from '91. He'd owned and played some of the reissues, but he knew they still weren't right. "I thought, well, I guess mother nature never intended for us to have those guitars again," Tom says. "These days, I don't know why I thought it was that complicated."
J.T. meanwhile worked on reissues of the Flying V and Explorer as part of Gibson's Historic programme, and the accuracy of those set Tom thinking that a similar approach could work with the Les Pauls. Tom recalls a change of heart at Gibson in the early '90s—because he began to get invited to plant-management meetings. He presented a list of changes that ought to be made to the Burst reissue, and the Custom Shop team set to work in an attempt to replicate more closely than ever the magic of an original. Management, meanwhile, supported the costly experiments.
The plan was for the body of the "new" Reissue to have more accurate carving for the maple top dish and a weight-limited mahogany back. The most attractive figured maple would be sourced for the top, the correct rout created from toggle switch to controls, and a longer, wider neck tenon reinstated at the neck–body joint. There would be a vintage-shape headstock, a re-tooled fat neck-profile and heel shape, thinner binding in the cutaway, and a holly veneer for the headstock face with a silkscreened logo, along with several other small corrections.
2021 Gibson Custom Shop Murphy Lab 1959 Les Paul Standard. Photo by
Action Music
.
Edwin Wilson, who was at Gibson from 1985 to 2017, recalls how the Custom Shop operated in its early days. "In '93, we were having to get production and manufacturing at Gibson to understand all these pretty major structural changes," he says. "It was a 100 percent improvement over previous guitars. There were some things about them that maybe weren't right, but that was the year of the learning curve on the Les Paul reissues. The guys in production had to get used to doing things different to how they had in the past."
Matthew Klein in the Custom Shop helped to establish the new form, or shape, for the body carving by micro-measuring some original Bursts and constructing a grid from which the production form was developed. They examined around 25 different Bursts, J.T. remembers. "They were all different," he says with a laugh. For example, no two headstocks were anything like the same. "The machine heads would be slightly further north or south, the scroll was shorter, and the logo would be different. Really, there is no super-correct guitar to reissue. So we took the best attributes of each instrument—cosmetics, carving, and all—and combined them."
Keith Medley in R&D built the prototypes with Tom, and Gibson displayed the results to the public for the first time at a 1993 NAMM show. At the same time, the Custom Shop gained divisional status within Gibson and its own premises, three doors down from the main plant. The newly revised and improved Les Paul Standard 59 Flametop Reissue had arrived, plus a similarly ravishing '60, along with a new Goldtop '57 Reissue.
The reissues have been gently and regularly tweaked to bring them ever closer to the original instruments of those hallowed three years, with no detail too small for attention—everything from authentic bumble-bee capacitors to the precise location of the top strap-button.
Right now, the Custom Shop offers a Historic Collection '58, '59, and '60, and then Murphy Lab versions in various sunburst styles and with Ultra Light, Light, Heavy, or Ultra Heavy aging. "There's been a steady evolution of the entire Historic line," Tom Murphy says, "and it's now precisely what I was imagining back in the early '90s."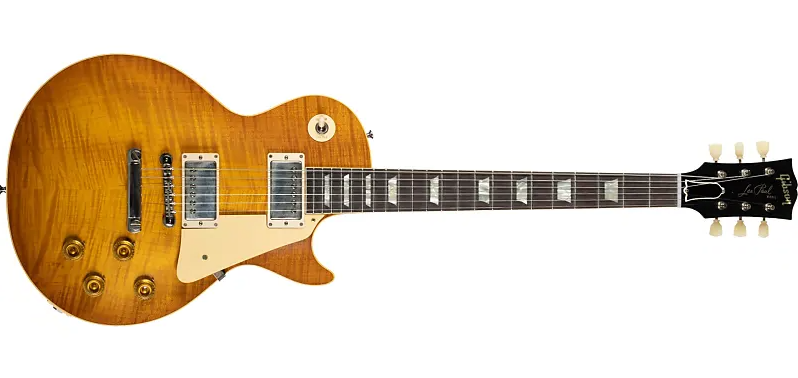 Gibson 1959 Les Paul Standard
Rick Gembar was the Custom Shop division's general manager during this period (he was there from 1994 to 2017), and he tells me he would smile when he heard some of the comments Burst fans would make about "correctness" and the original Bursts. "If anybody understands the way these guitars were built back in 1959," he says, "using shapers, using slack-belt sanders, they will know that they are all going to be different."
He wonders if the mega-collector Malcolm Forbes would have been so intrigued with Fabergé eggs if they were all the same. "I don't think so," Rick says, replying to his own question. "And would people pay millions of dollars for certain collectable cars if they were all the same? I don't think so. The Burst is an art form. It's something that was created with human hands, and it still is. It is what it is, man. It's a sum of the parts."
---
About the Author: Tony Bacon writes about musical instruments, musicians, and music. His books include Million Dollar Les Paul and Electric Guitars: Design & Invention. Tony lives in Bristol, England. More info at tonybacon.co.uk.