Pioneer DJ announced today the release of the Toraiz SQUID Production Sequencer, a 16-track sequencer with an impressive array of functionality at a refreshingly reasonable price point ($599 USD and €519 Euro).
The SQUID—short for "SeQUencer Inspirational Device"— is designed to function as a brain for a larger electronic music rig that offers control over 16 instruments via USB and MIDI terminals, two CV/Gate outputs for modular components, and even clock and DIN sync for vintage drum gear. It's also the third product in Pioneer's Toraiz series, following up on the SP-16 Sampler and Sequencer and the AS-1 monosynth, both of which were designed in collaboration with Dave Smith Instruments.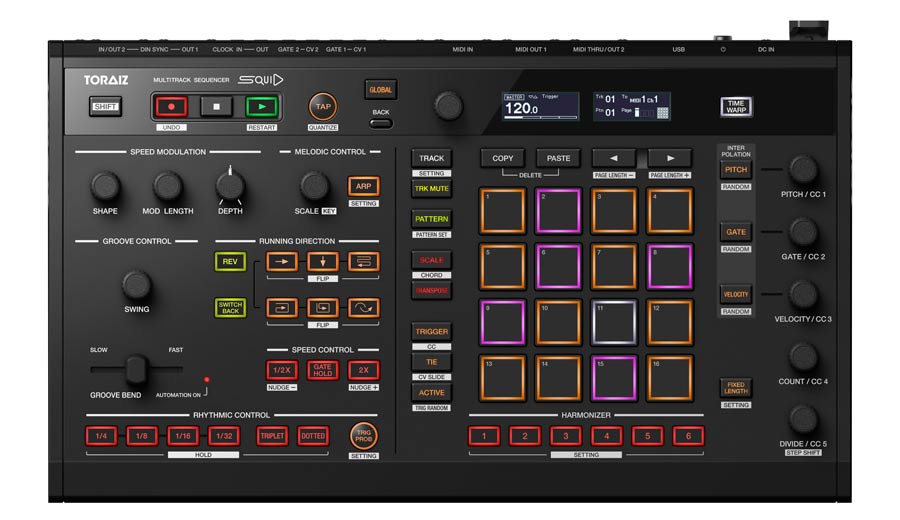 In short, it offers a tactile means to control just about any synth or drum machine in your arsenal and very well could be the solution that hardware-focused producers and performers of the world have been missing.
At root, the SQUID boasts a pad-based controller interface in the vein of a Maschine or Ableton Push. In addition to its flexible suit of I/O, there are plenty of added functions, like a harmonizer, "Groove Bend," and buttons to change the direction of playback, to name just a few. For more details, you can see the full spec list over on the Pioneer website or read this analysis from the always enlightening Create Digital Music.