The cost of entry into Fender's Acoustasonic line just dropped. With the Acoustasonic Player Telecaster, guitarists now have the option of buying a more affordable version of Fender's best-selling acoustic-electric hybrid.
When Fender first released the American Acoustasonic Telecaster in 2019, it set the template for the Acoustasonic Stratocaster and Jazzmaster that followed: guitars with slim acoustic bodies, multiple pickup options, and—in what really sets the series apart—the ability to select different acoustic resonances at the twist of a knob.
Want a dreadnought sound? A parlor? Why not both, and more, in one guitar? While each Acoustasonic model offers different tonal options, they all share this ability to get a varied range of acoustic guitar sounds—alongside good electric guitar tones—in one instrument.
---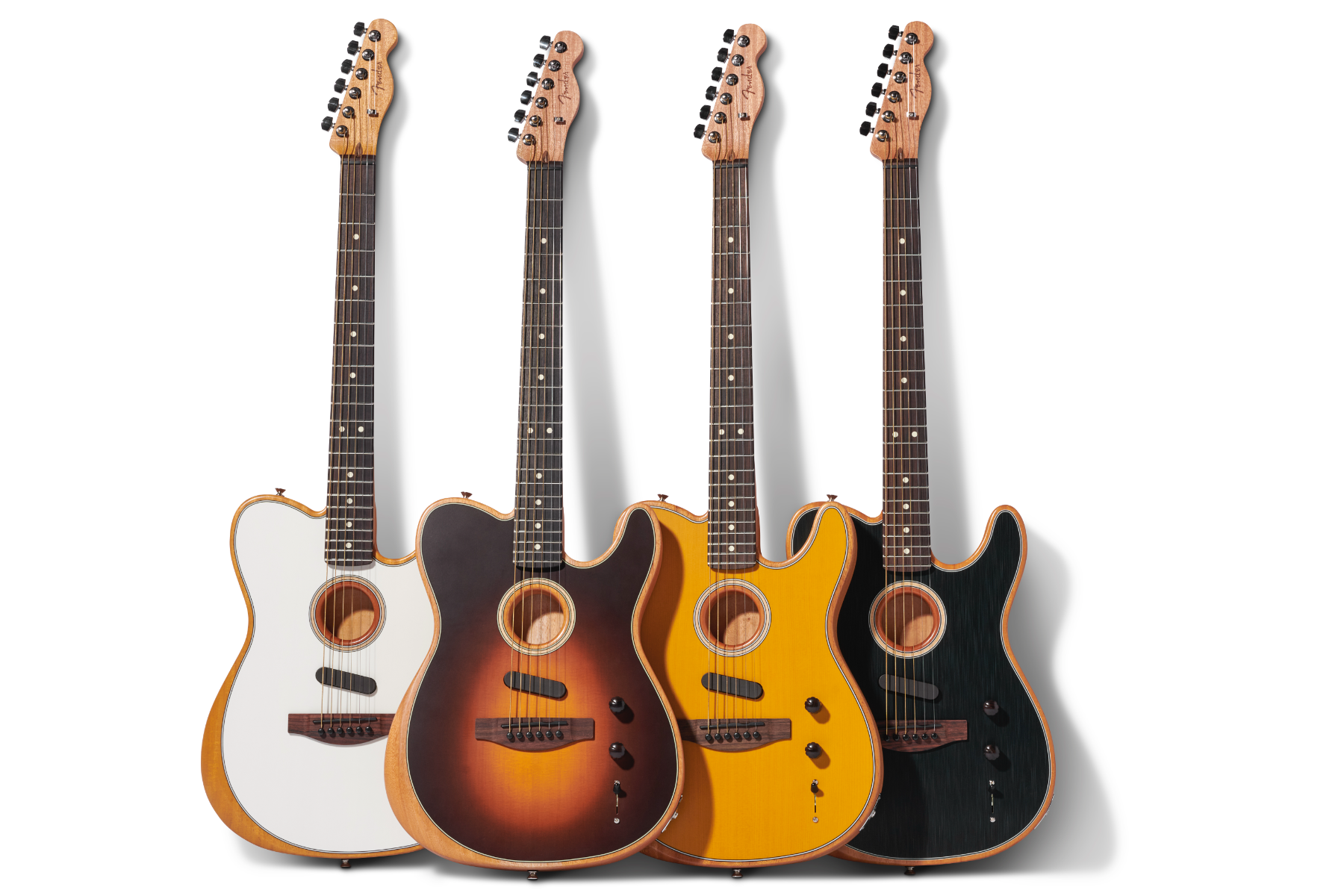 ---
With the Acoustasonic Player Telecaster, more guitarists will be able to afford this next-level tech from Fender. Like the company's electric Player and Player Plus series instruments, these new Acoustasonic Player Teles will be made in Fender's Mexico factory and will be less expensive than their US-made counterparts.
The new Acoustasonic will include a total of six distinct voicings and a Blend knob that allows players to dial in their own mix between three "best-of" combinations. Together, they're achieved through the Tim Shaw-designed N4 Noiseless Tele electric pickup, a Fishman Undersaddle Piezo, and the selectable acoustic settings.
According to Fender, the voicings are:
Mahogany Small-Body Short Scale
More Focused. Based on an iconic pre-war design, this model offers plenty of warm, dry and vibrant mid-frequencies with a focused sound and tight low-end.
Rosewood Dreadnought
More Low-End. Balanced across the spectrum with crisp highs and balanced low-end, this is the classic American acoustic sound
Lo-Fi Clean
More Acoustic. Uses the unaffected sound of the under-saddle pickup to create a unique lo-fi tone.
Lo-Fi Crunch
More Electric. Adds dirt to the sound of the under-saddle pickup to replicate the sound of double tracking an electric and acoustic guitar.
Noiseless Tele Pickup
Cleaner. Produces classic Fender Tele tones via the Tim Shaw-designed Noiseless pickup.
Fat Noiseless Tele Pickup
Dirtier. Turns up the power to produce searing Tele tones.
You'll know what you can expect from that lo-fi piezo sound if you've heard the Acoustasonic Jazzmaster, the first Acoustasonic model to offer that specific tone. It's an addictively fun setting that sounds grittier than you'd ever expect an acoustic-electric to sound.
The biggest selling point on this or any other Acoustasonic is its versatility. With such a range of sounds, you can use it on stage for a song's acoustic verses and its high-gain solo. In the studio, you can test out different combinations of acoustic and electric tones to find the perfect match for your track.
Exploring the Fender Acoustasonic Player Telecaster | Acoustasonic Player Telecaster | Fender
While there were certainly skeptics of the Acoustasonic series when it launched in 2019, the proof is in the many players and artists that have been putting them to great use. Artists like Jack White, Finneas, Faye Webster, and Lucy Dacus have all been spotted playing Acoustasonics. And both the American Acoustasonic Telecaster and Acoustasonic Jazzmaster are best-sellers on Reverb this year—and that's at the full American price point.
With the MIM Acoustasonic Player Telecaster available for $1,199.99 USD, the number of artists working with the guitar is sure to rise.
---
The Acoustasonic Series
Explore the entire Fender Acoustasonic lineup here.
Learn More
"This article is part of a paid partnership with Fender. From time to time, Reverb partners with trusted brands and manufacturers to highlight some of our favorite products we think our community will love."