Wendy Carlos (1979). Photo courtesy of Moog.
Chuck Berry (1987). Photo courtesy of Roland Godefroy for Wikipedia.
A few evenings ago, I flipped on a new Netflix docuseries called This Is Pop. Each of the eight episodes chronicles an event, musical tool, group, trend, etc. that defined a moment in pop music history. Right away, I couldn't resist the second episode, "Auto-Tune," featuring T-Pain on the episode cover.
Although T-Pain did not invent Auto-Tune, nor was he even close to the first musician to have used it, Auto-Tune is undeniably what he became known for in the early 2000s. Why? Because he used the pitch-correcting software as a creative tool in itself, rather than as a corrective crutch.
T-Pain - I'm Sprung (Official HD Video)
"You can write the history of electronic music as 'the creative misuse of available tools,'" says musician and writer Jace Clayton later on in the episode. It's a perfectly articulated statement, but one I'd take a few steps further.
The history of some of the most impactful music innovations in general have their roots in creative misuses, malfunctioning equipment, and happy accidents. A broken mixing board eventually spawned the fuzz pedal; "misusing" turntables begets DJing and early hip-hop; the result of overdriven, inefficient speakers in early tube amps becomes a must-have feature in modern gear—the list goes on.
Inspired by This Is Pop, we're going to dig into just a few examples of when using gear the "wrong" way led to the right result.
Auto-Tune Escapes the Shadows
In the mid-'90s, seismic data processing engineer Andy Hildebrand was at a luncheon when his colleague's wife, a singer, offhandedly requested that Hildebrand make her "a box that would have me sing in-tune." In 1996, Auto-Tune was born.
"There were other attempts to do what I did," Hildebrand says in This Is Pop, "but those efforts were doomed because the practitioners didn't understand the issues." While the specifics of those complexities are too abstract to dive into, it comes down to the fact that Hildebrand uniquely understood the math of the problem because of his background.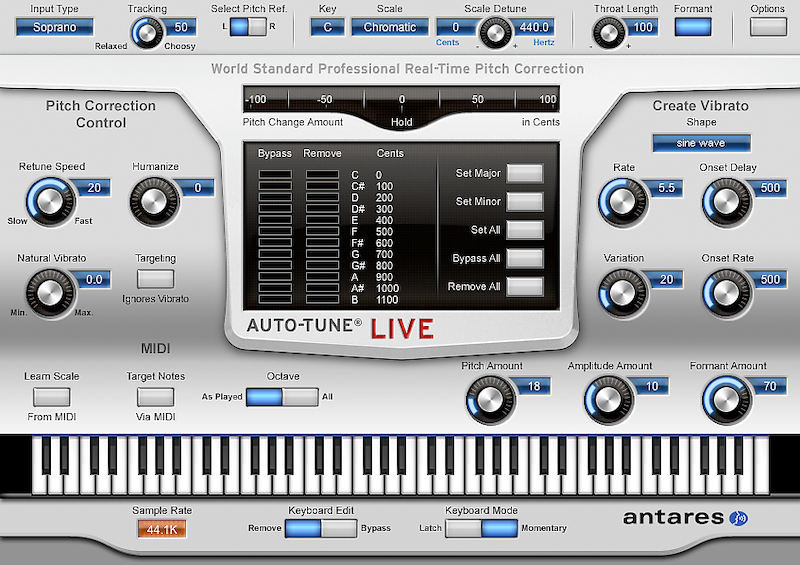 Auto-Tune
Seismic data processing is a discipline used to locate oil by way of sound. Dynamite is detonated into the ground and geophones are used to listen to the reverberations that come back, which helps engineers determine the location of oil. "Mathematically, it's like going out in the rain during a thunderstorm, closing your eyes, and because of the rolling sound of the thunder, figuring out the shape of the clouds."
Hildebrand's understanding of these systems, of seismic data as sound, is what allowed him to tackle the complex problems of pitch-correction. "I knew pretty much how to do it right away, technically, because a lot of the work I had done related to those issues."
Although Hildebrand, a non-musician, was making his Auto-Tune software to solve musicians' problems, correcting pitch is just about all he intended. In a matter of months, Auto-Tune was in almost every major studio throughout the United States and became a well-kept secret among recording engineers and musicians. It was the ultimate secret sauce, the magic wand an audio engineer could wave that turned a single take into what would've otherwise been the result of a strenuous week of sessions in the vocal booth.
This was such a guarded secret that two years later, when Cher's slightly Auto-Tuned single "Believe" rose to the top of the charts and everyone clambered to find out what effect had been used, her producers lied, claiming that they'd achieved the sound with a vocoder.
Cher - Believe [Official Music Video]
In reality, it was the "retune" dial within the Auto-Tune software that essentially acts as a speed control. Turn it down to slow the speed of your pitch change, up to quicken it, or down to zero for instantaneous pitch changes, which is where the "Believe" magic happens. "With Auto-Tune," says Clayton, "it becomes creative precisely at the moment when producers stop using it the way it was intended."
A few years later, T-Pain exploited that single speed control more purposely and persistently than any other artist had up to that point. It became his signature vocal sound and, eventually, was a style that other major artists and rappers started to use with the same regularity. Designed as a tool to help correct the flaws of human pitch, Auto-Tune became an instrument used to manipulate vocals into something not quite human at all—a sound unique to the software that created it. "Auto-Tune became creative,"
---
The Vocoder: Repurposing Radio Tech
While we place the dawn of the vocoder in electronic music in the 1970s with pioneers like Bob Moog, Wendy Carlos, and Herbie Hancock, the actual vocoder itself had been invented almost four decades earlier, in 1938. Bell Labs engineer Homer Dudley was responsible, and the original goal was to synthesize human speech to reduce the bandwidth of radio transmissions.
Voder Demo
While it did successfully serve that purpose, it became particularly useful within a decade of its invention for its encryption security. Vocoding a radio transmission made it much more difficult to intercept, and the vocoder technology was used extensively throughout World War II. In fact, the NSA continues to use vocoder technology in some of its encryption systems even today.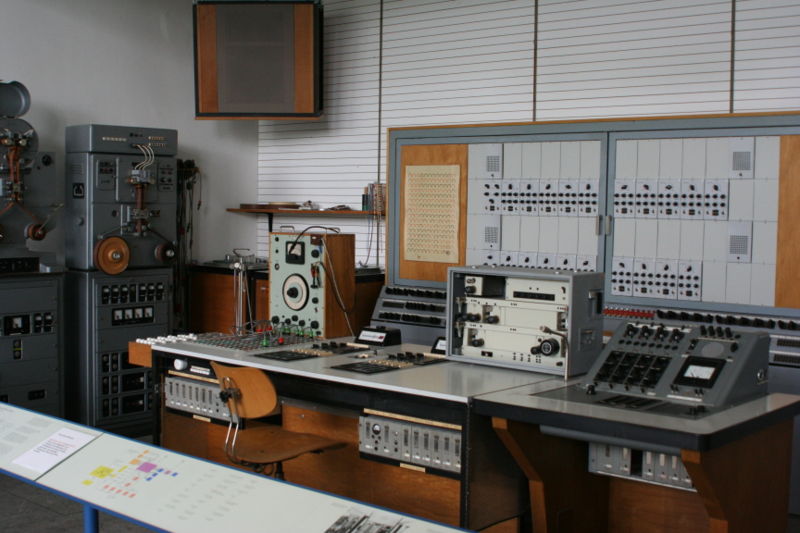 Siemens Synthesizer
It wasn't until the late-'50s that the first real attempt was made to use a vocoder in musical applications. In 1959, the Siemens Synthesizer was developed at the Siemens Studio for Electronic Music in Germany to make electronic music for their own films. It functioned similarly to the RCA Synthesizer but also featured a built-in vocoder. Still, it would be several years before the vocoder became popular, or even just widely recognized.
Bob Moog built his first solid-state musical vocoder in 1968 for the electronic music studio at the University of Buffalo, but his second go of it in 1970 is what put vocoders on the map. In partnership with Wendy Carlos, Moog built a 10-band vocoder device directly inspired by Dudley's original designs. Carlos then used the system on the soundtrack to Stanley Kubrick's 1971 film A Clockwork Orange, introducing it to the world.
Suzanne Ciani was another early pioneer of the vocoder in electronic music applications. While working toward a master's degree in composition at UC-Berkeley in the late '60s, Ciani met Don Buchla and was immediately taken with the Buchla synth. She began working for Buchla and Associates after graduation, bought her own Buchla 200, and began making her own records and composing professionally.
One of her commissions was to make the sounds for the pinball game Xenon in 1979, for which she used her own voice through a vocoder. This was the first female voice to ever be heard in a pinball game, and her work earned her induction into The Pinball Expo Hall of Fame in 2013.
Ciani on Letterman Show
The following year, in 1980, Ciani also appeared on The David Letterman Show and on PBS's 3-2-1 Contact to demonstrate her synthesizer and the use of a vocoder specifically. Letterman characteristically plays the curmudgeon, but little can detract from watching and listening to Ciani.
In the following decades, vocoders have become common features of modern synths of all sizes, with Korg's microKorg series being an excellent example of both compact size and affordable price.
---
Inefficient Amps Lead to Overdriven Bliss
It's common knowledge that guitar amplifiers had been invented and were on the market for roughly two decades before Leo Fender unveiled his narrow-panel tweed amps in the 1950s. However, it's also common knowledge that those '50s Fenders undeniably changed and shaped the amp market forever.
Immediately upon their release—and even today, if you can find a later-'50s original in good condition—the Fender tweed amps skyrocketed in popularity for their ability to produce beautiful, amplified clean tones, suitable for any genre, the second you plugged in.
While these beautiful and crisp cleans were what these tube amps were intended to produce, blues players began to exploit some of the amps' "flaws" to stunning and ground-breaking degrees. Because these original amplifiers were low-fidelity with inefficient speakers, cranking up the gain would produce that excellent, overdriven distortion that we commonly call "breakup."
Famous early examples can be heard on tracks like Chuck Berry's 1955 hit "Maybellene," which features an overdriven solo produced by his small valve amplifier. Howlin' Wolf's guitarist, Willie Johnson, and bluesman Pat Hare also began dialing up the gain to emulate this kind of distortion.
Chuck Berry - Maybellene
This fuzzy, overdriven sound could also be achieved if the amp was slightly damaged, which most of the early players figured out accidentally. Perhaps the first and certainly one of the most famous examples can be heard on Ike Turner's 1951 single "Rocket 88." One of the speaker cones of guitarist Willie Kizart's vacuum tube amplifier had been damaged in transport, and he used it to record the track anyway.
Similarly, after playing a live performance with a damaged amp, guitarist Paul Burlison of the Johnny Burnette Trio got such rave reviews for his amp's overdriven sound that he subsequently decided to purposely dislodge one of his vacuum tubes for the 1956 recording of "The Train Kept A-Rollin."
People loved the unique, "incorrect" sound so much that guitarists started intentionally damaging their equipment to try and achieve the fuzzy tone themselves. Link Wray is another late-'50s example, known for going beyond simply messing with his vacuum tubes—he actually jammed pencils into his speaker cones for even more dirt.
Link Wray - Rumble
This, of course, was well before the age of effects pedals, and in fact was one of the inciting moments that would lead to their eventual creation (along with another gear malfunction happy accident). But more than that, it redefined what electric guitar players wanted and expected from their amplifiers. The thing that "wasn't supposed to happen" turned into one of the key features that defined that amps themselves and eventually helped birth rock 'n' roll.
---
There are countless other examples of this "innovation by accident"—lots of other notable instances of musicians taking technology and using it outside of its original intention. And really, what is more creative than using what you have to do something brand-new? As Suzanne Ciani aptly explained in her 3-2-1 Contact special, "Part of an instrument is what it can do, and part of it is what you do to it."