This article was originally published in Reverb's Your Guide to Gear: Trends & Stories From the Reverb Price Guide. That magazine, which we published earlier in April, covers price trends from across the music gear industry and shares the average going-rate for thousands of pieces of popular instruments. Click here to download your own copy for free.
Once upon a time, there was a widespread assumption among guitar players that '70s Fenders and Gibsons were no good. Or, at least, that they were of poorer quality than the golden-era examples from the '50s and '60s. But today, has that view faded into insignificance?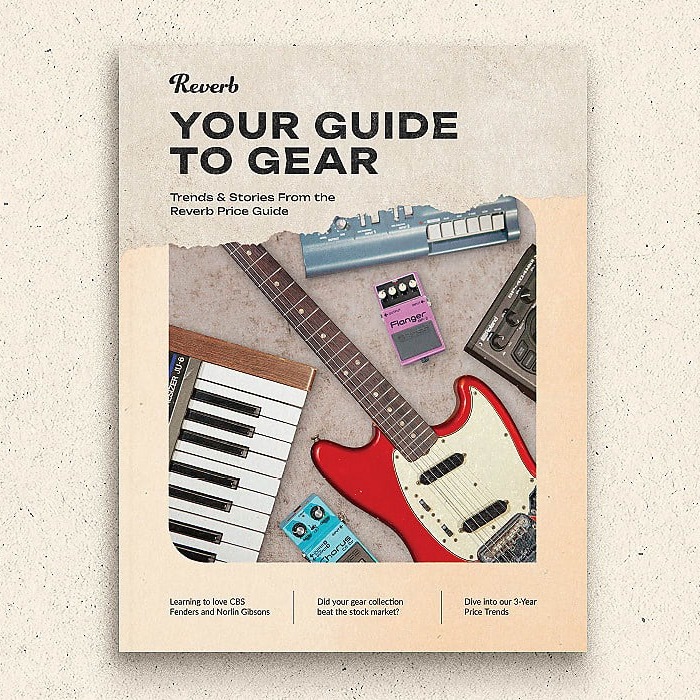 Your Guide to Gear:
Trends & Stories From the Reverb Price Guide
"This perception that they weren't good in the '70s—I don't think the guitars really support that," says Walter Carter, who's been selling guitars in Nashville since the late '80s, most recently at Carter Vintage.
"If you take the pickguard off of a '50s or early '60s Strat, flip it over, and then take one off a '70s Strat, the earlier one with the cloth wire and so on looks, to my eye, more substantial, more old-school. It's probably better and more durable," he says. "The '70s one here, with the skinny little red-and-white plastic coated wires, less so. But, if you don't take the pickguard off and you just play 'em, well—they sound pretty much the same."
As with any guitars you want to compare, that's still the only test that really matters. Have a look at it, have a feel of it. Plug it in. Play it. If you're lucky, you could do it blindfolded, as a test, with an early model and a '70s guitar, just as Walter suggests. It's the sort of thing that can have surprising results. And it's the sort of thing that can up-end long-held beliefs and suppositions.
Walter continues: "To somebody who doesn't have a built-in prejudice, they might pick up a '70s Les Paul and go: 'Why did they ever think this is bad?' Maybe on some of them the workmanship had flaws, or they were trying new finishes that didn't work out. Same with a Fender that might have its urethane finish peeling off. But inside, those guitars are not inherently any worse than the early ones. In terms of quality, I think the big slam on '70s guitars was largely unwarranted."
'70s Shake-Ups
It's hardly a secret that most of the great electric designs began life in the '50s at the two centers of guitar gravity, Fender and Gibson. You know the ones—the Telecaster, the Stratocaster, the Les Paul, the ES-335, and so on. In other words, almost all the electrics we still recognize today as classics.
As those new models began to slip off the production lines, everything continued much as it always had in California and in Michigan. Until the mid to late '60s, that is, when both firms were jolted by changes of ownership. And that, according to some, was when the trouble began. Along with the new owners came changes to the guitars.
There were players who began to find that those changes made some of the guitars look and feel and sound different. It led to two linked ideas: that older, used guitars, soon called "vintage," were somehow better; and that '70s guitars were somehow worse. By the late '70s and into the early '80s, those intertwined ideas were beginning to take hold.
Sid Bishop, in his 1977 book The Gibson Guitar From 1950, wrote: "A black cloud hangs over the instruments produced during the short period 1967–72, and the reputation that Gibson gained, even in that short time, will persist for quite a while." Tom Wheeler, in his American Guitars book of 1982, said that the sale of Fender to CBS "generated numerous stories about a decline in quality—stories that persist to this day. Like many rumors, they had some factual basis."
A 1977 Fender Stratocaster Hardtail. Photo by Milwaukee Vintage.
Fender vs. CBS
Ten years or so on from the launch of its first Spanish electrics in 1950, into the '60s, Fender had become one of the most radical and successful manufacturers, shaking up the guitar industry with boldly designed, mass-produced solidbody electrics. In the process, the firm changed the way guitars were produced, marketed, and played. But then, in a move that surprised outsiders, the Fender companies were sold to the mighty Columbia Broadcasting System Inc, better known as CBS, at the start of 1965.
CBS shelled out $13 million for Fender, the most ever paid in the instrument industry for a single manufacturer. CBS managers started to run Fender along big-corporation lines, pouring in money and modifying established working practices. It caused quite a stir—not only among business observers, but also among guitarists, some of whom began gradually to feel that Fenders made after the sale were less good than those made before.
It caused quite a stir in Fender's offices and factories, too. A salesman who was there at the time told me how it felt to some of those insiders. "Every time I walked in a music store," he remembered, "I found myself defending some poor piece of workmanship. We got very sloppy with the finish, with far too many bad spots, and the neck sockets were being cut way over size. So we created our own competition, letting the door wide open for everybody else, including the Japanese."
An unsubtle sign of the cost-cutting that CBS imposed came with two shortlived bitser models, the Swinger and the Custom, jigsawed together from unused Mustang, Musicmaster, Bass V, and Electric XII parts that CBS did not want to waste.
---
CBS-Era Creations
---
As the CBS-owned Fender entered the '70s, its Fullerton factory was producing fewer models but in much greater numbers. By the end of the decade it was pouring out 40,000 Fender instruments a year.
A few new Fender models managed to surface during the '70s, such as the humbucker'd Thinline, Deluxe, and Custom Telecasters, or the Starcaster, a sort of Fender bolt-on 335. None were particularly successful at the time, although the Wide-Range-bucker Teles in particular have been favorably reassessed since and have seen several revivals.
Fender made changes during the period, including the introduction of a high-gloss "thick skin" finish, a bullet truss-rod adjuster, a three-bolt neck joint, and a neck-tilt system. The plastic appearance of the new finish became a characteristic sign of a '70s Fender, while the "bullet" described the truss-rod adjustment now at the nut at the headstock. The neck-to-body joining screws (usually called bolts) on Strats and some other models were reduced from four to three, and the associated neck-tilt system was intended to provide easier adjustment of neck pitch.
Gibson vs. Norlin
Gibson's change of ownership came a little later than Fender's, in 1969. Norlin Industries was formed that year by a merger of CMI and ECL. CMI was Chicago Musical Instrument, which had owned Gibson since 1944, and ECL was Ecuadorian Company Limited, a Panamanian holding firm whose main business was a brewery in Ecuador. The takeover was formalized five years later, in 1974.
As with CBS at Fender, Norlin shifted Gibson toward cost-cutting and simplification in production, and it made changes to the features and design of some of the guitars built from the end of the '60s and into the '70s.
One example around the time of the sale was the arrival of the volute, the technical name for a roughly triangular "lump" added just below the point where the back of the neck becomes the headstock. Gibson reasoned that it reinforced this notoriously weak spot. There was also a slight decrease in the angle at which the headstock tipped back from the neck, aiming to minimize problems in the same area.
There were some introductions to the Gibson catalogue, such as the revised low-impedance Les Paul, now named the Recording, the similar 335-like Les Paul Signature, and the reintroduction of the humbucker'd Les Paul Standard, officially returned to the lines in 1976. Bill Lawrence's L-6S was an upscale maple-body creation, and the S-1 and Marauder were related creations. Gibson also released the wood-core/resin-outer Sonex, the "can opener" Corvus, and the stripped-down 335S, The Paul, and The SG.
---
Norlin-Era Gibsons
---
The early-'70s "control panel" models, including a revised SG line and some budget semi-solids, were intended to save production time—Gibson's factory workers could quickly position the plate, pre-wired with controls and jack, into a suitably routed hole in the guitar's body.
There were hardware mods here and there, such as changed-value control pots, the Schaller "harmonica" bridge and then Gibson's new "Nashville" bridge, and trend-following moves such as a coil-tap switch for 335s of the later '70s. Necks became multi-piece and maple. Les Pauls moved to a three-layer pancake body, and the results were often heavy (in weight—but possibly also in profundity, man).
With the rise of keyboard-based synthesizers during the '70s, and some fearing these newcomers might even eclipse guitars as the prime instrument of rock, Gibson teamed up with the enemy, in the shape of Moog, for the shortlived electronics-laden RD guitars, launched in '77. Few of these new models were popular at the time. Meanwhile, Gibson opened its new factory in Nashville in 1975 and would close the original Kalamazoo factory nine years later.
Some older hands at Gibson felt the new owners were interested more in mass production than detailed quality. An insider at Kalamazoo recalled how he felt at the time. "I'd think about people, about machines, about parts—and these new guys would 'solve' all the problems with a calculator," he said. "They had nothing to offer other than that they were looking for a place to invest their money and gain a profit. That was their motivation."
Early Prices for '70s Guitars
Into the '80s, and the idea of "vintage" was well under way. This is the notion that the old guitars—those '50s and '60s classics—are somehow inherently better than new ones. Stephen Stills had summed it up in a 1976 interview, at a time when he needed two dressing rooms on tour: one for himself and one for the 17 guitars he brought with him. "I don't think they've built anything new that's worth a damn since 1965," he told Lowell Cauffiel at Guitar Player. "It's all mechanized."
It's difficult to know exactly how much guitars were fetching in the years immediately following the '70s, but for a generalized view of what was going on, we'll consult a few archived sources from the early '80s to the early noughties: old pricelists of the Guitar Trader store in New Jersey, and some back copies of S.P. Fjestad's Blue Book Of Guitar Values and Alan Greenwood's Vintage Guitar Price Guide.
This comes with the caveat that those sources could offer only a sample of a much bigger picture. With that in mind, let's take a close look at two models—Fender's Telecaster and Gibson's Les Paul Standard, which while important in themselves will serve as indicators for general value trends for '70s guitars during the '80s and '90s. Brace yourself, though—prices from the olden days can be quite a shock, and in some cases can even prompt "If only—" distress.
Archival Value of Regular '70s Teles
Our archive value sources suggest prices for '70s Teles in 1982 between $300 and $450 (ranging "average" to "excellent" condition), at a time when a brand new regular Telecaster on Fender's '82 pricelist clocked in at $700.

Moving on ten years to 1993, a regular Tele from the '70s was logged between $170 and $750 ("60%" to "100%" condition), when Fender's '93 pricelist pegged a brand new American Standard Telecaster at $860.

In 1997, regular Teles from the '70s were listed as selling for sums between $750 and $1,900 ("excellent condition, low to high"), and a Fender pricelist back in '97 showed a brand new American Standard Telecaster at $950.
Archival Value of Regular '70s Les Pauls
Using the same sources to determine a rough guide to prices for Les Paul Standards—which resumed production in 1974—values in 1982 ranged between $450 and $550 ("average" to "excellent" condition), and Gibson's '82 pricelist pegged a brand new Les Paul Standard at $999.

For 1993, the '70s Standards were fetching prices around $480 to $1,210 ("excellent condition, low to high"), while a '93 Gibson pricelist showed a brand new Standard at $1,599.

A few years later, in 1997, we see '70s Standards at $1,000 to $1,300 ("excellent condition, low to high"), and a Gibson' pricelist from '97 had a brand new Les Paul Standard at $2,100.
It's clear from almost all the values suggested by our sources that throughout the '80s and '90s, these two '70s exemplars could be had at prices lower than new guitars (and, as you might expect, way lower than the coveted '50s and '60s models). And also that, during those years, the price of an excellent condition '70s Tele increased by 322%, and an excellent '70s Les Paul Standard (meaning 1974–79) by 136%.
Reverb Price Trends
To take us right up to date, we'll look at Reverb's sales of regular '70s Telecasters and Les Paul Standards. Reverb's data here (see tables) logs sale prices between 2015 and 2022, because although Reverb began in 2013, it had significantly more order volume by 2015, which leads to more accurate comparisons than earlier years—and 2022 is the last complete year for our comparison here. Only guitars in good condition or greater, sold in the United States, are included, and figures are for average price (average gross order value).
The data shows any remnants of the stigma associated with '70s guitars almost entirely wiped away. Telecasters made from 1970–75 have risen an impressive 45% in the seven years from 2015 to 2022, with average prices moving from $2,737 to $3,981, and 1976–79 Teles have risen 48%, from $1,682 to $2,495. A regular American Standard Telecaster in 2015 had a list price of $1,299.99, and in 2022 a regular American Pro II Tele listed at $1,699.99, implying that it generally cost more through this period to get a '70s model than a similar new guitar.
Reverb's data reveals another leap from 2015 to 2022 for Norlin-era Les Paul Standards, with average prices rising from $2,209 to $3,404, an increase of 54%. A regular Les Paul Standard in 2015 had a list price of $3,879, and in 2022 a regular Les Paul Standard listed at $2,799, indicating that in 2022 it could cost more to buy a '70s model than a similar new guitar. For both models, then, the earlier balance—where a '70s guitar was almost always cheaper than a new model—has been turned around.
There's plenty more to feast on in the rest of Reverb's data, which covers a variety of '70s Fenders and Gibsons (see tables). Models are ranked by total orders made in 2022 (in other words, the most popular on Reverb currently). Prices for CBS-era Fender guitars have increased by 76%, and '70s Gibsons have increased by 62% over the course of Reverb's life (again, defined for our purposes here as 2015 to 2022).
The price trends revealed here compare to a 33% increase in used Fender guitars overall and a 47% increase in used Gibsons overall during the same time period (where "guitars" means electric, acoustic, and bass guitars.)
---
High-Flying Low-End
---
The single-highest price appreciation goes to Fender Mustang Basses built between 1971 and '81, whose average sale price has increased by a remarkable 153% since 2015. Other instruments that have more than doubled in average sale price include the Gibson Grabber bass 1973–83 (+149%), Gibson Les Paul Recording 1971–79 (+139%), Fender Competition Mustang 1969–73 (+128%), Fender Musicmaster 1970–80 (+114%), Gibson L-9S Ripper bass 1973–85 (+112%), and Fender Stratocaster 1971–77 (+111%).
Make Up Your Own Mind
It's hard to deny that '70s guitars provided good service for the contemporary musicians who played them back in that decade. To pick just two of my own favorites from a long list of potentials, how about Lowell George with his Strat (in Little Feat) and Steve Jones with his Les Paul Custom (in Sex Pistols)? Neither Lowell nor Steve—and many more like them—seemed to suffered much from any lack of quality and playability and tone from their guitars.
Unsurprisingly, Fender and Gibson themselves have recently exploited this re-evaluation of their '70s guitars, offering models such as Fender's Vintera '70s Telecaster or Gibson's Les Paul '70s Deluxe.
It's clear that '70s Fenders and Gibsons are fashionably and practically desirable now, as new generations of players find something to love in these overlooked classics. And while they are becoming more expensive, many guitars of this era still provide an affordable entry point into the vintage market—certainly when compared to their '50s and '60s counterparts.
A 1971 Gibson L9-S Ripper. Photo by Scruff's Vintage Guitar.
Sam Taylor has been running Southside Guitars in Brooklyn, New York, for 17 years, meaning he's well placed to reflect on any changes in the perceptions among guitarists for '70s instruments. In the early '90s, when Sam began to get into vintage guitars, he was well aware of the general consensus that '70s Fenders and Gibsons were not the best.
"At least, compared to the '50s and '60s guitars," he clarifies. "But then those were pretty much the best electric guitars ever made, so it's just that there was a general opinion that the quality deteriorated somewhat during the '70s—which isn't all that surprising when you consider the changes that were going on at these companies. So if you offered someone their choice of a '63 or a '73 Strat back then, it's not hard to guess which one they would choose."
Today, Sam sees a different picture. "The '50s and '60s guitars have become so expensive and out of reach to many players. And I find that today, players rightly evaluate the '70s guitars on a case-by-case basis, which is as it should be—and most can pick out the gems from the dogs."
He says that at Southside Guitars they do their best to look for the good ones. "The guitars from the '70s are old enough now that they're all unique and different from one another," Sam reckons. "After 50 years or so, you'll see any two guitars that are the same model, made the same year, to be quite different from one another. You just have to evaluate each instrument individually. You never want to over-generalize. Remember—we all play guitar differently, and what works for one player may not work for another. And it's not always obvious why we can just fall head over heels in love with one guitar and not another."
---
About the Author: Tony Bacon writes about musical instruments, musicians, and music. His books include The Stratocaster Guitar Book and The Les Paul Guitar Book. Tony lives in Bristol, England. More info at tonybacon.co.uk.