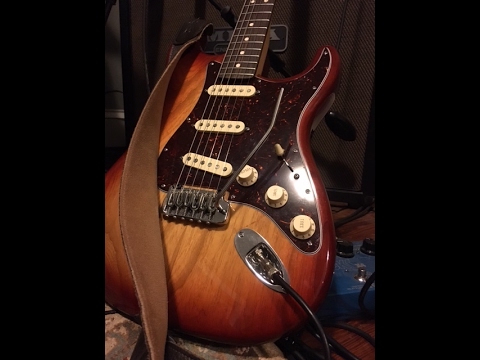 Shell Pink American Fender Nitro Stratocaster Heavy Relic. Don't forget to checkout our other affordable relics, and feedback w/links, then follow us to be notified when when guitars are listed. Google us !
No dirt, thick poly or shoe polish used in any of our relics. We've added "mojo" with pigment, and texture, to realistically replicate the age and feel of that vintage guitar you always wanted. We use the highest quality HVLP nitro lacquers, flakes and pearls. No expense in quality or time was spared to get that custom shop look, feel and sound without shelling out $4-7K. Make Guitarwacky's Custom Relics your "affordable" alternative.
Just completed: 2002 American Fender Stratocaster custom heavy relic with a maple neck. Totally custom authentically aged nitro lacquer finish makes this a beautiful one-off Strat. This heavy relic has wear and finish checking in all the right places. The body has several Nitro lacquer clear coats over the nitro shell pink and is absolutely loaded with beautiful micro web finish checking. An aged white pickguard and back cover complete this offering. Take a close look at the pics and take this one home today.
Jumbo frets were leveled and polished. Intonation set; neck radius set 9.5in. This Fender American Strat plays and feels like a vintage guitar should. Fender Eric Johnson Pickups powered by an upgraded Fender 500k volume pot and treble bleed circuit which takes tone to searing vintage levels when needed. Slinky 09's; she's ready to go! Saddles, screws and hardware were aged and sealed, so that they will look tomorrow, the way they look today for years to come.
Guitarwacky's proprietary finish process involves several coats of HVLP nitro lacquer, the finish is totally hand sanded, rubbed and aged to perfection. This guitar's finish was artfully aged and is soft and smooth to the touch.
Understanding the significance of quality, Guitarwacky Custom relics are flawlessly detailed by artisans whose love for guitar can only be measured by the level of detail embodied within their relic art. This heavy relic arrives in a real Fender Tolex case pictured.
Shipping! Our clients deserve the best. No worries here! We loosen string tension then professionally pack using brand new guitar boxes. Don't worry-No packing peanuts.
Guaranteed to love your guitar or just send it back in same condition received within three days for a full refund (minus shipping expenses)
Recent client feedback with guitar links; check them out!:
Fender American Telecaster Heavy Relic Nitro Shell Pink w/ Maple Neck
Jerry-Mar 24, 2020

The relic is absolutely beautiful! And the finish feels wonderful. I tech for the band Lit and the bass player gets relic basses from the fender custom shop, I believe your quality is WAY better. I would definitely buy another guitar from you. It looks and sounds awesome. My buddy that has a recording studio was super impressed. It is pairing nicely with my Bad Cat Black Cat combo. I finally have my dream rig!
If you ever get another tele, let me know.
Thanks!
American Fender Custom Telecaster 2017 Magenta Sparkle Heavy Relic Lindy Fralins
Kevin M. – Mar 13th, 2020
This thing is unreal. I'm selling all my other guitars, well except maybe 2 -3 others. For sure on par or surpass the F shop for 3-4x more. Thanks again Bob. If you ever do a relic paisley under vintage cream or light blue let me know.
American Fender Stratocaster Heavy Relic Nitro Sunburst HSS CS Texas Specials
Patrick O. – Mar 4th, 2020
Thanks amazing looking and sounding guitar ...for the price you can't beat it , if fender made this relic style it would cost easily $4k-$7k
American Fender Stratocaster Sunburst Heavy Relic CS Texas Specials
Andrew T. – Feb 6th, 2020
Amazing relic work. This guitar is magnificently aged and plays like a dream! Would definitely purchase another one or two from GuitarWacky!! Thanks Again Bob!!!
Fender American Stratocaster Magenta Sparkle Heavy Relic Custom Shop Texas Specials
Alex D. – Jan 29th, 2020
Fantastic guitar! Very pleasantly surprised how smooth the relic job feels. Plays and sounds like a dream with the custom shop pickups. I set the guitar up for half-step down tuning with the 9's strings it shipped with and haven't had any tuning or intonation issues whatsoever! Would definitely consider purchasing from Bob again. Thanks!!
American Fender Stratocaster Silver Sparkle Heavy Relic Custom Shop Texas Specials HSS
Todd N. – Jan 26th, 2020
Thank you, Bob! It is absolutely gorgeous and sounds fabulous. Hit me up via email and I'll give you a better endorsement quote for the webpage...
April 07, 2019
American Fender Stratocaster Relic Nitro Surf Green Custom ShopTexas Specials
Awesome product ... the guitar has that mojo from the case to a quick setup to my liking ... I can't put this thing down ... it inspires me to create ... wacky did a superb job I'm glad I was able to score this guitar ... I've had 3k prs guitar and fender Americans hi end ... but this is just the one I've been looking for ... thanks fellas I'll Ben keeping an eye out for more work from you .... ps the shipping was fast as well ....
April 11, 2019
American Fender Stratocaster Standard Shell Pink Over Candy Apple CS Fat 50's
Sweet guitar from Guitarwacky! Looks great. Plays great. Sounds great. Great communication from seller and super fast shipping. Would definitely buy another guitar from Guitarwacky—and probably will when I get GAS again.
American Fender Stratocaster Nitro Faded White Heavy Relic Custom Shop Fat 50's Pickups
Probably one of the best guitar purchases i've ever made. Matches the quality, sound, appearance, and play-ability of a custom shop relic at 1/3 the cost. Couldn't be happier.
American Fender Telecaster Heavy Relic Fiesta Red on Jade Green Metallic Custom Shop Pickups
Amazing Telecaster! Great seller with excellent communication.
Guitarwacky does excellent work ! Thanks 😃 June 01, 2019
July 01, 2019
Fender Stratocaster Relic American Nitro Lindy Fralin
This is an absolutely gorgeous guitar. Best relic job I've seen. Plays like butter. Thanks!
American Fender Stratocaster Sunburst Relic Noiseless Pickups
Superb! This guitar is everything I hoped it would be and then some. A quick preface is that I have a 74' Strat I love, a 2018 Fender custom shop 57' Strat for 4k. This one feels better than the custom.I love the feel of a nice worn in guitar and sometimes when I want to get something new I like the option of having the feel of a beautiful old Strat without the insane price tag.
This guitar nailed that! The relic work is amazing! The neck and fretboard are so smooth! Absolutely Love It!
Fender Stratocaster White Heavy Relic Rosewood Custom Shop 69's
great guitar. and Bob is super nice, easy to deal with.
Fender Stratocaster Relic American Nitro Surf Green Custom Shop Fat 50's
Fast shipping, beautiful relic job. Thanks so much!
Listed
2 years ago
Condition
Excellent (Used)

Excellent items are almost entirely free from blemishes and other visual defects and have been played or used with the utmost care.

learn more

Brand
Model
Finish
Categories
Year
Made In