For this week's episode of What's That Sound, Noam and Jessica take on a hard-hitting drum sound with plenty of teeth: Nine Inch Nails' 2005 single "Every Day Is Exactly The Same". Produced by the band's fearless leader Trent Reznor alongside his frequent collaborator Alan Moulder, the thick drums on this track were performed by none other than Dave Grohl.
Drums in the Style of
Nine Inch Nails
By Reverb
Download for free
For this particular recreation, the name of the game is overdubs: upon listening to the original track, we noticed that a lot of the separate elements of the overall sound were processed in such a way that they couldn't be recorded together simultaneously. With that in mind, we divided tracking into a few separate elements: the main pattern, individual kick and floor tom overdubs, and a tambourine part to top it off.
For our kit this time, we used our trusty vintage 70s Gretsch kit outfitted with a 22" Ludwig kick drum and a Supraphonic snare, as well as a pair of 14" Zidjian K-Dark hi-hats. The kick and snare each received two microphones—we used a Sennheiser 421 and a Bock iFET for our kick's in and out, and a SM57 and an AKG 414 captured the snare's top and bottom. For our overheads and room mics, we used pairs of Schoeps V4Us and Coles 4038s respectively. Finally, the floor tom was close miked with yet another AKG 414.
For the main drum sound, the kick was recorded conventionally and treated with a DBX-165—however, the plot thickened when it came to the snare sound, which we achieved with two gated reverbs. First, we ran the snare sound through two guitar pedals: an Earthquaker Devices Afterneath Reverb, followed by a JHS Muffuletta fuzz. By having the fuzz run after the reverb, the harmonics and character of the snare sound are brought out. On top of that, there's an additional gated Valhalla Room reverb place on the snare that has a crisper, hi-fi sound. Both reverbs are in mono to blend with the original snare, and are also adjusted to rhythm so that each release occurs as the next kick drum hits.
---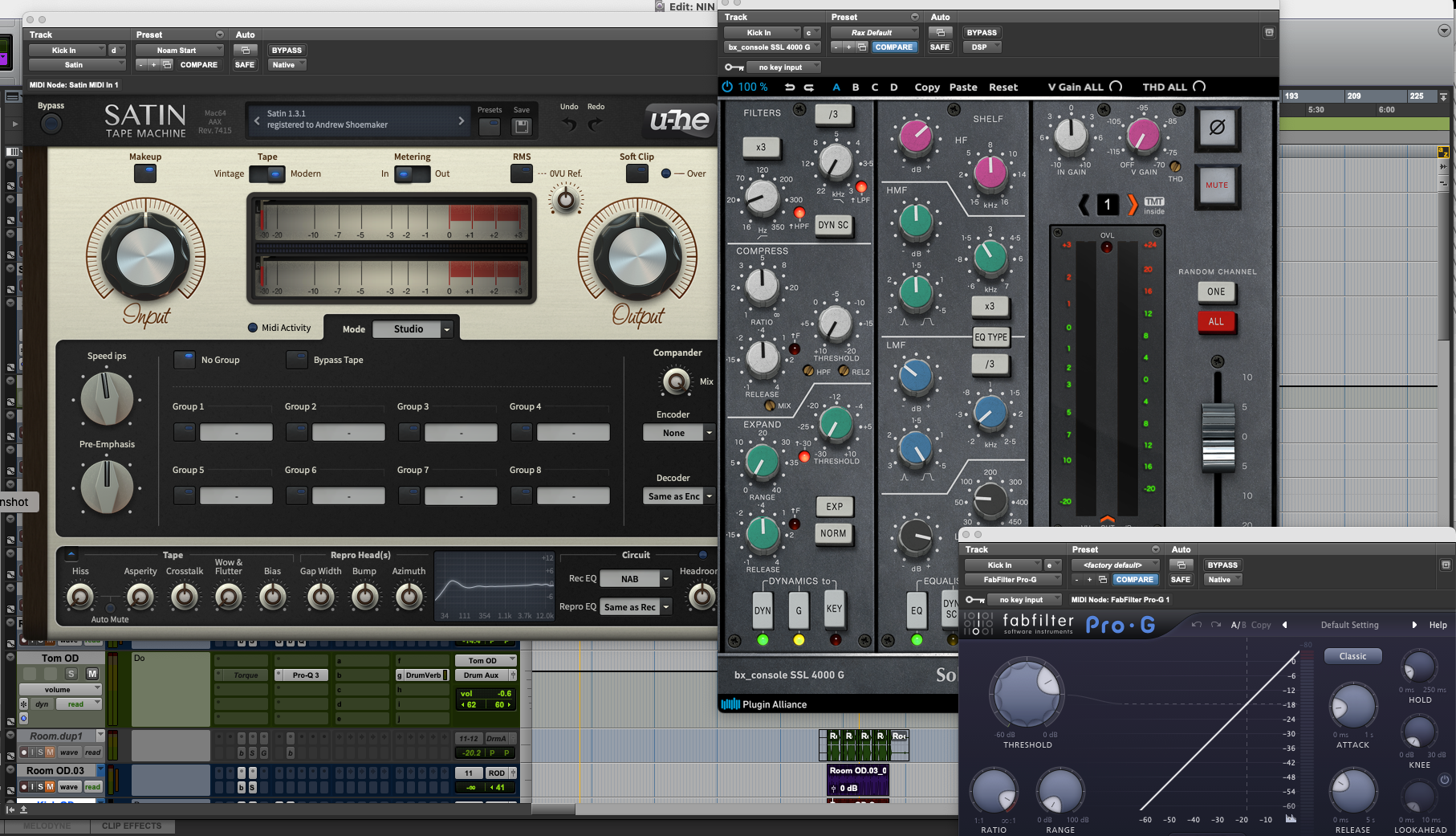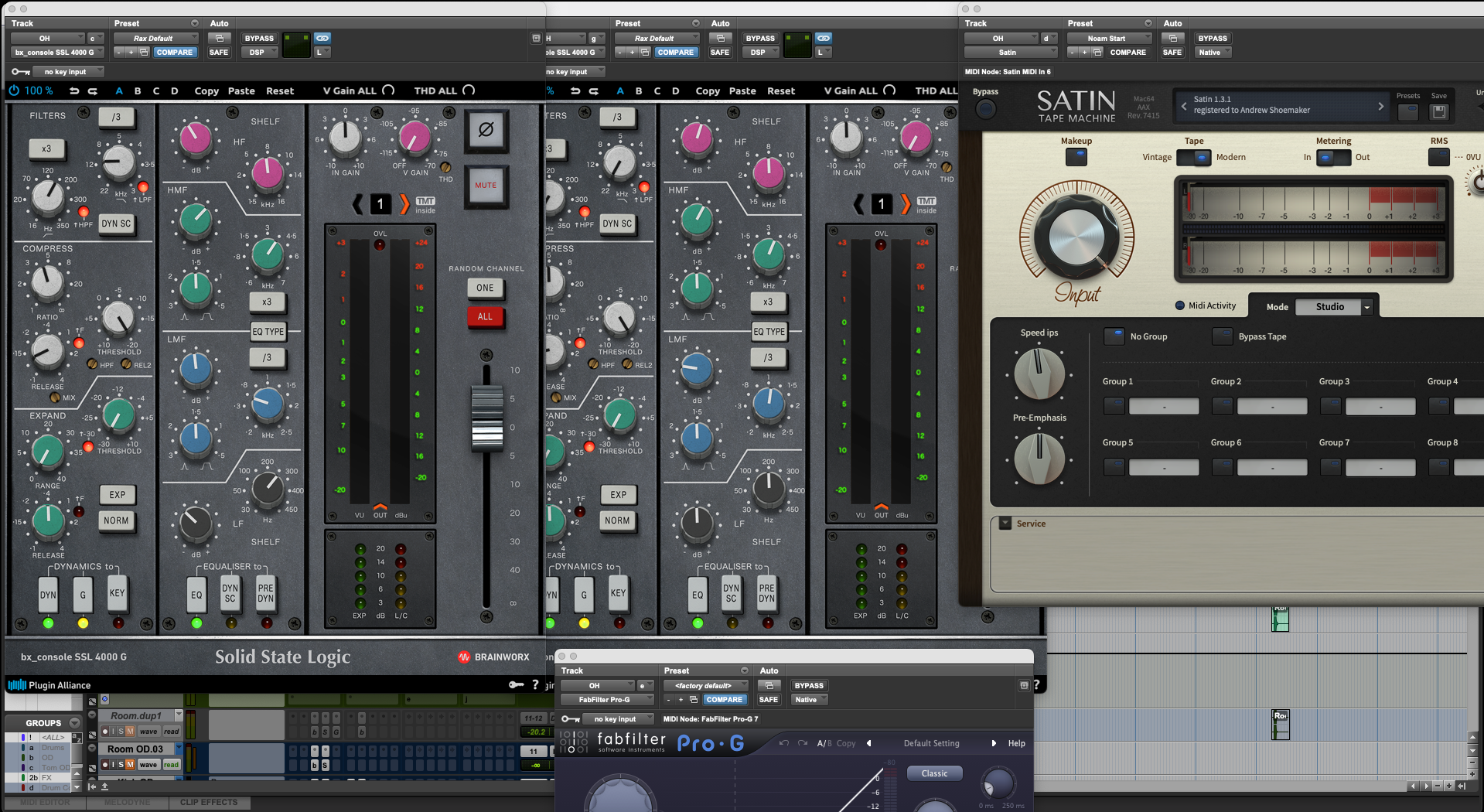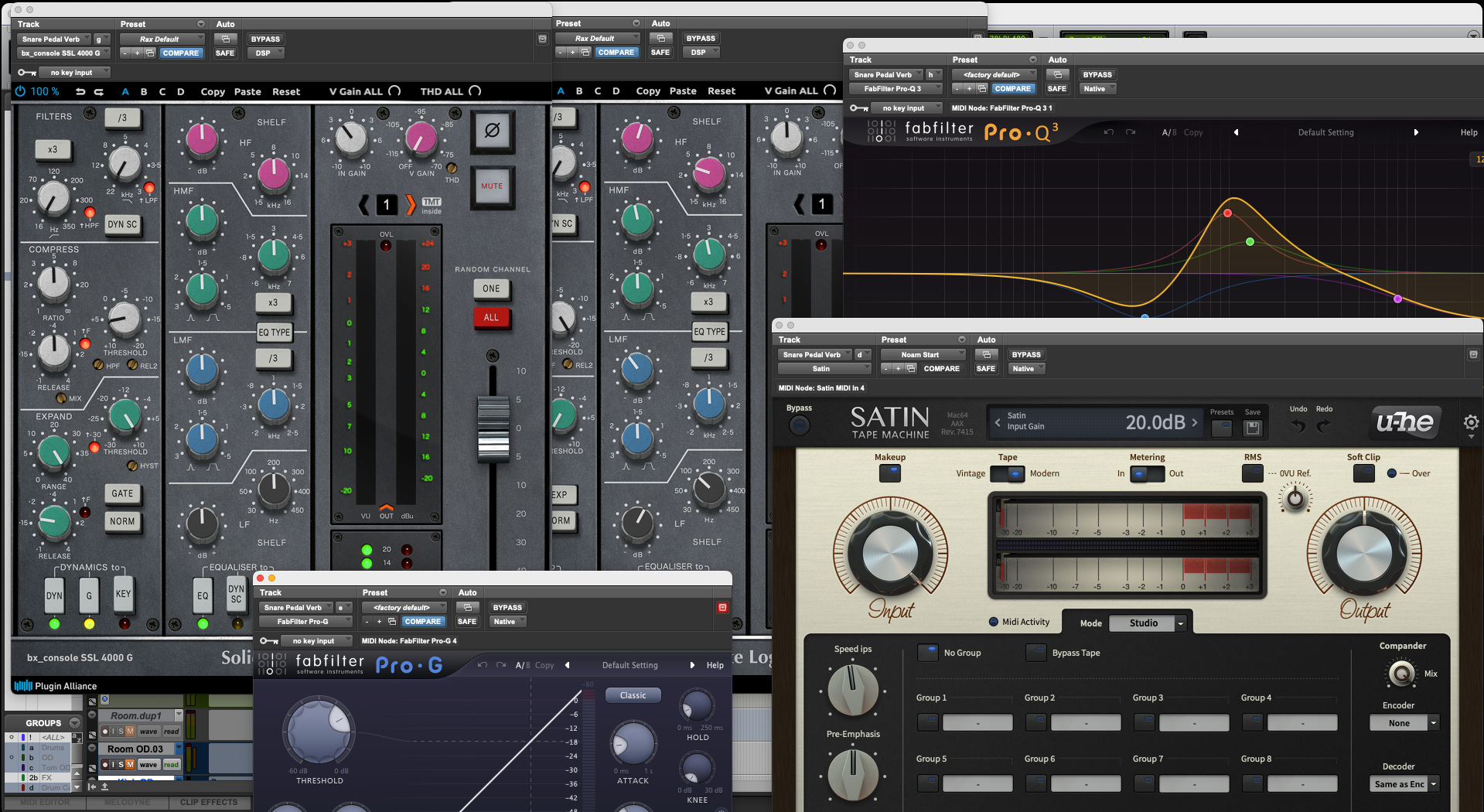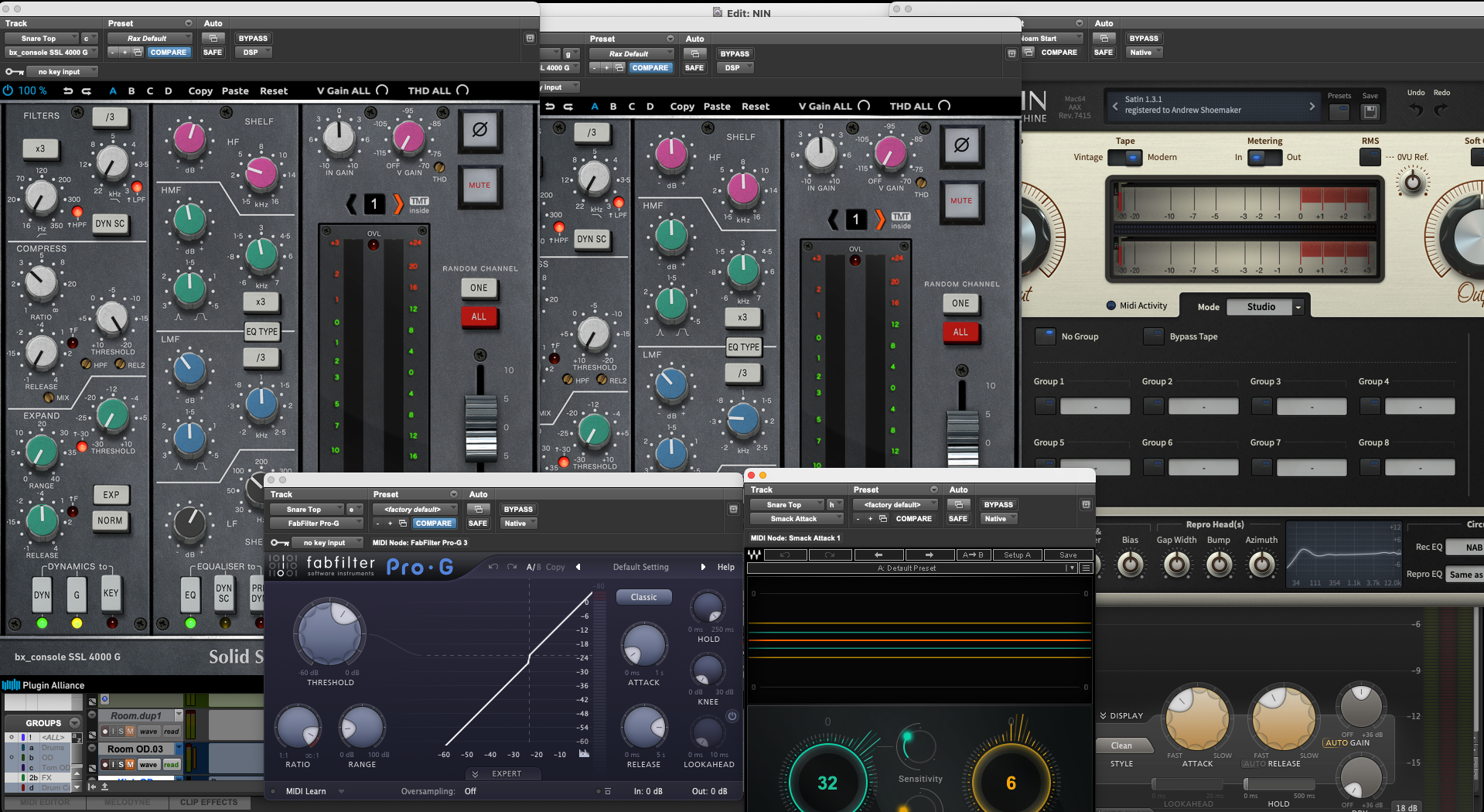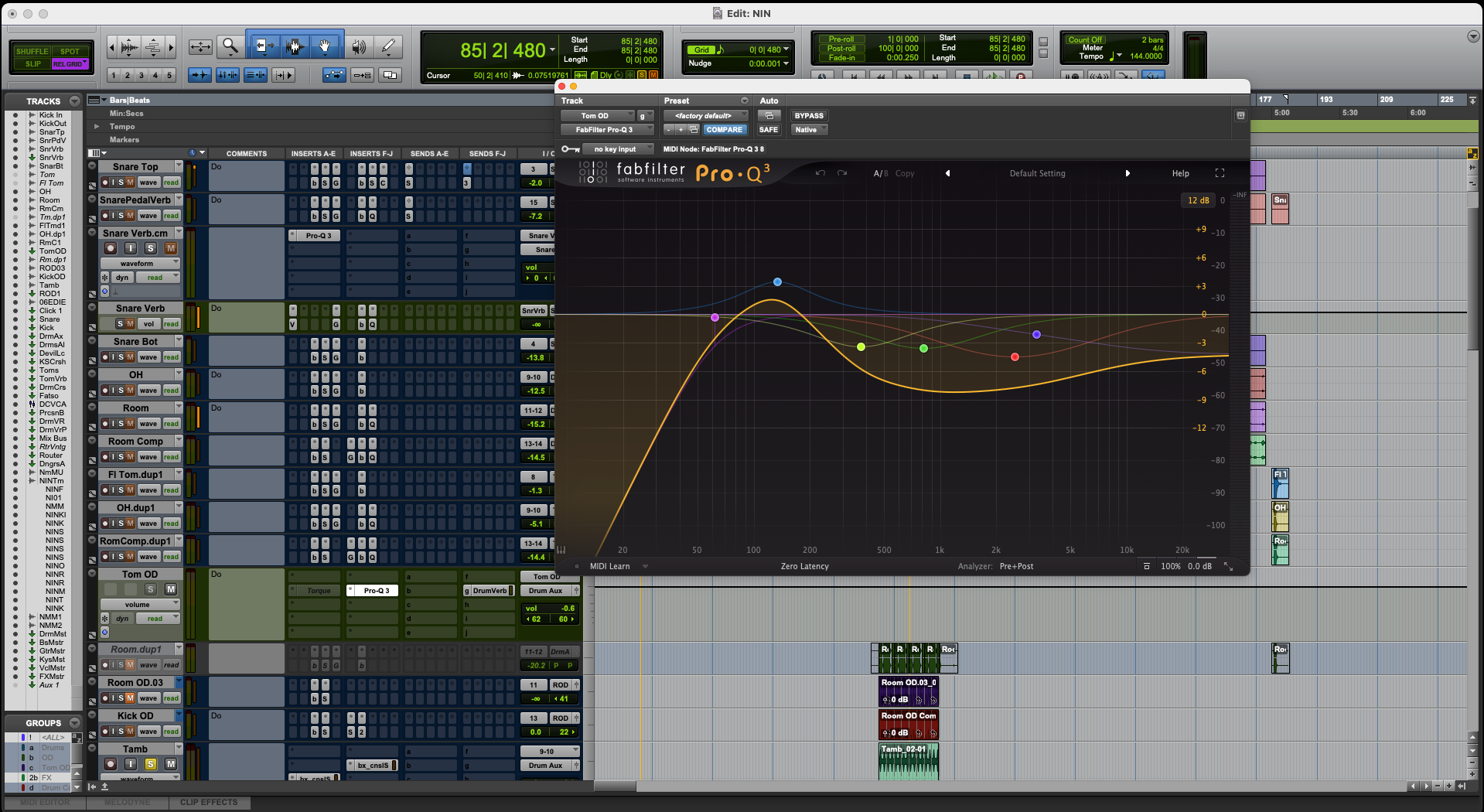 ---
While the overhead treatments were relatively standard fare, a lot of work was done to the room mic signal. First, we split it two—one was sent to a Chandler TG-1 limiter for some punchy compression, and we threw a noise gate on the other, adjusting the filter so that it would open only when the snare hit. The kick drum overdub was recorded with exclusively our room mics and received the same split treatment.
Check out our recreation in the video above, and perhaps that'll set you on a downward spiral of other What's That Sound episodes.