Last week's Superbooth convention brought with it a long list of exciting new gear announcements. And Teenage Engineering's unveiling of the new OP-1 Field made quite the impression, leading to a ton of people listing their original OP-1s for sale.
Whenever gear is making news, you can find it on this page. Bookmark and check back often.
"Smells Like Teen Spirit" Mustang Sells for Nearly $5 Million
See the Fender Mustang in action in Nirvana's "Smells Like Teen Spirit" music video.
Back in 2020, the 1959 Martin D-18E Kurt Cobain played during Nirvana's beloved MTV Unplugged performance fetched a whopping $6.1 million, making it the most expensive guitar ever sold at auction. This past weekend, the late icon's Fender Mustang—which is featured in the "Smells Like Teen Spirit" music video—overtook David Gilmour's Fender Strat for the second spot on that list, selling for $4.5 million. Indianapolis Colts owner, Jim Irsay, put in the winning bid, with a portion of the sale going toward his mental health charity, Kicking the Stigma. The Mustang will be added to The Jim Irsay Collection alongside other museum-quality rock 'n' roll memorabilia.
Shop all:
Fender gear
.
Learn more:
Kurt Cobain's "MTV Unplugged" Martin Sells for $6.1 Million, Prince's "Blue Angel" Cloud for $563,500
.
Mini John Bonham-Owned Vistalite Fetches Six Figures At Auction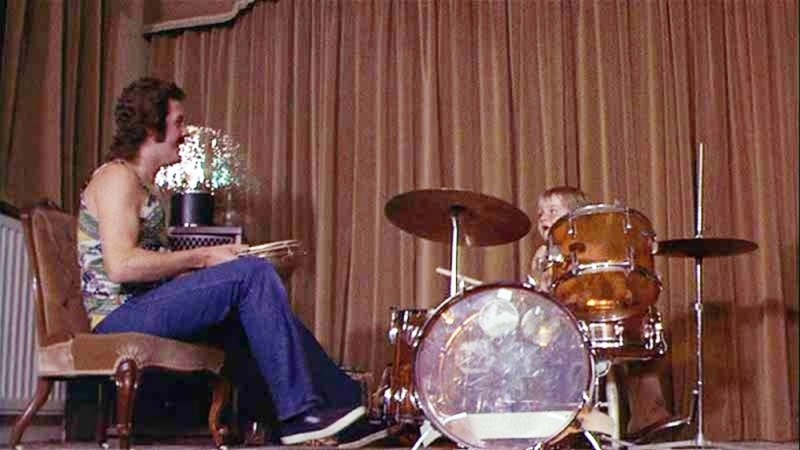 John Bonham with Jason Bonham and the Vistalite drum set. Photo from
Julien's Auctions
.
Cobain's famous Mustang wasn't the only piece of rock 'n' roll history that commanded a big price this past weekend. Joining it was a John Bonham-owned Ludwig Vistalite drum set, which itself sold for $106,250. This special drum set is a scaled-down version of the late drummer's primary Vistalite kit that he played on tour with Led Zeppelin. This smaller kit was set up at Bonham's home in Old Hyde Farm, Worcestershire primarily for his son, Jason, to learn on. In fact, this is the kit you can see Jason Bonham playing as a child during the "Moby Dick" montage in Led Zeppelin's 1976 concert film, The Song Remains The Same.
Shop all:
Ludwig gear
.
Learn more:
Video: Ilan Rubin Teaches John Bonham's "Fool in the Rain" Shuffle
.
New OP-1s Leads to Lots of Original OP-1 Listings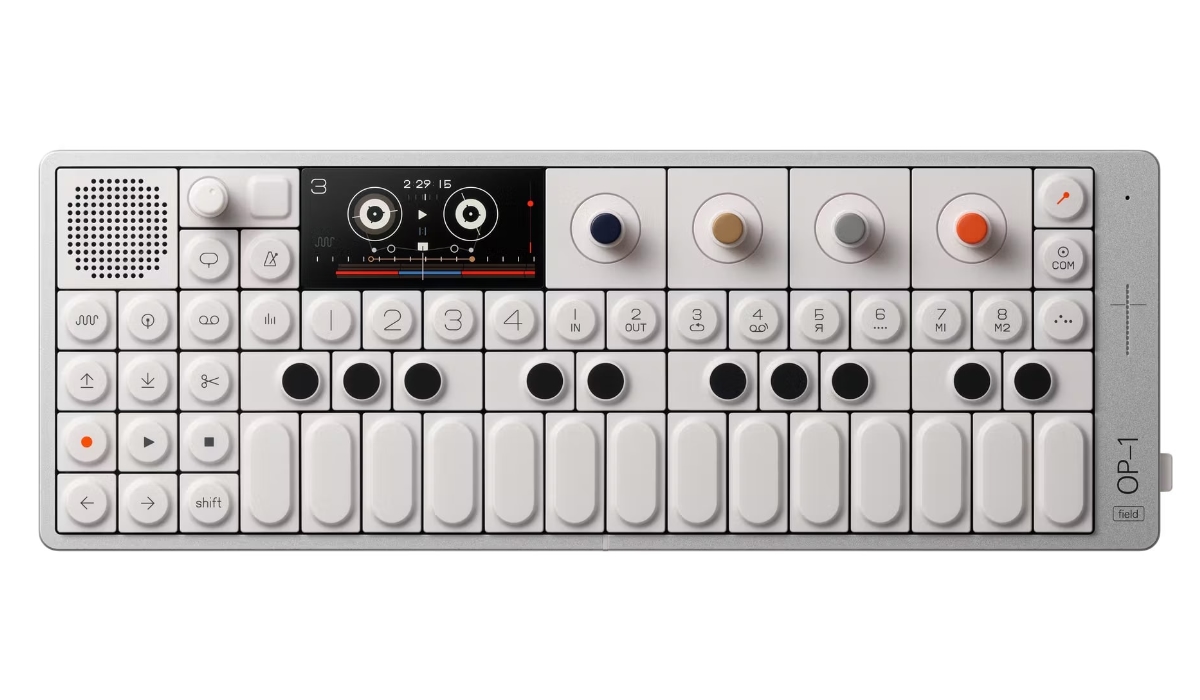 The new OP-1 Field.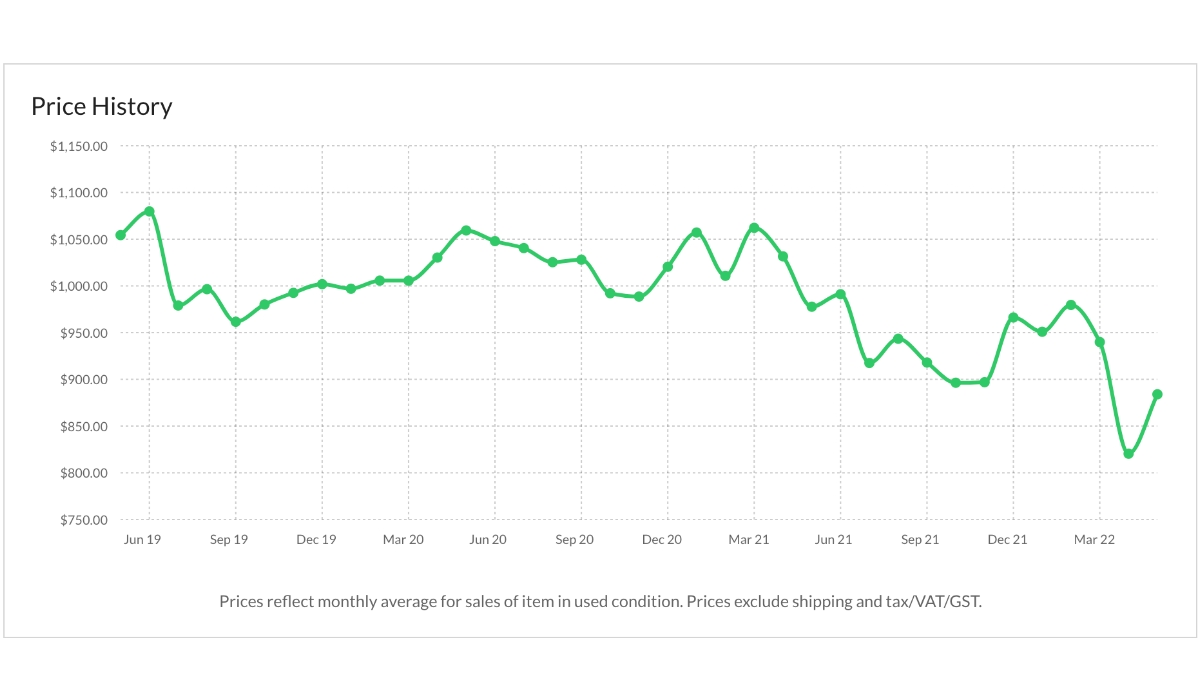 Sale prices for used OP-1s.
Take a look at those pictures above. One picture is the new OP-1 Field, the just-under-$2,000 new synth/sampler/sequencer from Teenage Engineering. The other is the Price Guide for original OP-1s selling on Reverb.
Outside of its Pocket Operator series, Teenage Engineering has, for quite some time, taken some heat for being expensive. However, the original OP-1 continues to be a best-seller year after year on Reverb. Not to take anything away from the new OP-1 Field, but is it going to be worth nearly twice the going-rate of an OP-1?
In the hours and days after the announcement of the OP-1 Field, scores of used OP-1 listings appeared on Reverb. Whether these sellers are current owners interested in the new model or just worried that the price of their OP-1 will depreciate, the result is that it is the best time in ages to snag a deal of this beloved instrument. It's a buyer's market for the first time in a decade.
Get the new: OP-1 Field.
Get a used deal: Shop original OP-1s.
Learn more: 10 Years of the OP-1.
The New Meris LVX Is Here
Learn about the new Meris LVX.
Meris has finally unveiled its new modular delay system, the much-teased LVX. Equipped with a next-gen processor, this highly configurable delay promises to be one of the most powerful on the market. Rather than being packed with pre-set delay types, the pedal's architecture has been designed from the ground up to allow players to craft their ideal, all-custom delay via intuitive controls and the pedal's easy to use graphic interface. Preorders are open now, with an expected ship date of late this summer.
Get the new: Meris LVX.
Shop all: Browse all Meris gear.
Learn more: Meris Launches Its Official Reverb Shop.
Lzzy Hale Debuts Explorer-Firebird Hybrid on Stage
Hale performs with the Explorer-Firebird hybrid in March 2022.
If you've seen Lzzy Hale perform at a Halestorm concert this year, you've likely seen her rocking an unusual guitar: a Gibson Explorer with a Firebird neck. Guitar World recently got the inside scoop. Hale told the magazine that it's in fact a prototype of a new model, the Explorer Bird, she's been working on with Gibson. She told Guitar World, "I think it was at the NAMM right before lockdown [January 2020]—we were doing some projects with Gibson—and I mentioned offhandedly that it would be cool to have a Firebird headstock on an Explorer body." Gibson brand president Cesar Gueikian jumped on it, and soon enough, Hale was testing it out. The guitarist and Gibson brand ambassador says that we should expect the Explorer Bird sometime later this year.
Get the new: Follow the Gibson Explorer Bird.
Shop all: Browse all Gibsons.
Learn more: The Signature Models We Want to See.
Oberheim's Big Return & More From Superbooth
Our hands-on look at the OB-X8, from Superbooth 2022.
After getting his Oberheim brand back from Gibson in 2019, Tom Oberheim has worked with friend and fellow synth pioneer to Dave Smith to bring back the acclaimed OB-X. The OB-X8 is a full reissue, with all the richness of the '80s megasynth. A standard release of Superbooth 2022, the OB-X8 does not just rest on Oberheim's laurels. Players can switch between three separate synth architectures (OB-X, OB-Xa, and OB-8) and create sounds not possible with any previous model.
Get the new: Oberheim OB-X8.
Shop all: Browse all Oberheim gear.
Learn more: The Wondrous New Gear of Superbooth 2022.
Gibson's Dave Mustaine Songwriter, a Metal Head's Acoustic
Megadeth's Dave Mustaine—a recent addition to Gibson's artist roster—now has a new acoustic in his Dave Mustaine Collection. Dubbed the Songwriter, it's built for speed and high-neck fretwork, so much so that it's Gibson's very first 24-fret acoustic guitar. With an LR Baggs VTC undersaddle pickup, you can also plug in, all while the band's Vic Rattelhead mascot nods along on the pickguard.
Get the new: Dave Mustaine Songwriter.
Shop all: Browse all Mustang signatures.
Learn more: 17 Discontinued Signature Guitar Models Currently Climbing in Price.
UT Twin87 Bridges Old and New
United Studio Technologies' introduction video for the UT Twin87.
Modeled after the sound of two different eras of the Neumann U 87, United Studio Technologies' UT Twin87 is a vocal mic built for any kind of vocalist. From the mic itself, you can select Vintage mode for a "warmer, softer, and forgiving sound" or Modern for a "louder, slightly brighter, and more articulate response."
Get the new: UT Twin87.
Shop all: Browse all 87-style mics.
Learn more: The Search Is On: Boutique Mics.