Our second installment of this year's best-selling gear is here. Below, we'll be breaking down the top 20 most-popular electric, acoustic, and bass guitars of 2021, respectively, according to how many units were sold.
If you've been following our best-selling gear coverage over the past few years, you may have noticed that we don't always cover the best-selling guitars. That's because—unlike our pedals and electronic gear lists, for example—there isn't always a lot of movement from year to year in this category. Still, with how many new guitarists and gearheads we've welcomed into the community over these past two (mostly housebound) years, we felt it was time to take a glance at the tried and true guitar go-tos.
Be sure to check out yesterday's Best-Selling Synths and Electronic Gear if you missed it, and stay tuned the rest of the week for the best-selling pedals, amps, and recording gear pieces still to come.
Note: All rankings are determined by total order count—that is, the actual number of items sold, not the total price of sold items. And because Reverb is home to individual sellers, independent brick-and-mortars, and licensed retailers alike, our rankings include all sales, whether brand-new or used.
---
Best-Selling Electric Guitars of 2021
---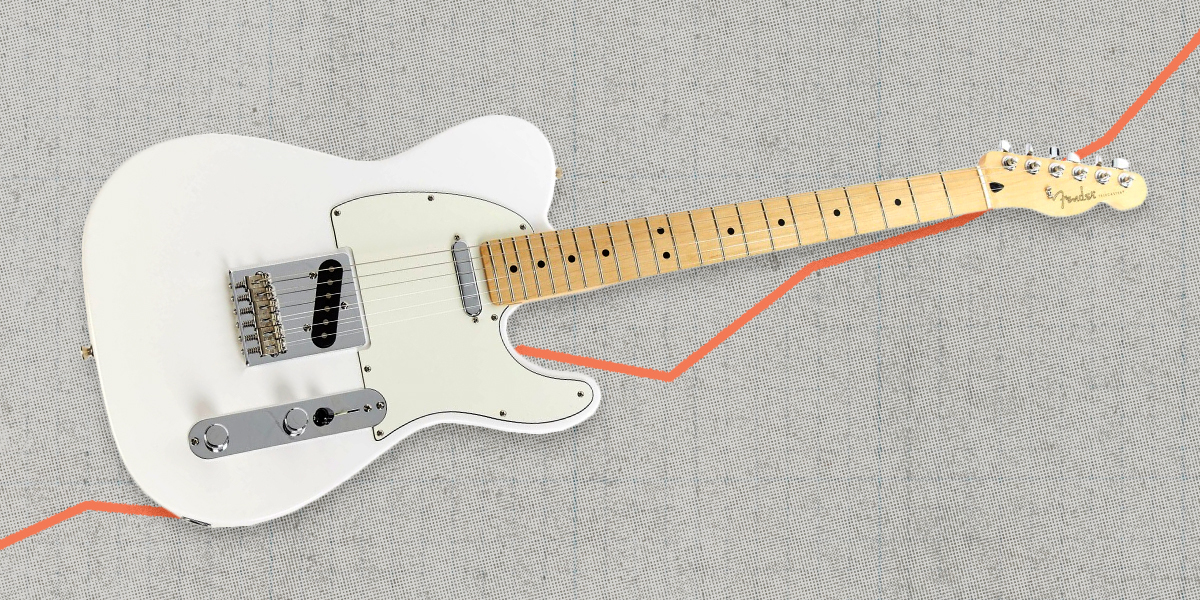 While we've highlighted a lot of really unique, boutique, and standout guitar companies this year—like Aluminati Guitars and Gallo Guitars, to name just a couple—it's not particularly surprising to see titans like Fender, Gibson, and Paul Reed Smith dominating this list. These longtime mainstays have much larger operations than the newer boutique brands, and due to their longevity, also tend to have more robust resale markets. For these reasons, you may not see even the most popular smaller brands represented here.
This year, the classic Tele twang just edged out the Strat's slap, with the top spot on this list going to the Fender Player Telecaster—part of the brand's Made-in-Mexico line, similar to the Standard series from decades past. It'll be interesting to see how Fender's newly available and elevated Player Plus series will affect these placings next year.
However, the Stratocaster did dominate the list overall, with various models taking seven of the top 20 spots to the Tele's four. PRS also wiggled its way into the top three for 2021, thanks to John Mayer's supremely popular Silver Sky signature—which could almost be counted as an eighth Strat model, being that its PRS's take on one.
---
Best-Selling Bass Guitars
---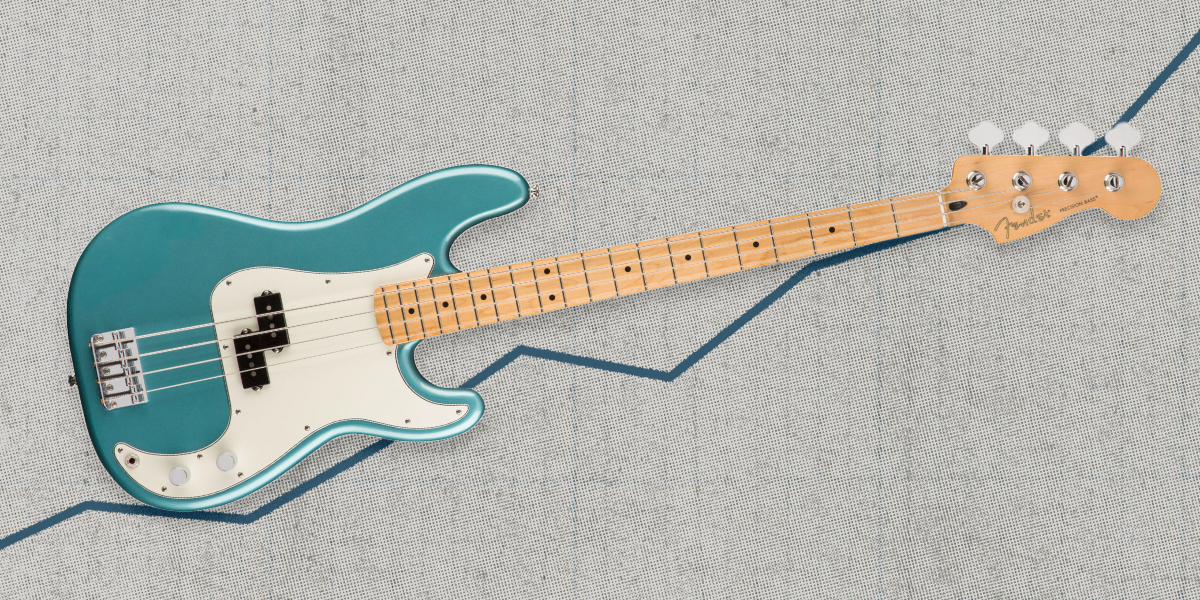 The top bass guitars list works in bit more brand diversity than the electric guitar category. While another Fender Player series model takes the top spot again here (with the more affordable Squier Affinity series following close behind), popular bass brands like Ibanez, Rickenbacker, and Hofner join the fold further down.
It's particularly exciting to see a short-scale bass model make the top five, and it's pretty easy to see why. The Ibanez GSRM20 does all it can to make sure that players get a feature-rich, full-scale experience in a short-scale, conveniently compact package—and all for under $200.
Unsurprisingly, the historically iconic bass models—like the Rickenbacker 4003 and Hofner violin-style basses—of course find themselves at home in the top 20 again this year. And speaking of iconic body shapes, Epiphone's delightfully affordable Thunderbird IV managed to slip into the last spot here as well.
---
Best-Selling Acoustic Guitars
---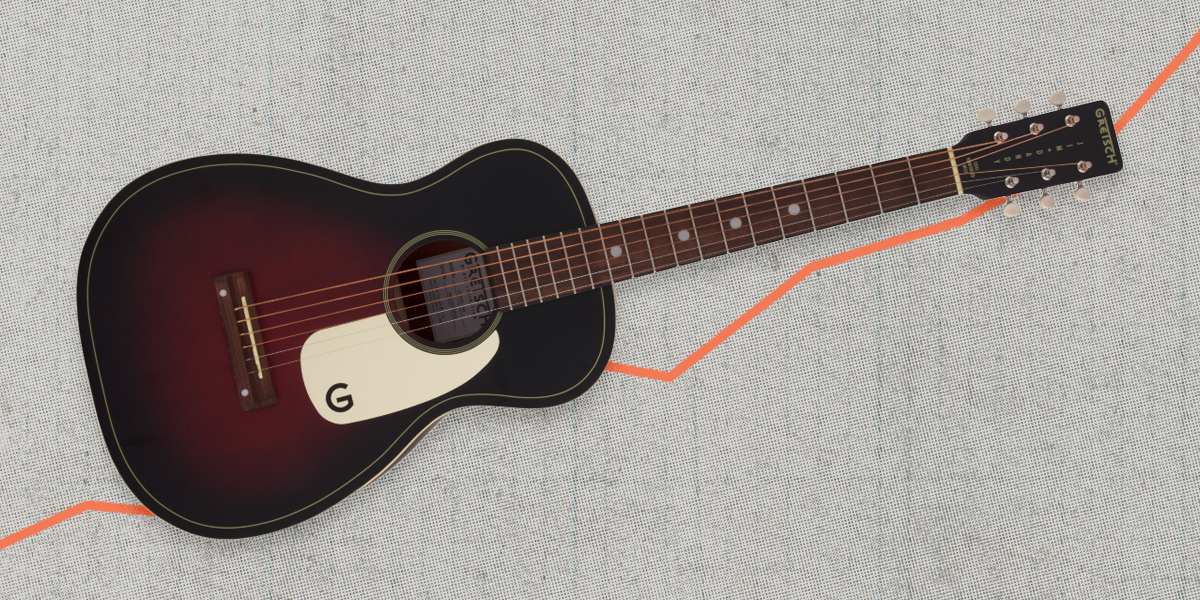 Maybe the most interesting trend of the acoustic guitar list is that several of the models represented—six out of the first seven spots, in fact—are all parlor and travel-sized acoustics. This guitar subcategory saw some of the biggest growth throughout the pandemic, as these scaled-down instruments are affordable, great for beginners or casual play, and small enough for road trips.
Top entries here go to the affordable Gretsch G9500 Jim Dandy, the ever-popular Taylor GS Mini, and even the SE Parlor P20E from PRS. Particularly interesting for Martin is that the uniquely shaped Backpacker model just managed to beat out the more traditional, Mexican-made Little Martin. While the Little Martin is still quite affordable at $350 USD brand-new, the steel-string Backpacker undercuts it just slightly at around $270 new.
Another interesting note is that all three of the core models in Fender's ultra-unique American Acoustasonic series have made the top 20 this year. The electric-acoustic Telecaster and Stratocaster hybrid models (placing in spots three and 15, respectively) were both unveiled in 2019, but the Jazzmaster model was only released this year and still came in eighth overall.
Perhaps these guitars earning top marks despite relatively high price tags reflects a growing trend of players who want the best of both worlds in a single instrument. Now that the more affordable Acoustasonic Player Telecaster has been released, I wouldn't be surprised to see that model snag a top spot next year as well.
---
Keep checking back this week to see more of Reverb's best-selling gear of 2021.