Reverb Reports Another Record-Breaking Quarter for Sellers
Music gear marketplace and its sellers experience best quarter ever as consumers continue to shop for musical instruments online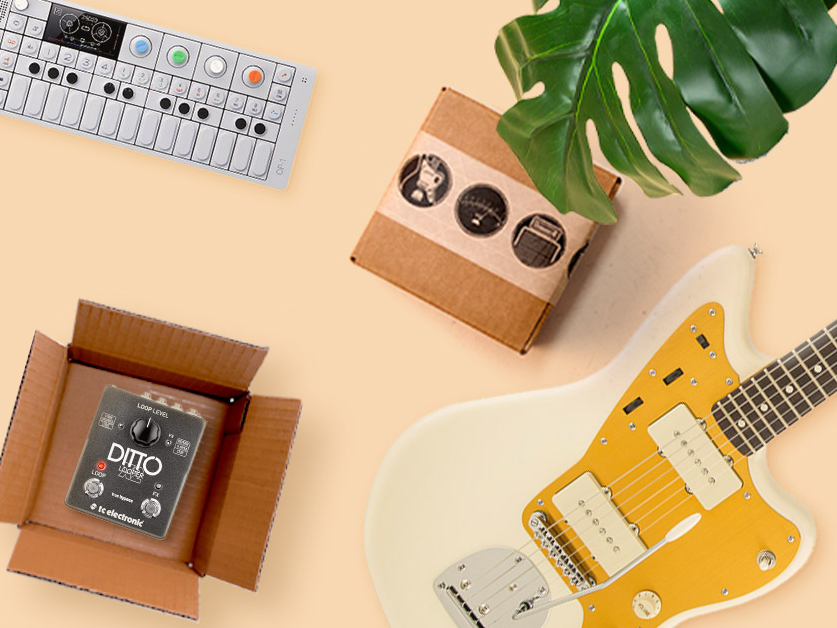 Thursday, May 6, 2021—Reverb, the largest online marketplace dedicated to buying and selling new, used, and vintage musical instruments, announced today that the first quarter of 2021 was its best to date, with gross merchandise sales up nearly 50% compared to the same period last year. The company attributes the continued growth to a combination of consumers' increased preference for online shopping and Reverb's recent investments in seller tools and marketing to get sellers' gear in front of more buyers online.
"There's never been a better time to sell musical instruments online, with music gear in nearly every category in high-demand and selling quickly. Now that consumers have experienced first-hand the ease and benefits of buying music gear online, we expect they'll continue to do so," said David Mandelbrot, CEO at Reverb. "Our team is energized by the success our sellers are seeing right now, and it's only strengthened our commitment to providing seller tools, marketing campaigns, and more to help anyone looking for new or used musical instruments online find the perfect instrument from our seller community."
Consumers continue to turn to Reverb sellers to find inventory that is in limited supply or out-of-stock elsewhere. Throughout the first three months of the year, guitar-related categories—acoustic guitars, electric guitars, accessories, and more—remained popular. In fact, Reverb saw more searches for electric guitars in Q1 than it did during the busy holiday season, and effects pedals have been among the most popular they've ever been on Reverb. Pro audio gear remains popular, along with new analog and digital synths. Demand and prices for vintage synths and keyboards continue to increase—as an example, the average price for the popular Roland Juno-106 has increased 15-20% in 2021. Across many categories, used gear is being valued at closer to the original price of the same item in brand new condition. In fact, the average sales price for used gear was up 13% in Q1 compared to the same period last year.
In response to feedback gathered from its seller community, Reverb introduced in Q1 a new Advertising Dashboard aimed at helping sellers get their gear in front of as many buyers as possible. This new tool allows sellers to see how buyers are interacting with their Reverb Bump promoted listings, dig deeper into what's working and what's not, and more. To improve the shipping experience, Reverb also introduced the Reverb Shipping Corner, where sellers can print discounted Reverb shipping labels, find shipping materials, purchase Reverb Safe Shipping, and access additional shipping tips and tools from Reverb's team of experts.
According to Justin Henricks, E-Commerce Specialist at Parkway Music in Upstate New York, tools like Reverb Safe Shipping are a huge benefit to their business, saving them time they would have otherwise spent working with a shipping carrier as well as helping them easily ship internationally, which allows them to reach new buyers and increase sales.
"We went from selling and marketing within a five-mile radius to seeing the potential of what selling online can do. Prior to Reverb, e-commerce was an afterthought—now it is a vital part of our business," said Henricks. "Our account rep has also been crucial in helping us determine what some of the best products and brands are. This has helped us increase our inventory with confidence and expand further into new gear categories."
In addition to working closely with dealers to make it easier to sell their inventory online, Reverb also partners with manufacturers to merchandise their new products and promote their dealers. During the first quarter, Reverb partnered with Universal Audio and Fender to promote the launch of the UAFX pedal series and American Acoustasonic Jazzmaster, respectively.
Reverb's seller engagement team works with sellers to help them grow their sales through the right mix of features for their Reverb shop, ranging from 0% APR Financing with Affirm, to Free 2-Day Shipping, integrations, and more. To learn more, contact sellerengagement@reverb.com.
About Reverb
Reverb is the largest online marketplace dedicated to buying and selling new, used, and vintage musical instruments. Since launching in 2013, Reverb has grown into a vibrant community of buyers and sellers all over the world. By focusing on inspiring content, price transparency, musician-focused eCommerce tools, a music-savvy customer service team, and more, Reverb has created an online destination where the global music community can connect over the perfect piece of music gear. Sales on Reverb also help support the Reverb Gives program, which provides youth music programs all over the world with the instruments they need to make music. Reverb is a wholly-owned subsidiary of Etsy (NASDAQ: ETSY), which operates two-sided online marketplaces that connect millions of passionate and creative buyers and sellers around the world.