Who we support
Sales on Reverb help support the Reverb Gives program. Since 2018, Reverb Gives has helped over 200 youth music education programs in need.
Who we've supported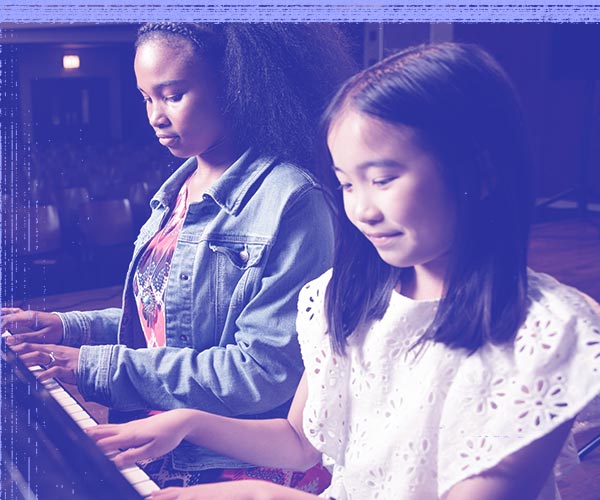 Reverb Gives funding gave us the ability to experiment with equipment while accessing Reverb's community of shops and musicians. These incredible resources allowed us to figure out creative solutions for our youth development partners resulting in engaging programming for teens interested in beat-making and music production.
- David Bickel
Associate Executive Director at the Music & Youth Initiative
Alabama
The Initiative for Creative Arts
Arizona
Alice Cooper's Solid Rock
Civitan Foundation
Lead Guitar
California
3 O'Clock Rock
The Alisal Center
Aspire Public Schools
Big Springs Elementary
Bay Area Girls Rock Camp
Bay Area Music Project
Blue Bear School of Music
Chicxs Rockerxs Southeast LA
Folsom Middle School
Guitars Antiqua
Girls Rock Santa Barbara
Harmony Project
Music is First
MUST (Music in Schools Today)
New Earth Organization
Oakland Youth Chorus
Rhythm Arts Alliance
Riverside Arts Academy
Rock to Recovery
Saint Anne School
Sequoia High School Education Foundation
Silverlake Conservatory of Music
Today's Future Sound
Vista Guitar Nation
West Side Elementary
Women's Audio Mission
Young Musicians Foundation
Colorado
A Child's Song
Blue Star Connection
Colorado Springs Conservatory
High Point Academy
NEC Audio Production
iAM Music
Connecticut
Intempo
Wethersfield Public School
Wilbur Cross High School
D.C.
Boys & Girls Club of Greater Washington
​​Hungry For Music
Sitar Arts Center
Florida
Cathedral Arts Project​
Girls Make Beats
Marjory Stoneman Douglas
Miami Girls Rock
Young Musicians Unite
Georgia
Girl Rock ATL
G.O. Bailey Elementary School
The Otis Redding Foundation
Streetline Percussion
Hawaii
ATRC Hawaii
West Hawaii Explorations Academy
Idaho
Armada Corps Inc.
Illinois
AFRORACK
Bluegrass Ambassadors
Boys & Girls Club of Chicago
Chicago Arts and Music Project
Chicago Jazz Philharmonic
Chicago Sinfonietta
Circles & Ciphers
Erie Elementary
Foundations of Music
Franklin Fine Arts Center
Free Write Arts and Literacy
Girls Rock Chicago
Guitars Over Guns
Intonation Music
Lane Tech College Prep
LYTE Collective
Musical Arts Institute
Merit School of Music
Nightingale Elementary School
Notes for Notes
One City | VanderCook
Old Town School of Folk Music
The People's Music School
UpBeat Music and Arts Center
Indiana
​Girls Rock Bloomington
Music for All
North White School Corporation
Kentucky
Fallsburg Elementary
Louisiana
The Roots of Music
Sabine Parish School Board
Maine
240 Strings
317 Music Center
Massachusetts
Immigrant Family Services Institute
LightHouse Holyoke
Music & Youth
ZuMix
Michigan
Class Act Detroit
North Adams Jerome Public Schools
Schweitzer Elementary
Minnesota
Brooklyn Center Community Schools
Hartley Elementary School
Minnesota Guitar Society
Mississippit
Mississippi Arts + Entertainment Experience
Missouri
Newburg High School
Strings Attached Program
Nebraska
Omaha Girls Rock
Nevada
The Dr. Shirley Linzy Young Artists Orchestra
Green Valley High School Guitar Program
Pinecrest Academy of Northern Nevada
New Jersey
Little Kids Rock
New Mexico
Taos Youth Music School
New York
Bloomingdale School of Music
Brooklyn Music and Leadership Institute
Brooklyn United
Internal Creations
Music Art Puppets Sound
Opportunity Music Project
The Phil Ramone Orchestra for Children
Red House Arts Center
Save the Music Foundation
Sound Thinking NYC
Quest Youth Organization, Inc.
Willie Mae Rock Camp
North Carolina
Arts+
Girls Rock Asheville
Kidznotes
Ohio
Cleveland Classical Guitar Society
Columbus Saints
Franklinton Preparatory Academy
Oregon
​Friends of Noise
King's Valley
My Voice Music
Rock n' Roll Camp for Girls
Young Audiences of Oregon and SW Washington
Youth Music Project
Pennsylvania
Girls Rock Lehigh Valley
Girls Rock Philly
Moon Area School District Electric Guitar Building Club
Oxford Arts Alliance
Rock to the Future
South Carolina
Girls Rock Columbia
Tennessee
Dynamo Studios
Stax Music Academy
YEAH!
Texas
Angleton ISD Foundation
Aristoi Classical
Austin Classical Guitar
Beyond the Grade
Lydia Patterson Institute
Pick With Austin
Utah
Rock n' Roll Camp for Girls SLC
Sistema Utah
Spyhop
Virginia
Music for Life
North Fairfax County Public School
West Virginia
Black Cat Music Cooperative
Ripley Band Boosters
Washington
Amboy Middle School
University High School Instrumental Music Parent's Association
Rain City Rock Camp
Seattle JazzED
Wisconsin
Guitars for Vets
Wisconsin Conservatory of Music
Organizations Based Outside of the United States
Alpha Institute (Kingston, Jamaica)
Karam House (Hatay, Turkey)
SÄRÖ ( Helsinki, Finland)
Leerorkest (Amsterdam, Netherlands)
Music Heals International (Port-au-prince, Haiti)
Noise Solutions UK (Sussex, South East England)
Nvak Foundation (Armenia, Israel, Malawi)
Rock Camp Montreal (Montreal, Quebec Canada)
We want to hear from you
If you run a nonprofit youth music program in need of musical instruments, apply below.
Apply now
All photos used with permission of the organization.
Oops, looks like you forgot something. Please check the fields highlighted in red.