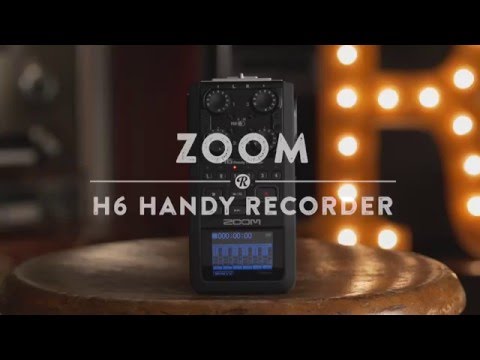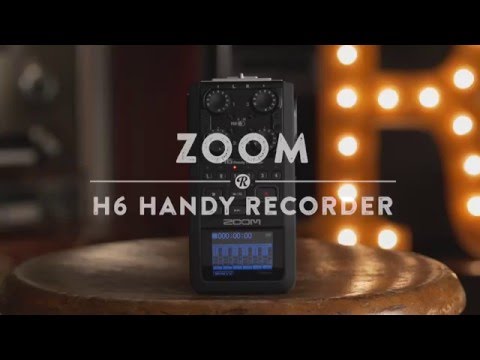 Zoom H6 Handy Recorder
About This Listing
ZOOM H6
Six interchangeable input capsules make the ZOOM H6 the ultimate recorder for film, video, podcast and music. Its advanced preamps make it the best-sounding one, too. Unmatched abilities. Award-winning quality. Meet the H6 Handy Recorder.
The H6 is a podcaster‰Û¡ÌÝå»s dream with inputs for every guest and phantom power for every mic. Easily monitor your levels on the H6‰Û¡ÌÝå»s crisp, color LCD screen, and use its individual gain knobs to control the levels of each input. The H6 is intuitive and easy to use.
Featuring interchangeable mic capsules, 4 combo inputs and 6 tracks of quality recording, the H6 is ready to record on any set and in any scene the director throws at you.
Pre-Record
The H6 is always listening, saving the two seconds* of audio captured right before you hit RECORD.
*One second when recording at 96k.
Auto-Record
The Auto-Record function allow the H6 to automatically start and stop recording at predefined sound levels.
The Zoom H6 comes with free download licenses for Steinberg‰Û¡ÌÝå»s Cubase LE music production software and WaveLab LE audio editing software, enabling you to not only capture, but create.
Features
Interchangeable input capsules
Six-track simultaneous recording
Four mic/line inputs with XLR/TRS combo connectors
Gain control knobs and -20dB pads for each input
Supplied XYH-6 X/Y capsule provides secondary input via a stereo ‰Û¡Ìä̉ۡÌÝ Mic/Line In mini phone jack
Phantom power for all main inputs: +12/+24/+48V
Large full-color, angled LCD display
Records directly to SD, SDHC and SDXC cards up to 128GB
Up to 24-bit /96kHz audio in BWF-compliant WAV or a variety of MP3 formats
Auto-record, Pre-record and Backup-record functions mean that you'll never miss that perfect take
Built-in effects, including low-cut filtering, compression, and limiting
Multichannel and stereo USB audio interface for PC/Mac/iPad
Accepts standard AA alkaline or NiMH rechargeable batteries
Over 20 hours of operation with 4 AA alkaline batteries
Here's what comes included with the H6.
Operation manual
XYH-6 X/Y mic capsule
MSH-6 MS mic capsule
AA size (LR6) battery x 4
Cubase LE & Wavelab LE Software
Windscreen
USB Cable
Case
Buy now, pay later – from 0% APR
As low as $17/month with Affirm monthly payments.
View Full Listing