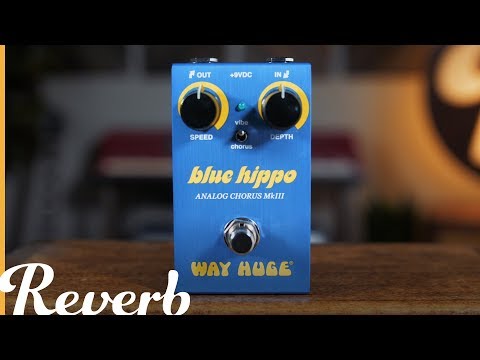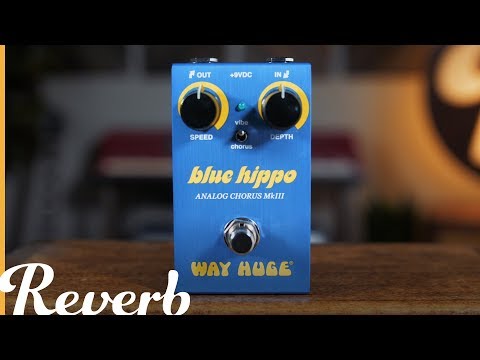 Dunlop Way Huge Smalls Blue Hippo Analog Chorus Effects Pedal, WM61
About This Listing
The Blue Hippo Analog Chorus MkIII delivers a range of luscious, liquefied modulation and comes with a Vibe switch for adding thick vibrato goodness to your aqueous tones.
The Blue Hippo Analog Chorus sounds as lusciously liquefied as ever in a Way Huge Smalls housing. With its simple Speed and Depth control interface, you can dial in everything from lush tone-widening to full-on rotating speaker modulation madness. If you want to splash on some thick vibrato goodness, just flip the Vibe switch to give your already aqueous tones a little more texture. The Blue Hippo Chorus is straightforward and no-nonsense-just plug in and dive into the deep end.
The Blue Hippo Analog Chorus can be powered by a single 9V battery, a Dunlop ECB003/ECB003EU adapter, or the DC Brick and Iso-Brick power supplies. The power input is a 5.5mm x 2.1mm jack with the positive voltage on the outer sleeve. Using an external power supply will disconnect the battery. Disconnect the input jack to preserve battery life when not in use. The pedal will lock into bypass mode when it is time to change the battery. It also includes power protection circuitry to prevent damage from AC power supplies.
Features:
Dunlop Way Huge Smalls Blue Hippo Analog Chorus Pedal
Even more versatile than the full-sized version
Simple Speed and Depth control interface
True hard-wire bypass switching preserves signal integrity
Controls: Speed, Vibe, Depth, and Footswitch
Input Impedance: 470 kΩ
Output Impedance: 470 Ω
Noise Floor*: -96 dBV
Delay Time: 5.7 ms to 7.0 ms
Noise Reduction: 2:1 ratio
Bypass: True Hardwire Relay
Current Draw: 12 mA
Power Supply: DC 9 Volts
UPC: 710137104426
MPN: WM61
As low as $14/month with
View Full Listing