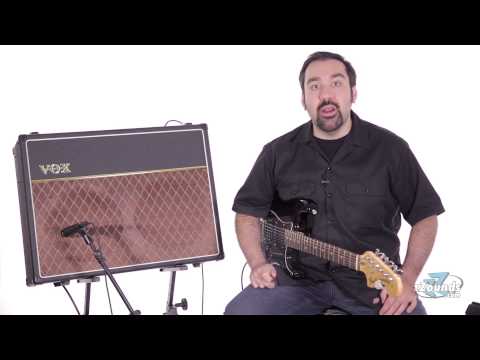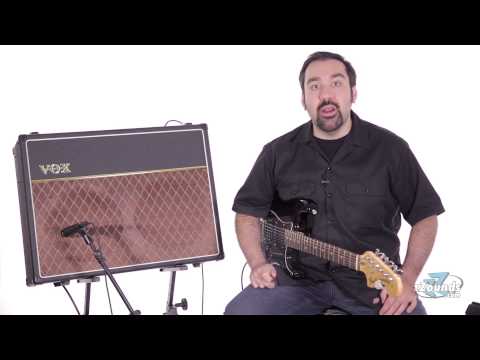 Vox AC30C2 Guitar Combo Amplifier (30 Watts, 2 x Alnico Blue 12")
About This Listing
Iconic Tone -- Just Choose Your Speakers
For more than half a century, the Vox AC30 combo amplifier has delivered an unmistakable tone and vibe. Now, Vox makes this legendary design available again with an updated AC30 that benefits from some critical modern touches.

for its part, utilizes 2 x 12-inch Celestion Alnico Blue Speakers. The Alnicos are made out of the ALuminium/NIckel/CObalt alloy from which they take their name.

Tubes Tried and True
The AC30C2X makea use of 3 x 12AX7 preamp tubes and use 4 x EL84 tubes to push 30 watts of power.

Vox's Famous Tremolo and Spring Reverb
The AC30C2X includes Vox's signature Tremolo to add that famous swirl to your sound. This Tremolo is adjustable both for Rate and Depth. There is also a genuine spring reverb onboard with a decidedly warm tone, adjustable for Tone and Level. Vox's signature Top Boost function is also here, with a 2-band treble/bass EQ and a separate Volume knob to gain the amp beyond the Master Volume. Both models include a built-in effects loop which makes this considerably more versatile than the original AC30s.

Tone Cut and Volume Controls
You'll find Tone Cut and Volume controls in the Master section to take your tonal crafting power even further. Tone Cut works by modulating the signal passing through the power stage, yielding a darker, richer tone. Then, you'll find yet another level of tone control, playing with the balance between the Master Volume control and Top Boost Volume.

Plays Nice With Other Speakers
When you want to send your AC30 tone into a separate set of speakers, there is a switchable 8/16 ohm output jack. Plugging into this jack automatically mutes the internal speakers. There is also an additional 2nd extension speaker jack, which allows you to run an extra 16 ohm cabinet simultaneously with the Vox AC30C2's internal speakers. This allows you to achieve a fuller sound overall, while also letting keep your ears on your amp's actual tone when you're onstage.

Features:
- 2 channels: Normal and Top Boost
- 30 watt 12-inch Celestion Alnico Blue Speakers
- 3 x 12AX7 preamp tubes
- 4 x EL84
- Treble/Bass switch
- Tremolo
- Spring reverb
- Standby switch
- Switchable 8/16 ohm output jack

Specs
- Inputs: Normal input jack (high and low), Top Boost input jack (high and low), FX RETURN jack, Footswitch jack
- Outputs: External loudspeaker jack, Extension loudspeaker jack, FX SEND jack
- Dimensions (W x D x H): 702 x 265 x 556 mm / 27.64 x 10.43 x 21.89 inches
- Weight: 33.4 kg / 73.59 lbs.
- VFS2A Footswitch Not Included

zZounds is an authorized dealer of Vox products.
As low as $72/month with
View Full Listing