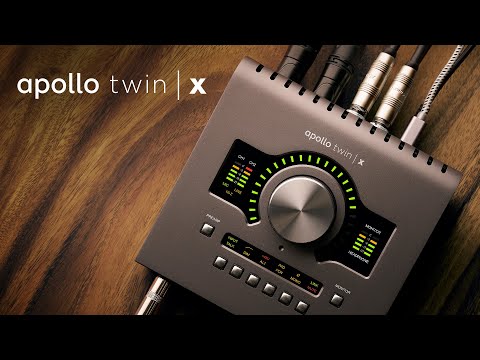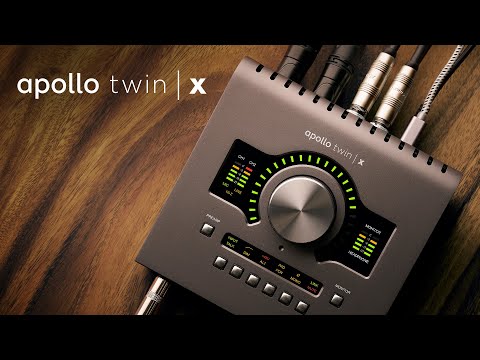 Universal Audio Apollo Twin X Duo Audio Interface
About This Listing
Built upon UA's 60-year heritage of audio craftsmanship, Apollo Twin X confidently outperforms everything in its class, with 127 dB D/A dynamic range and an included bundle of UAD analog emulation plug-ins, giving you a fully-stocked analog studio, right on your desktop.
Apollo Twin X allows musicians and producers to easily track, overdub, and mix with elite-class A/D and D/A conversion, two Unison-enabled preamps, and available DUO or QUAD Core realtime UAD plug-in processing — all in a desktop Thunderbolt 3 audio interface for Mac or PC.
Universal Audio Apollo Twin X Duo Audio Interface Features
Record and mix with elite-class A/D and D/A conversion — with the widest dynamic range and lowest noise of any desktop interface
Two Unison-enabled preamps — track with near-zero latency through preamp emulations from Helios, Neve, API, Manley, and more
Onboard UAD DUO Core processing lets you track and mix with UAD plug-ins like the included Teletronix LA-2A and 1176 compressors, Pultec EQs, and 610-B Tube Preamp & EQ
Cascade up to 4 Apollo interfaces and 6 UAD-2 devices over Thunderbolt, adding DSP and I/O as your studio grows
Apollo Twin X includes the "Realtime Analog Classics" UAD plug-in bundle. Other UAD plug-ins sold separately.
Realtime Analog Classics Bundle
With the Realtime Analog Classics plug-in bundle, you get legendary compressors like the Teletronix® LA-2A and EQs like the Pultec® EQP-1A, stunning guitar and bass amp emulations from Softube, as well as UA's landmark 610-B Tube Preamp and EQ plug-in.
UA 610-B
Marshall Plexi Classic Amplifier
Teletronix LA-2A Legacy
UA 1176LN Legacy
UA 1176SE Legacy
Pultec EQP-1A Legacy
Pultec Pro Legacy
Ampeg® SVT-VR Classic Bass Amp
Precision Channel Strip
Precision Reflection Engine
Precision Delay Modulation
Precision Delay Modulation L
Raw Distortion
RealVerb-Pro
Additional Connections & Built-in Talkback
WIth its two onboard Unison-equipped preamps, two line outs, and optical ADAT/SPDIF input — plus dedicated monitor remote controls and a built-in Talkback mic — the 10 x 6 Apollo Twin X gives you the I/O you need for professional tracks and mixes.
Build a Networked Studio
Users of any Thunderbolt-equipped Apollo interface can combine up to four Apollos and six total UAD-2 devices — adding I/O and DSP as your studio grows. Once you expand your studio with an Apollo x6, x8, x8p, or x16 rackmount unit, you can use Apollo Twin X as a desktop monitor control while still tapping its additional I/O and DSP power.
As low as $42/month with
View Full Listing