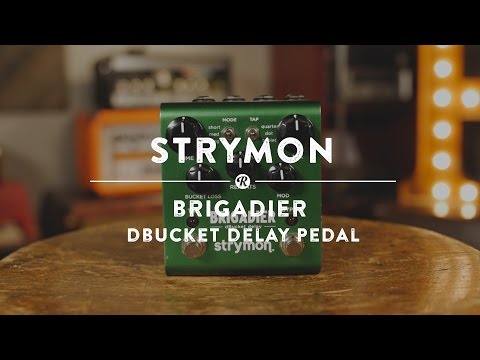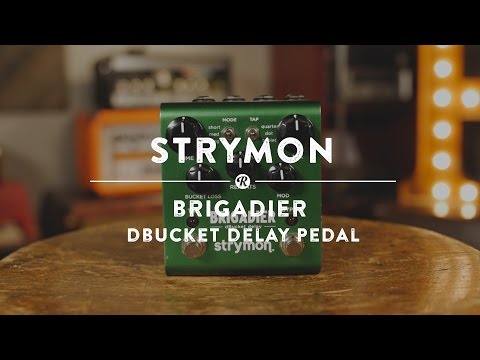 Strymon Brigadier Delay Pedal
About This Listing
Pictures Are Stock Photos!
Hand crafted dBucket algorithm for highly accurate reproduction of every stage of an analog bucket brigade chip and the associated clock driver circuitry
Bucket Loss control to vary the amount of loss that occurs at each stage of the dBucket
3 delay time modes: Short, Medium and Long
Tap Tempo modes for quarter, dotted eighth, and eighth note triplets
Filter control for adjusting the tone of the delay repeats
Dedicated Modulation control
Adjustable +/- 3dB boost or cut when the effect is engaged
Press and hold Tap for Infinite Repeats
High impedance mono input (internal jumper enables selectable TRS stereo input) Please read this FAQ for more info on the TRS input.
Stereo output
Tap Tempo and Bypass footswitches
Expression pedal input allows the connection of either an expression pedal (for selectable control over any knob parameter) or Favorite switch (to save a Favorite preset)
Ultra low noise, high performance 24-bit 96kHz A/D and D/A converters
115dB typical signal to noise
Analog dry path for a zero latency dry signal that is never converted to digital
+8dBu maximum input level easily handles instrument and line signals
20Hz to 20kHz frequency response
Premium analog front end and output section
Super high performance SHARC DSP in a compact form factor
32-bit floating point processing
Brigadier Delay Pedal
In setting out to design Brigadier, we decided to take a super-powerful SHARC DSP and dedicate all of its horsepower to doing one thing and one thing only—delivering the best analog bucket brigade sound ever. We've utilized every last drop of DSP power, allowing Brigadier to deliver every minute detail and nuance that makes analog delays special. Our hand crafted, processor-intense dBucket algorithm delivers all of the sonic complexities of analog bucket delays with none of the drawbacks. No stone has been left unturned.
Brigadier gives you all of the tone and none of the noise of regular old bucket brigade chips, unless of course you choose to add it back with our exclusive Bucket Loss control. Go from warm and clean repeats all the way to noisy, saturated delays. Couple that with dedicated modulation and filter controls, tap tempo, and assignable expression pedal input, and you have yourself a versatile delay powerhouse.
Moore Guitars has been a destination guitar shop in Southern Indiana for over 40 years! Recently, Moore Guitars has grown into an incredible new retail showroom and has become an international powerhouse with our world class website. In December of 2016, Guitar World Magazine featured Moore Guitars as one of the coolest guitar shops in America. We are proud to be a Top 10 Dealer for Paul Reed Smith Guitars, and have been since we became a dealer in 2013. We are a Breedlove Distinctive Dealer, and have been honored by Mesa Boogie with their Mark of Excellence designation. Our staff is friendly and knowledgeable, and customer service is priority #1. We're your new favorite guitar shop…but don't just take our word for it, let us prove it!
Authorized dealer for Paul Reed Smith, Gibson, D'Angelico, ESP, Mesa Boogie, Breedlove, Taylor, Fender, Reverend, and much more!
As low as $27/month with
View Full Listing