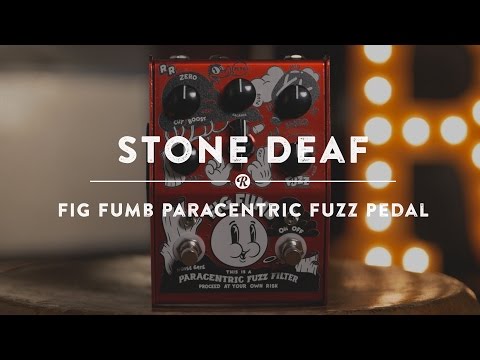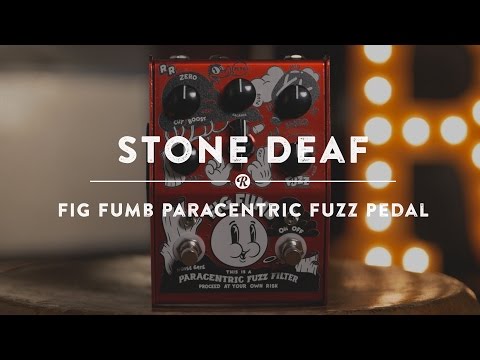 Stone Deaf Fig Fumb Parametric Fuzz w/ Noise Gate
About This Listing
The Stone Deaf Fig Fumb is an anagram of that famous Muff we all know and love. With some tweaks to the fuzz circuit and some refined control of the tone, this ripper of a fuzz pedal has enough gain to take out your windows.
It's not all about the gain though. In the past, these types of circuits have been unruly and hard to handle to get that lovely Muff tone nailed down to a T for recording or just cutting through the mix. With our parametric EQ, we achieve this like no other Muff on the market. The Fig Fumb has a full spectrum parametric filter centered around a unique cut boost para-centric function. It also has a built in noise gate to lock down any unruly feedback and noise. You do have the ability to roll back the Balance knob and the fuzz knob for lesser fuzzier tone which can be great for more of a distortion based fuzz. With all the features on the Fig Fumb it is like no other Muff on the planet and be sure if you want unprecedented options for fuzz, then this is your ticket.
Features:
Parametric EQ with adjustable High Gain Fuzz (Many different tonal palettes of high gain Fuzz available)
Frequency response from 35Hz-6kHz (Full spectrum of guitar amplifier tone)
Dual channel, with or without noise gate function (switchable Rhythm (with noise gate) and lead channels without noise gate)
Frequency control knob sweep control via expression pedal (high gain Fuzz frequency changes on the fly)
Fig Fumb Fuzz Wah Wah function via expression pedal (Fuzz wah wah tones with no tone sucking)
Fig Fumb Phaser function on via expression pedal (Fuzz phaser tones with no tone sucking)
9v Power supply centre negative (low power consumption)
Quick change battery box (quick change over of battery)
Buy now, pay later – from 0% APR
As low as $9/month with Affirm monthly payments.
View Full Listing