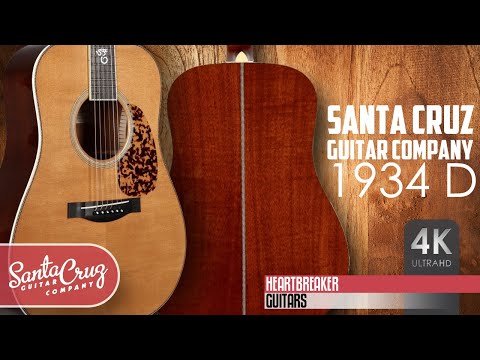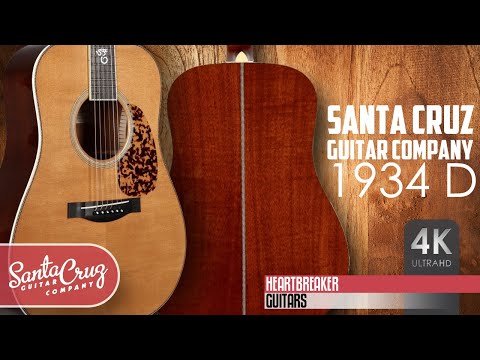 Santa Cruz 1934 D 100 year Old Mahogany
About This Listing
This is the ultimate Santa Cruz Guitar Company Dreadnought! We waited a long time for this one, but as of October 2020 this incredible tone canon has arrived at the Heartbreaker Guitar's Showroom. The Santa Cruz Guitar Company 1934 D can be ordered with a few different tone woods. We chose the 1930's Old Growth Mahogany which is almost 100 years old! "I can't think of a more expressive guitar than the 1934 D" Says Richard Hoover. "The Mahogany brings out a warmth and resonance that simply vibrates throughout your whole body". We agree Mr. Hoover!
In 1934, the powerful 14-fret herringbone dreadnought was unleashed. This has become one of the most revered and sought after designs of the steel string acoustic guitar. No one has reproduced the essence of the iconic original, until now. The secret to the often superior tone of vintage instruments lies in aged woods (crystallized resins) and the relaxation of tensions built-in during manufacture. This is exactly what we account for in our 1934 D Model. Brazilian Rosewood cut in the 1930's, master grade/old growth Adirondack Spruce tops/bracing and real hot hide glue are among our secret weapons. Hot hide glue is a time tested, natural adhesive that sets glass-like and resonant for a quicker, cleaner response. This isn't 'like the old stuff.' It is the old stuff. These rarified materials give us the foundation for a true and genuine vintage sound.
Not every venerable 1930's herringbone dreadnought was exceptional, as they were products of a small, though nonetheless factory, assembly. By applying our singular tuning and voicing talents and taking our time to ensure a relaxed assembly, we consistently access the secrets to the 'Old Bone' sound. The original lacquer formula, nitro-cellulose, is composed of the same stuff as trees; we are protecting and enhancing the sound of the instrument with a fine coating of wood! It is the only choice to complement this heirloom quality guitar.
The 1934 D Model's materials are very challenging to acquire. Availability is limited.
We are proud to be your premier Santa Cruz Guitar Company Dealer and Las Vegas guitar store.
Call us today to hear more about this Santa Cruz Guitar Co 1934 D.
Other specifications include:
Body Wood Type: 1930's Old Growth Mahogany
Back Stripe Zipper
Binding Ivoroid w/Side Purfle
Top Wood: Adirondack
Rosette Vintage Style Ivoroid
Purfling Herringbone
Bracing/Voicing Scalloped/Advanced X
Adirondack w/Hot Hide Glue
Peghead Solid Square
Peghead Binding I/B/I
Overlay Material Brazilian Rosewood
Headstock Inlay None
Width at Nut 1-11/16"
Shape Soft V Neck
Fingerboard: Ebony
Side Dots Black
Inlay SCGC Mini @ 16th Fret
Width at 14th Fret 2-3/16
Binding I/B/I
Scale Length 25.25
Finish Top Vintage Varnish Tint
Back & Sides Clear/Buffed
Neck Clear/Buffed
Pickguard Dalmatian
Tuners/gears Waverly Nickel Gears w/Oval Buttons
Body Length 20″
Body Depth 3.5-4.875″
Number of Frets 21
Frets Clear of the Body 14
Lower Bout 15.5″
Waist 10.5″
Upper Bout 11.125″
Hard Case
Buy now, pay later – from 0% APR
As low as $420/month with Affirm monthly payments.
This seller is open to offers
View Full Listing