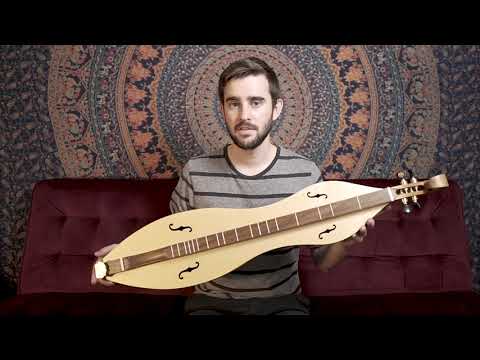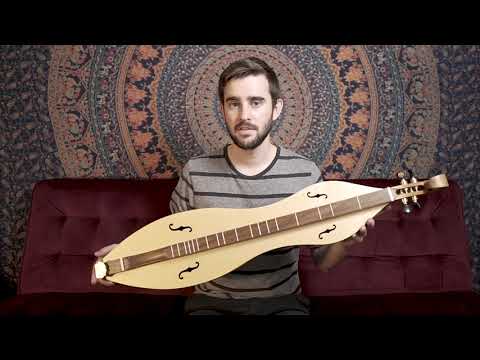 Roosebeck DME5 European Mountain Dulcimer 5-String Scheitholt-Style with Pick & Noter
About This Listing
This European Mountain Dulcimer is a folksy instrument in the zither family, also known as a Scheitholt. The German immigrants of the mid-1700 brought the Scheitholt to Pennsylvania and other parts of Colonial America.

This dulcimer has 5 strings; two strings run over the frets and are noted, while the other three strings are drones. The frame is Sheesham and the soundboard is birch. There are two sound-holes on the front and one on the back. It is played like the American Mountain Dulcimer.

Traditionally, mountain dulcimers had three, equally spaced, strings: a melody string, a middle string, and a bass string. Later developments created a 4-string dulcimer by changing the string spacing and doubling the melody string. Doubling the melody string created greater volume to the melody line. Contemporary dulcimers, such as ours, include extra notches on the nut to allow more personalized string patterns. The inside doubled melody string can be removed completely to revert to the traditional 3-string set-up. Or the Inside melody string and the middle string can both be moved over one notch to create equal spacing between all four strings. Find the set-up that works best for you.

Accessories Included:
Measures:
34" long x 5" wide and 2" high (863.6 x 127 x 50.8 mm).
Suggested Tuning:
D4 Melody pair.
A3 Drone pair.
D3 Drone single.
Features:
Strings: 2-Melody, 2-Middle & 1-Bass.
European Style Box Body.
2 of 5 Strings are noted, 3 are Drones.
Birch Soundboard, Light Colored, Straight Grained.
Unadorned Peg Head with Friction Tuners.
Unique, Old-World Design.
SPECIAL NOTE ON STRINGS:
There is no warranty on strings. Manufacturers recommend that you change the strings on your instrument as soon as you receive it. Your instrument has completed a long journey before it ever begins the final leg of your home. During this time the elements affect the strings and may shorten their lifespan. It occasionally happens that a string will fail during that final leg of the journey. Therefore, it is recommended that you purchase a replacement set of strings and consider changing your strings soon after it arrives. If you are a student you may want to change your strings every 3-4 months. If you are a rock star you may need to change your strings every week. If you store your instrument, you should consider changing the strings when you pick it up again.
As low as $20/month with
This seller is open to offers
View Full Listing