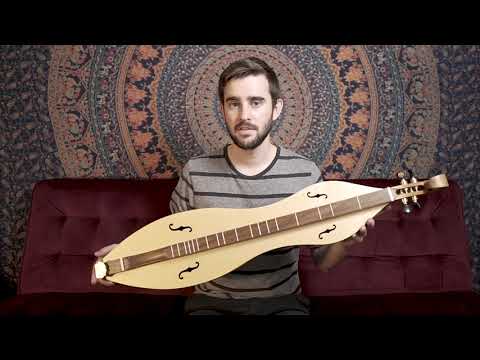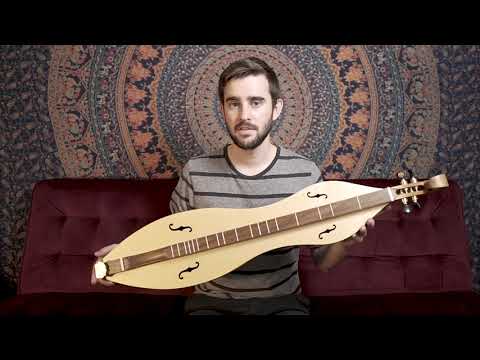 Roosebeck DMCRT4 Mountain Dulcimer 4String Cutaway Upper Bout F-Holes Scrolled Pegbox w/Pick & Toner
About This Listing
The Cutaway Dulcimer plays the same and sounds the same as a traditional mountain dulcimer. One side, however, is narrower which allows the dulcimer to be played in a "guitar position" in addition to the normal "lap position". Thus the fingering is inverted from the normal style. It is kind of a missing link between the traditional mountain dulcimer and our "stick style" Wildwood Dulcimer. The inverted fingerings are a little easier for guitar players, but it still produces the rich, full sound of a mountain dulcimer. When you want to play in a traditional style, lay it flat and play it like any other mountain dulcimer.
The solid spruce soundboard features three F-holes. The back, sides, and fretboard are Sheesham. The fretboard has arches underneath allowing free space between the soundboard and the fretboard. The carved scroll peg head features gold-colored, geared 4:1 banjo style tuners. Many tunings will work, but we recommend the traditional DAD to make it easy to pick up and play.

Traditionally, mountain dulcimers had three, equally spaced, strings: a melody string, a middle string, and a bass string. Later developments created a 4-string dulcimer by changing the string spacing and doubling the melody string. Doubling the melody string created greater volume to the melody line. Contemporary dulcimers, such as ours, include extra notches on the nut to allow more personalized string patterns. The inside doubled melody string can be removed completely to revert to the traditional 3-string set-up. Or the Inside melody string and the middle string can both be moved over one notch to create an equal spacing between all four strings. Find the set-up that works best for you.
Features:
Strings: 2-Melody, 1-Middle & 1-Bass.
Narrow Upper Bout Allows Guitar-Style Fingering.
Vaulted Fret Board For More Reactive Sound.
Spruce Soundboard, Cream Colored, Straight Grained.
Scroll Carved Peg Head with 4:1 Tuner.
Sophisticated F-Shaped Sound Holes.
Accessories Included:

SPECIAL NOTE ON STRINGS:

There is no warranty on strings. Manufacturers recommend that you change the strings on your instrument as soon as you receive it. Your instrument has completed a long journey before it ever begins the final leg of your home. During this time the elements affect the strings and may shorten their lifespan. It occasionally happens that a string will fail during that final leg of the journey. Therefore, it is recommended that you purchase a replacement set of strings and consider changing your strings soon after it arrives. If you are a student you may want to change your strings every 3-4 months. If you are a rock star you may need to change your strings every week. If you store your instrument, you should consider changing the strings when you pick it up again.
As low as $21/month with
This seller is open to offers
View Full Listing