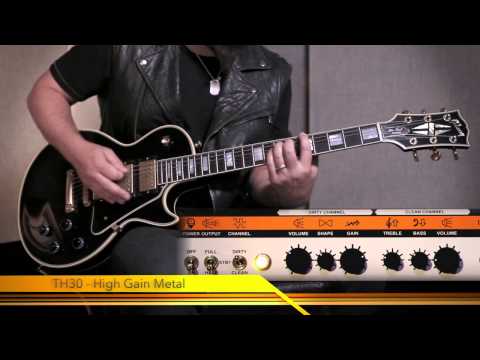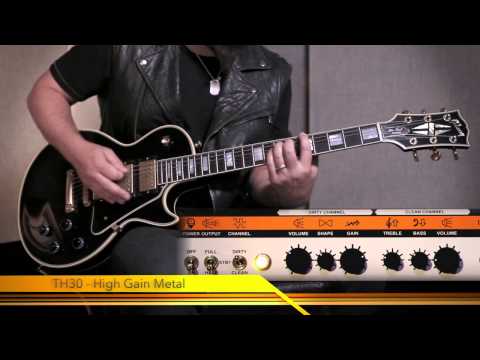 Orange TH30H Guitar Amplifier Head (30 Watts)
About This Listing
Colorful, harmonic-rich tube tone is yours with the Orange TH30H. With adjustable 7/15/30-watt output, this two-channel head shines in the studio!
Vast Tonal Flexibility -- Onstage or In-Studio
The Orange TH30H guitar amplifier head is one of the most colorful all-tube tone amps around! When you pair the TH30H with a solid speaker cabinet -- or run it direct to a recording console -- you'll immediately notice an astonishing richness of harmonic content.
Low, Adjustable Output
The Class A amp toggles between 7-, 15-, and 30-watt output, so that you can fine-tune the gain stage with whatever outboard speaker or recording interface you're using. Because the lower wattage allows you to open up this tube amp all the way without creating impractically loud volumes, the Orange TH30H really shines in the studio!
Two Channels -- Each With Lots of Character
The front panel of the TH30H head gives you a single input, and a switch to move between the Clean and Dirty channels. The Clean channel has Treble, Bass, Volume knobs, while the Dirty Channel can be tweaked for new tones via its Shape and Gain knobs. An FX Loop is accessible via the rear panel. A footswitch jack on the back allows you to switch between channels with a separately-available footswitch.
All-Tube Awesomeness
The Orange TH30H derives it tone from the careful balancing of 2 x ECC83 tubes in the Preamp stage, and 4 x EL84s in the output stage. The FX Loop is actually driven by a separate ECC81 as well.
Useful in Many Situations
Your TH30H has 2 x 1/4-inch speaker jacks on the back that each run a nominal 8 ohm impedance. There's also a single 16 ohm output.
Start Crafting Your Sound
The sound of the Orange TH30H is the result of relentless design and re-design over multiple decades of research and development. It is truly a great amplifier, from which a vast array of tones can be culled.
Features:
- Adjustable between 7-, 15-, and 30-watt output
- Clean and Dirty channels
- Treble, Bass, Volume knobs on The Clean channel
- Volume, Shape, and Gain knobs on Dirty channel
- FX Loop
- Channel switch footswitch jack
- 2 x 1/4-inch speaker output @ 8 ohms
- 1 x 1/4-inch speaker output @ 16 ohms
- 2 x ECC83 tubes in the Preamp stage
- 1 x ECC81 in the FX Loop
- FX Loop
- Output: Class A Switchable between 30, 15 and 7 watts
- Valves: Preamp = 2 x ECC83, Ouput = 4 x EL84, Effects Loop = 1 x ECC81
- Speaker: 1 x 16 ohms, 2 x 8 ohms
- Dimensions (W x H x D): 55 x 24 x 24cm
- Weight: 15 kg
- Footswitch not included.
Weight, Dimensions, and Manufacturer Part Numbers
Shipping Weight: 40 lbs
Shipping Dimensions: 25 x 14 x 14 in
Manufacturer Part Number (MPN): TH30H
zZounds is an authorized dealer of Orange Amplification products.
Buy now, pay later – from 0% APR
As low as $56/month with Affirm monthly payments.
View Full Listing