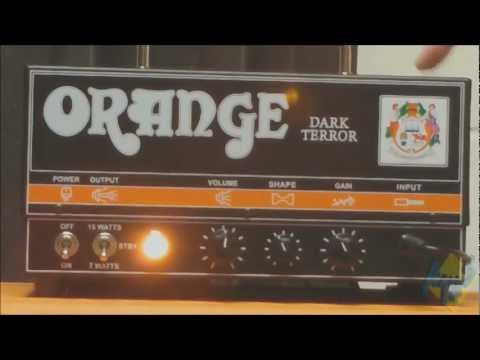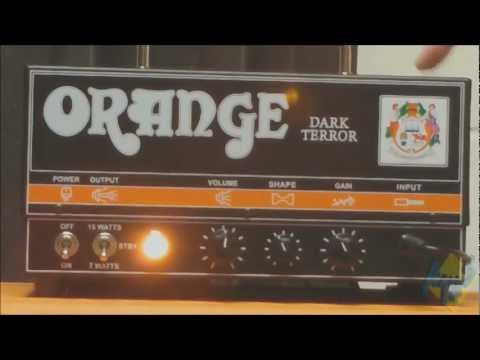 Orange Dark Terror High Gain Class A 15W W/Fx Loop
About This Listing
The Orange DA15H guitar amplifier head is a menacingly small, aggressive head that packs mind-blowing sound!
The Dark Terror rises from the ghostly depths to fulfill the every desire of the heavy metal and rock guitar players. This Frankenstein-like amp has petrifying amounts of gain on tap with disturbingly pleasurable responsiveness. It is uncompromisingly brutal, doubtless unhinged, even ferocious!
Orange DA15H Dark Terror Tube Guitar Amplifier Head with Gig Bag Features:

High Gain Preamp 3 x ECC83/12AX7
Valve Driven FX Loop 1 x ECC81/12AT7
Four Stages of Gain
15 Watts Class A, Switchable to 7 Watts
Weighs in at only 15 lbs/ 7kg
Includes gig bag
Frightening Sound

With its intimidating Orange Amp looks, heavy duty construction and portability, guitar players everywhere will quickly become attuned to this terrifying dark force of nature. The chilling Orange DA15H Dark Terror tube guitar amplifier head combines the Shape control of the Thunder series with the weight and size of the monster Terror family.
Hear its distinctive Orange Amp sound and you will feel this mystifyingly attractive force pulling you into the shadow of the Dark Terror. It's everything you want and expect from a Black Orange Amp. The Dark Terror is highest gain Terror amp ever, so prepare to ride the frightening Dark Terror storm!
CALIFORNIA PROPOSITION 65 WARNING - WARNING: Cancer and Reproductive Harm -
As low as $58/month with
Only 1 available and
1 other person has this in their cart
View Full Listing