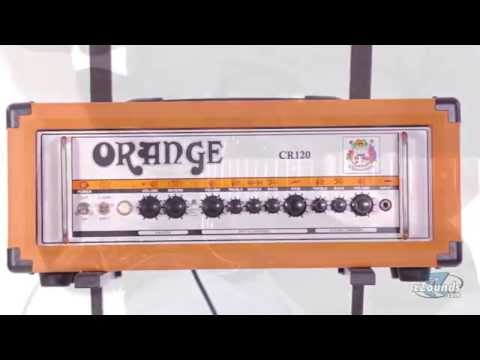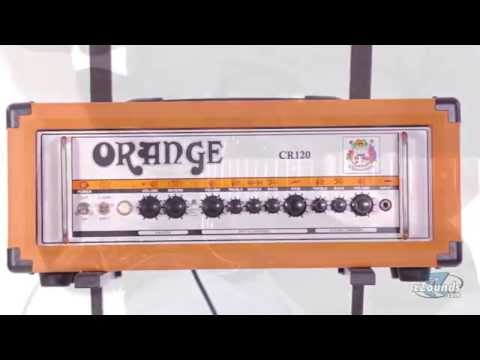 Orange CR120H Crush Guitar Amplifier Head
About This Listing
Plug into 120 watts of Orange tone! The CR120H is a solid-state amp head with all the warmth and grit of an Orange tube amp, thanks to its four gain stages.
Quench Your Orange Crush with This Solid-State Amp Head!
Your wait for a solid-state Orange amp head is over. Orange took its time tweaking its design for the CR120H Crush, and ended up with a sound worthy of the Orange name. This two-channel treat is based on Orange's celebrated Rockerverb series -- projecting a warm and clear clean tone, and a layered distortion that breaks up nicely when turned up. In addition to a transparent effects loop, your CR120H Crush comes with onboard digital reverb with plate, hall, or spring settings. It's also dressed in Orange's familiar design and color.
Same Orange Look, New Solid-State Interior
Your CR120H Crush sports Orange's recognizable woven speaker grill, the Orange signature, and textural basket weave Tolex. On the inside you get reliable circuitry that pumps out that decades-old sought-after Orange sound -- and this time, it's solid state. Orange spent considerable time working with designs to make a solid-state amplifier that stands up strongly to their infamous tube sound spanning over half a century, so you can count on consistently hearing a superior tone when you plug in and play.
Getting the Most from Your Crush
The front panel of your CR120H head hosts volume, treble, middle, bass, and gain knobs for your distorted channel, and volume, treble, bass, and gain knobs for your clean channel. Your master volume and reverb knobs sit right next to each other to give you easy access to your onboard reverb and master output signal level. Footswitch inputs for your reverb and channel settings make switching seamless and easy.
Stages of Gain
The solid-state design of your CR120H harnesses stages of gain that break up your signal for each of your channels. Your signal going through your clean channel has two stages of gain, and your dirty channel provides four stages of gain. When you push your signal to a hotter level, a nice and crisp signal breakup comes through. Play with your gain settings to see what particular gain level suits your personal sonic signature.
Features:
- Solid-state circuitry
- Two channels -- clean and dirty
- Two 16 ohm speaker outputs
- Onboard digital reverb -- spring, hall, and plate settings
- Master volume and reverb controls
- Three-band EQ for your dirty channel, bass and treble EQ for clean
- Volume and gain controls for dirty channel, volume control for clean
- Clean uses two gain stages to break up signal
- Dirty uses four gain stages to break up signal
- Controls: Clean Channel: Volume, Bass and Treble. Dirty Channel: Volume, Bass, Middle, Treble and Gain. Global: Volume and Reverb.
- Output Power (Heads and Combos): 120 Watts
- Speaker Output options (Heads): 2 x 16 Ohm (min 8 Ohm)
- Extension Cabinet Options (Combos): 1 x 16 Ohm
Weight, Dimensions, and Manufacturer Part Numbers
Shipping Weight: 34 lbs
Shipping Dimensions: 25 x 13 x 13 in
Manufacturer Part Number (MPN): CR120H
zZounds is an authorized dealer of Orange Amplification products.
Buy now, pay later – from 0% APR
As low as $25/month with Affirm monthly payments.
View Full Listing