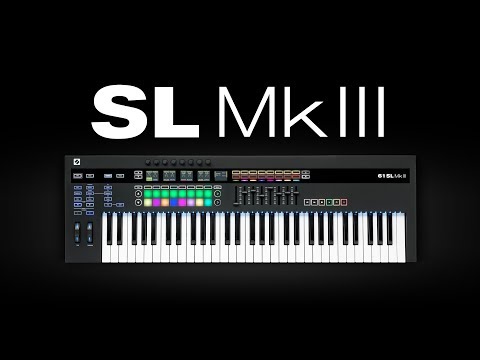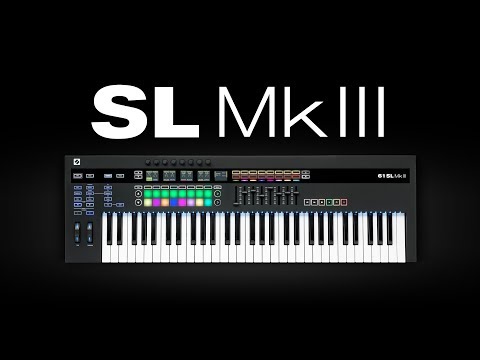 Novation 61SL MkIII Keyboard Controller and Sequencer
About This Listing
Novation 61SL MkIII is far from your typical keyboard controller: it's an all-sequencing, all-dancing hub for all of your music making tools, a centerpiece to connect, control and create with your entire setup – computer or not. Create quickly and easily with your hardware. Build your tracks in the eight-track polyphonic sequencer with everything in time, everything in key, every control at your fingertips.
Internal eight-track pattern-based sequencer

High-quality keybed with assignable aftertouch and selectable velocity curves

Backlit pitch and modulation wheels

Comprehensive connectivity including USB, MIDI, analog clock and CV/gate

Routable MIDI and analog clock with dedicated transport controls

Customizable onboard arpeggiator

Customizable scales, modes and zones

The perfect controller for Ableton Live and all major music software

Customizable hardware and software control mapping templates

Free cloud-based Components desktop template and session librarian software

Total control
Get to work with your favorite hardware with all the benefits of a DAW at your fingertips – no need to look at a computer screen. Pull your DAW 'out of the box,' combine it with your hardware synths and connect everything through 61SL MkIII. Control it all with highly customizable mapping templates for your hardware and software or create your own in the software editor.
Internal eight-track pattern-based sequencer
Input notes step-by-step, or record as you go; you can play and edit your sequences directly from the keyboard. Then record parameter automation straight onto the sequencer, bringing your productions to life. You can choose an arp type, set a sync rate, tweak note and pattern lengths and use the pads to design your rhythms in real time.
It's the feel
61SL MkIII boasts Novation's finest and most playable synth-style semi-weighted keybed, with a sprung action tuned to the needs of the experienced player. It's got aftertouch, too, assignable to anything. Its exceptionally high scan rate of 10 kHz gives the keys a super dynamic feel for expressive performances. And you can see scales, modes and zones instantly with vibrant on-key RGB LED feedback.
RGB pads
61SL MkIII's velocity-sensitive RGB pads have multiple functions, too: they can be used for launching clips, as steps in the sequencer or for finger drumming, and have polyphonic aftertouch.
Post-release updates and support
Building on their stellar reputation for support and responsiveness to their user community, Novation has kept improving 61SL MKIII since its release with requested features like assignable aftertouch, an enhanced MIDI CC/NRPN implementation, UX tweaks and sequencer grid microstep editing. Building on that last addition, Novation has enabled an unquantized sequencer recording mode so that the organic, human quality of performances and punched-in beats can be captured in all their wonky glory.
Keys for Live
Novation worked with Ableton to create an unprecedented integration with Live – 61SL MkIII truly pulls your sessions out of the box. The full color LCD screens give you full visibility of your parameters, while the pads, buttons, eight faders and eight knobs get you hands-on with your music in any major music software.
Keys to the DAWs
Deep integrations with Logic and Reason – plus HUI compatibility with Cubase, Pro Tools, Studio One and Reaper – mean 61SL MkIII can open up any DAW.
One routable clock for the whole system
Whether you're in the box or outside the box, the MIDI and analog clock and transport controls keep everything running in time.
Comprehensive connectivity
USB, MIDI in/out/thru, sustain, expression and footswitch inputs, analog clock out and two sets of CV pitch, gate and mod outputs can be used to route anything anywhere.
Components
Novation Components allows you to back up and restore your templates and sessions in the cloud, enabling access from anywhere in the world. All content can also be saved locally.
Helping you find your new sound
Music making is all about the journey, and Novation is always looking for new ways to inspire you along the way. That's why they created Sound Collective. Receive free versions of the most innovative software instruments and creative effects from developers they admire, as well as discounts to help you make the most of third-party software, exclusive to Novation customers. All you have to do is register your Novation gear, and one offer will be featured in your Novation account every couple of months.
As low as $62/month with
View Full Listing