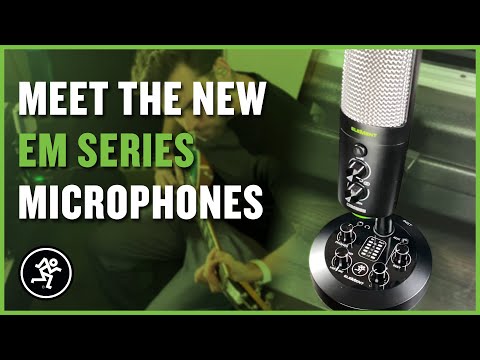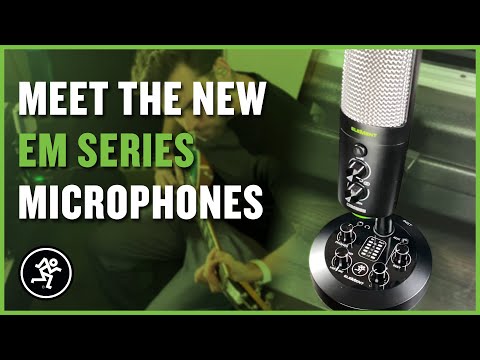 Mackie EM-CHROMIUM EleMent Series Large Diaphragm Multipattern USB Condenser Microphone with 2-Chann
About This Listing
From going for a flawless run on your latest stream to leading an online meeting, EleMent Series USB Microphones deliver the quality and versatility you need to take your sound to the big leagues. Whether you're thinking of starting your own podcast, becoming the next big streamer, or even getting your music noticed on social media, how you sound matters. If you want to get that slick studio sound like your favorite YouTuber, Podcaster, Twitch streamer, or anyone else, you've come to the right place. Getting professional-quality sound is easier than you might think.
The Chromium mic is a true beast for your home studio with tons of I/O and control for an array of different uses. Offering pristine sound with 4 selectable polar patterns and the legendary Onyx Preamp circuitry. On top pf that, you get a 1/4" instrument input that you can mix in with the mic. Want to play along with a track? Connect anything with a headphone output to the 1/8" Aux in and hear it in your headphones. The EleMent Series Chromium Premium USB Condenser Microphone delivers professional quality and incredible versatility in an all-in-one design for modern musicians, content creators, singer-songwriters, and beyond. Built right into the stand, the 2-channel mixer includes Instrument and stereo 1/8" inputs and had controls for gain, mute, and headphone monotoring plus professional metering and Blend control. Featuring 4 selectable polar patterns, Chromium can be optimized for vocals, rooms, stereo, two person interviews, and more. Legendary Onyx mic preamp circuitry provides crystal clear sound anf ultra-low noise. Get recording fast eith included ProTools | Fist and Waveform professional software. Get out there and be heard wtih the Chromium Premium USB Condenser Microphone.
Mackie CHROMIUM USB Condenser Microphone Features:
Home studio - Singer/songwriters.
Podcasting.
Content creation.
Professional Quality.
Engineered for recording music, podcasts, live streams, and online content creation.
Legendary Onyx mic preamp circuitry provides crystal clear sound and ultra-low noise.
Professional metering shows your levels at a glance.
4 selectable polar patterns: Stereo, Cardiod, Bi-directional (figure 8), and Omni.
USB-C Connectivity.
Onboard USB interface plugs directly into your computer for fast, easy recording.
Plug-and-play, no driver needed.
Instrument Input.
Connect a guitar directly and record along with your vocals.
Mix with the mic and Aux in signals.
Stereo 1/8" Input.
Connect your phone directly and record along with your vocals.
Perfect for singing along with or auditioning backing tracks.
Onboard Headphone monitoring.
Headphone output with independent volume control offers a convenient monitoring solution.
Blend between the direct signal and USB.
Onboard Gain Control and Mute.
Optimize the microphone's output to your computer and/or DAW.
Mute button allows you to switch off the mic while still hearing your computer's output.
Rugged construction.
Built-like-a-tank reliability ensures consistent performance for years to come.
Sample Rate: 16-Bit / 96kHz.
As low as $18/month with
This seller is open to offers
View Full Listing