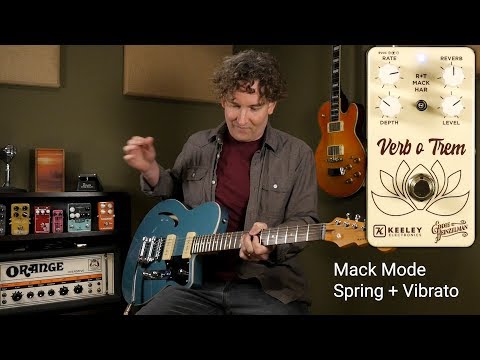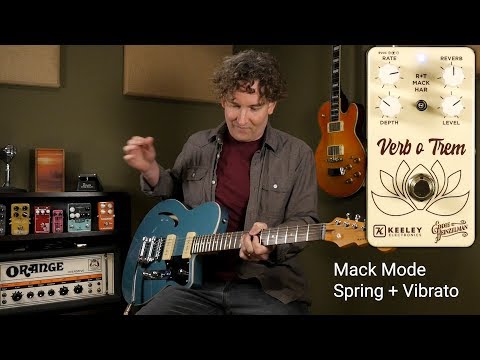 Keeley Verb O Trem Reverb Workstation and Tremolo Effects Pedal
About This Listing
The Keeley – Eddie Heinzelman – "Verb o Trem" WorkstationKeeley and Eddie H. teamed up to produce the Verb o Trem, the Keeley VoT Workstation!!The Keeley VoT reverb and tremolo combo gives players a simple and beautiful sounding way to end their pedal boards. Reverb and Tremolo often sound best at the end of your guitar rig, after effects like compression, fuzz or overdrive. The Keeley VoT Workstation gives you famous Keeley spring and plate reverbs as well as modulated tube amp tremolos. This immaculate pairing provides you with everything you need for a small, compact pedal board.When you go minimalist, you still consider Reverb and Tremolo. Even the guys that just plug their guitar cord into an amp…still admit they love 'verb and trem!So if you're doing a small gig with a compact board or you just want the captivating power of tremolo and reverb at the same time, the Keeley VoT Workstation is a simple and beautiful sounding solution.The Keeley VoT Workstation is a high-end Dual DSP effect workstation. Each effect, reverb and tremolo are given their own effects engine. This allows us to create rich and ornate filtering. These are studio quality sounds we have crafted over the years, refined by working musicians and studio engineers.
Product Attributes
Model Year: 2018
UPC: 854295005888
Product Features
Decay – this is the length of the reverb trails, the size of the ambient space. External Expression Control port on rear of unit.
Each Keeley VoT Workstation reverb allows you to control:
Effect Level – This is your Blend Control. How loud you want the reverb in your guitar mix
Level – Output Volume Level for the reverb channel
Morph – Pre-Delay – The earliest reflections, sometimes heard as a slapback. This is great for setting up a reverb space that sounds huge, or you can dial it in so that it plays well with fast, percussive notes.
There are 8 petals to this flower: 2 Spring, 3 Spring, Plate, Hall, Chamber, Room, Fugue, and Slapback!
Buy now, pay later – from 0% APR
As low as $17/month with Affirm monthly payments.
View Full Listing