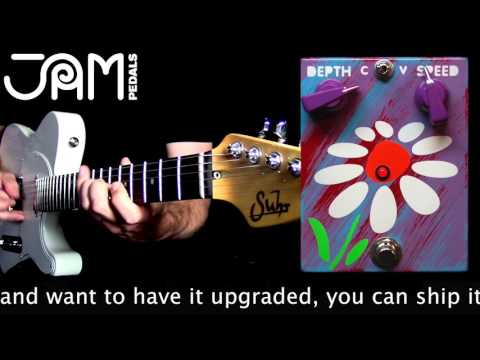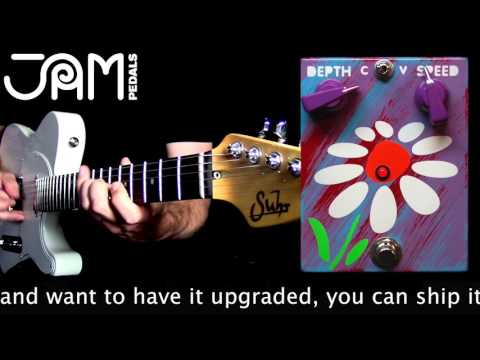 JAM Pedals RetroVibe MK.2
About This Listing
Maker: JAM Pedals
Model: RetroVibe
Condition: New
Description:
The RetroVibe is our take on the greatest Vibe pedal ever made !
The original goal was to achieve the sound of a vintage UniVibe, but after getting there, we looked into taking it a few extra steps further !
Made with original NOS 2SC828 transistors and carbon comp resistors for a true vintage sound !
Our RetroVibe not unlike the original Univibe, employs 4 photocells and a bulb to nail that Vibe sound we all know and love! You can choose between Vibrato and Chorus settings and navigate from slow rate liquid sounds all the way to fast Leslie speaker effects by setting the speed post 9 o'clock! Hendrix / Floyd fans, rejoice! This is IT!
An added twist ! We have incorporated an extra internal trimmer that affects the maximum intensity of the effect, but also dramatically manipulates the sound of the RetroVibe, all the while, maintaining the pedal's true vintage character.
* Our NEW mk.2 version is also including a chorus/vibrato toggle switch and expression pedal input to control Speed!
"I love the Retrovibe! It is a magic piece of equipment !" Ruban Nielson (Unknown Mortal Orchestra)
"The Retrovibe is my Vibe of choice. It has all of the "Vibe" of the original, particularly that illusive, complex midrange that responds so beautifully to pick attack. It behaves perfectly with Fuzz Face type pedals and is more transparent than any of the old Univibes I have heard. That it is so compact is quite a bonus and mine has Laurel and Hardy on it (I got lucky – the rest of you get flowers, Ha!)" Julien Kasper
Buy now, pay later – from 0% APR
As low as $19/month with Affirm monthly payments.
View Full Listing