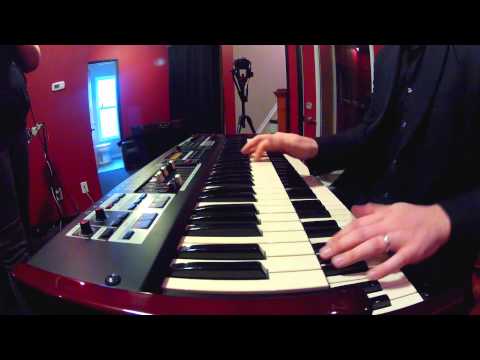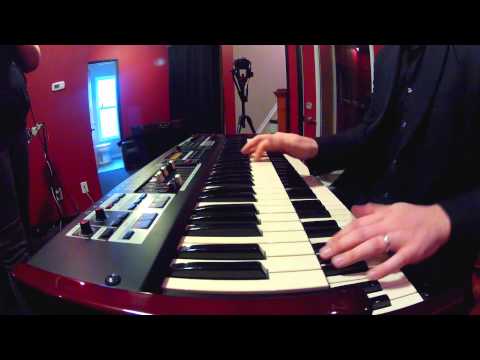 Hammond Sk2 Dual Manual Portable Organ, 61-Key
About This Listing
The Hammond Sk2 is the Sk1 with an additional second 61-note keyboard for added convenience-you may play the Sk2 as a two-manual organ, or assign the Drawbar/Extra Voice divisions to your choice of keyboard. It has all the vibe of the vintage B-3 into a trim 35-pound package. Much like its little brother, it gives you a wide series of other voices, like Acoustic and Electric Pianos, Clav, Vintage Combo Organs, Vintage String Synthesizer, Accordions, Pipe Organ, and many more. The Sk2 isn't a watered-down, light version of a Hammond, either. All the classic features that make a Hammond are included: real mechanical drawbars, Waterfall keyboard, touch-response percussion, Chorus Vibrato, and a new-generation Digital Leslie that gives the big speaker a run for the money. Your eyes will see an easily portable two-tiered organ, but close your ears will hear, and your fingers will feel a B-3.
Hammond Sk2 Sound Generator Organ Section
2 - VASE III as Digital Tone-wheels, Transistor Organ and Pipe Organ
61 polyphony (for manual, except Pipe Organ)
8 polyphony (for pedal, except Pipe Organ)
63 polyphony (maximum, on Pipe Organ)
Hammond Sk2 Extra Voice Section
VASE III, 63 polyphony (maximum)
Hammond Sk2
Keyboards
Hammond Sk2 Harmonic Drawbars
9 Pitches, assignable for Upper, Pedal, Lower
Voicing
Manuals: 6 choices (B-Type1, B-Type2, Mellow, Vx, Farf, Pipe), valiable key-click,
Pedal: 4 choices (Normal, Muted, Synth1, Synth2), 5 choices key-click
Touch Response Percussion Buttons
Second Harmonic, Third Harmonic, Fast Decay, Volume Soft
Adjustable
Touch, Velocity, Decay (Fast, Slow), Level (Normal, Soft)
Extra Voice Instruments
6 Groups (A. Piano, E. Piano, Keyboard, Wind, Other, Library)
Upgradable via Library
Control
Allocate Upper/Lower, Solo, Group
Hammond Sk2 Effects
Vibrato and Chorus
Digital Scanner
Buttons: 1, 2, Chorus, Upper On, Lower On
Overdrive
Digital, 4 programs
Control: On, Amount
Multi Effects
8 programs for Organ/Extra Voice individually
Control: On, Amount
Equalizer
for Organ: Bass, Mid (sweep), Treble, Tone
for Extra Voice: Bass, Mid (sweep), Treble
Internal Leslie
Advanced Digital, 2 Rotors
Buttons: Bypass, Stop, Fast
Reverb
Digital - 11 programs, Control - On, Depth
Master Equalizer
Control - Bass, Mid Gain, Mid Frequency, Treble
Keymap
Buttons: Lower to Pedal (SK2 only) Octave Up, Octave Down, Lower, Transpose
Adjustable: Coupler Highest note, Split Point
Patches
Capacity: 100 User Patches, 100 Preset Patches, Manual
Favorites: 10 buttons
Patch Load Options: Drawbar Registration, Drawbar Parameters, Extra Voice, Internal Zone, External Zone, Organ Effects, Exv Effects, Reverb
Controllers
Volumes: Master Volume, Music Volume, Extra Voice Volume
Switch: Power On/Off
Music Player
File Format: WAV (44.1kHz, 16bit, Stereo), MP3 (44.1kHz, 128kbps, Stereo)
Control: Song, Play/Pause
Storage: USB Flash Drive
Display: 20 - Characters, 2 - Lines, 8 Control Buttons and Value knob
MIDI
Templates: 5 Templates(SK2)
External Zones: 3 Zones, assignable any keyboards
Connections
MIDI: In, Out
Audio: Line Out L, R, Headphones
Leslie: 8 - pin, 1 and 3 channels available
Other: Footswitch, Damper Pedal, Exp. Pedal, DC IN (12V)
Accessory: AC Adaptor AD3-1250
If you like you sound vintage, but you technology modern, order this organ today!
Specifications
Dimensions (WxDxH): 37-1/4" x 17-7/8" x 6-3/4"
Weight: 35-1/4 lb.
Buy now, pay later – from 0% APR
As low as $94/month with Affirm monthly payments.
Only 1 available and
4 other people have this in their carts
View Full Listing