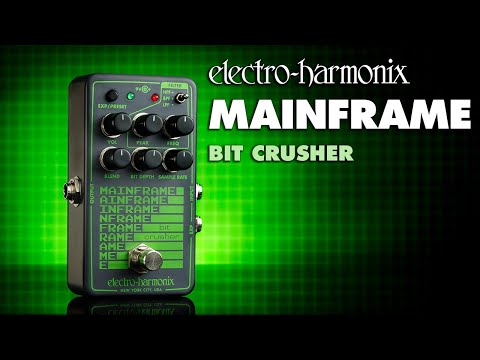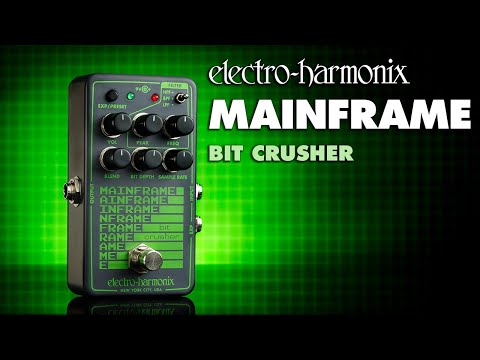 NEW Electro-Harmonix EHX Mainframe Bit Crusher Effects Pedal / Crazy / Wild / Freakout Sounds
About This Listing
Buy tax free! in our Portland shop or at our site: with financing available through Klarna. We ship within same day - 1 business day
From cool sample rate conversion effects to gated fuzz-like tones, the Electro-Harmonix Mainframe Bit Crusher pedal delivers immense sonic textures that remain highly playable — and musical. By digitizing your signal and reducing the sample rate (with reduction ranging from 48kHz–110Hz), you can explore everything from subtle aliasing to chiptune synth sounds and full-on gated fuzz. Bit depth is adjustable from 24-bits to 1-bit, allowing you to render your original signal completely unrecognizable. A built-in filter is ready to smooth out the sound, and the Mainframe's ability to track your signal's pitch — or even tune it to the key of your song — ensures melodic results. Whether you play guitar, bass, or synthesizer through it, you'll find a vast soundscape of retro-themed effects in the Electro-Harmonix Mainframe Bit Crusher Pedal.
The most musical bit crusher pedal around
Bit crusher effects can sound extremely harsh if you're not careful (or if that's what you want, of course). But the Electro-Harmonix Mainframe pedal's Sample Rate Tuning Mode showed us at Sweetwater just how musical this effect can sound. Simply tap the footswitch twice to enter Sample Rate Tuning Mode — at this point Mainframe continuously tracks the pitch of your signal exactly (or by intervals, if you choose), and adjusts the frequency of the sample rate to match. The sound will instantly brings to mind classic '80s video game sounds. And to lock the sample rate to a specific pitch — like the key of your song — simply press the footswitch one more time while playing any note on your fretboard or keyboard. With Sample Rate Tuning Mode, you can generate extreme effects that still work within your mix.
Retro-themed bit crusher and sample rate reducer effects, inspired by '80s video game sounds
Switchable HPF/BPF/LPF filter with resonance helps you smooth out the sound of the effect, or make it even more extreme
Sample Rate Tuning Mode allows you to tune the sample rate conversion to any note on your guitar or synth
Sample Rate Tuning Mode can also continuously track your signal's pitch for classic video game sound effects
Expression input allows you to sweep multiple effects parameters with an expression pedal (sold separately)
Sample rate reduction ranges from 48kHz–110Hz, bit depth reduction from 24-bits to 1-bit
Save your favorite settings or expression pedal mappings with the EXP/Preset button
Access even more sonic textures like gated fuzz via secondary knob parameters
High-quality buffered bypass and silent switching
Includes 9.6-volt DC power supply
Pedal Type:Bit Crusher
Analog/Digital:Digital
Effects:Bit Depth Reduction, High/Low/Band-pass Filters, Sample Rate Tuning
Inputs:1 x 1/4"
Outputs:1 x 1/4"
Other I/O:1 x 1/4" (expression)
Bypass Switching:Buffered
Power Source:9V DC power supply required (included)
Height:2.1"
Width:2.75"
Depth:4.5"
Weight:1.4 lbs.
As low as $16/month with
View Full Listing