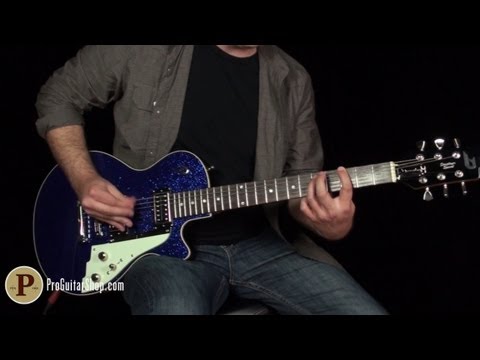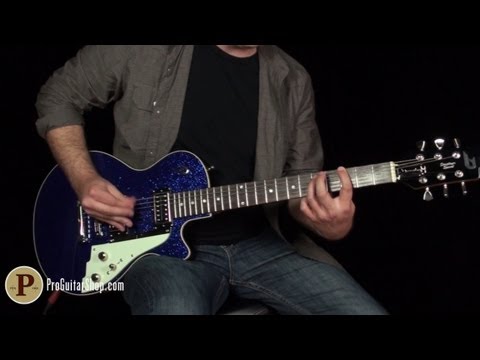 Duesenberg Starplayer Special *Custom* Black (Slight-Flaw)
About This Listing
The Starplayer Special is a solidbody, dual pickup, 22 fret electric guitar, featuring a contoured alder body, bolt-on neck and a 647mm scale. We have customized this bad boy with a with a Duesenberg Les Trem II. It also has a slight nick in the body so we have discounted this guitar.
The Starplayer Special combines a variety of different approaches to form an instrument which is both high quality but also affordable. Its Alder body is contoured for premium looks and playability and then fitted with a bolt-on maple neck. This combination presents exceptional sound and clarity which brings sweet thick tones and long sustain. Our bolt on maple neck and rosewood fingerboard deliver a distinctive attack and clarity not usually associated with this body type.
The mounted GrandVintage pickup - in combination with the slightly higher output CrunchBucker - delivers penetrating and powerful rock sound. The Multi-Tone control extends the possibilities beyond that with several additional singlecoil-like sound options.
All our instruments are fitted with our own hardware, which you will only find on a Duesenberg. We design it with attention to even the smallest details to create truly unique instruments from tuner buttons to jack plates. And with the Starplayer Special, you get the same high quality hardware as on all our other instruments.
All our fretboards are carefully pleked and finished by hand for optimum playability and the smooth feel they are famous for.
The Starplayer Special is finished in a range of distinctive opaque, metallic and sparkle colours that set it apart from the crowd.
It was first prototyped in 1992 and voted "Guitar of the Year" in UK in 2003. It is a long term classic in our lineup and has been the entry into the Duesenberg world for many Duesenberg users around the world.

NECKType:Bolt-on Neck, 1-piece MapleWidth:42.5 mm / 1.67" (nut), 52 mm / 2.05" (12th fret)Thickness:21 mm / 0.8" (1st fret), 24 mm / 0.95" (12th fret)Shape:Medium DFingerboard:Indian Rosewood, radius 305 mm / 12"Inlays:Cream dotsFrets:22 Jumbo 2.8 x 1.0 mmScale length:648 mm / 25.5"Trussrod:Steel dual-actionHeadstock:BlackBODYType:Solidbody, AlderTop:ContouredDimensions:44 x 32.5 cm - 17.32" x 12.6"Height (sides):4.5 cm / 1.8"Binding:CreamPickguard:Aged whiteFinish:PUR lacquer. Back and sides Trans-Black.HARDWARETuners:Duesenberg Z-Tuners, "Tulip" buttonsBridge:Duesenberg Steel Saddle BridgeTailpiece:Duesenberg Aluminum Stop TailpieceStrap pins:Duesenberg Standard ()Hardware color:NickelStrings:Duesenberg Custom 10/50 (010-013-017-028-042-050)ELECTRICSPickup (neck):Duesenberg GrandVintage HumbuckerPickup (bridge):Duesenberg CrunchBuckerWiring:1 volume, 1 Multi-Tone, 3-Way Pickup SelectorACCESSORIESCase:Premium Line Road Case (not included)Tools:All required allen keys (included)