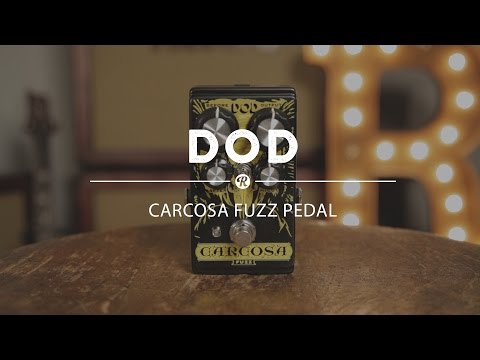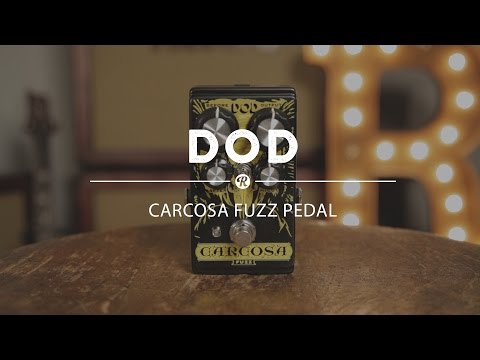 Digitech Acoustic Guitar Effect Pedal (CARCOSA)
About This Listing
Features:
Combines the wide-ranging after bias control with two toggle positions creates tones that range from porcine fatness to desiccated shards
True bypass, tons of output, and the visage of the King in yellow sets the stage for fuzzy madness
Exaggerated mid-range and Treble character that help it stand out in a mix
Power supply not included
Pedal Type: Fuzz
Analog/Digital: Analog
Inputs: 1 x 1/4"
Outputs: 1 x 1/4"
True Bypass: Yes
Power Source: 9V DC power supply required (sold separately)
Power Usage: 4mA
Height: 2.24"
Width: 2.63"
Depth: 4.68"
Weight: 0.99 lbs.
Manufacturer Part Number: DOD-CARCOSA-U​​
Description:
Inspired by the dual-voiced Maestro FZ-1S
DOD's Tom Cram is a fuzz fanatic. His search for the many forgotten fuzzes of the 1970s led him to the Maestro Fuzz-Tone FZ-1S, whose bipolar personality provided the inspiration behind the DOD Carcosa Fuzz. Yet a simple silicon clone the Carcosa is not. Its powerful controls provide a fuzz experience unlike anything you've played before.

A broad range of fuzz tones from any amp
Two modes adapt the DOD Carcosa Fuzz to virtually any amp and player. Hali mode is built for the traditionalist. Pair with an already dirty amp and experience silken classic-rock leads and overdriven chord crunch to all-out fuzz mayhem. Demhe mode is designed for a high-headroom clean amp, enhancing low-mid punch and adding complex harmonics for a fuller voice even when natural amp clipping isn't present. Pair with a dirty amp at your own risk.

From fat to splat in seconds
Interactive Before (gain) and After (bias) controls provide an impressive range of fuzz tones from the Carcosa Fuzz — from mid-gain crunch to robotic leads and all shades of AM glory. Start with both controls in the middle for a traditional fuzz tone, then raise the gain and peel back the bias and watch your notes melt into a puddle before you. Trust us — if you like to get tweaky with your pedals, the DOD Carcosa Fuzz is for you.

Great for stacking
Adventurous pedalists will enjoy the Carcosa Fuzz's stacking potential. Adjustable output, Hi-Cut (lowpass filter), and bias controls make it easy to pair with other drives, fuzzes, and FX.


Item Includes:
Digitech Acoustic Guitar Effect Pedal (CARCOSA)
Limited Warranty
As low as $10/month with
This seller is open to offers
View Full Listing