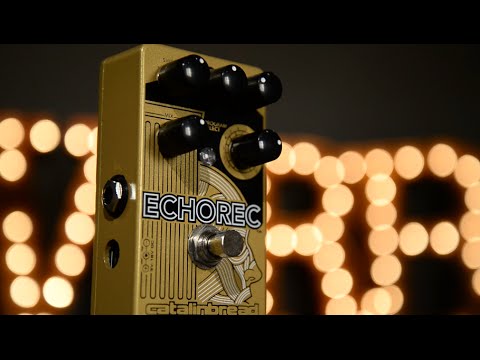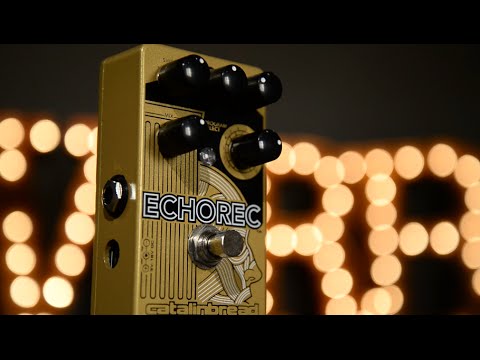 Catalinbread Echorec - The Pedal Store!
About This Listing
Welcome to the Catalinbread Echorec! With the Echorec's distinctive four playback head delay line design coupled with the most dynamically touch sensitive preamp you've ever played, you'll be able to create a huge range of echo sounds, such as:
the classic Binson syncopated multi-head sound, lush, swirling ambient beds, spacious arpeggio chording insanely cool fifties style slapbacks that have more dimension and complexity than single-tap echoes awesome faux reverbs multi-dimensional chorus type sounds oscillating space ship sounds epic soaring leads and more!
And all this while enhancing your guitar's touch sensitivity, giving you a completely immersive playing experience! It breathes, allowing you to go from soft, delicate shimmers to loud, raging cacophony - all just by varying your picking attack! Plus, you can go from rhythmic repeats to ambient soup just by playing more staccato or more legato! No need to change settings! It responds to your playing!
The Catalinbread Echorec has been a labor of love for all of us here. It was years in the making and we're so thrilled it has finally come to fruition. As if it needs saying, we're really excited with the way this pedal turned out, exceeding our expectations. We'd like to congratulate and thank you for joining us on this adventure.

And so? And so the farther away from the record head the playback head was, the longer it took for the disc to rotate to that spot and therefore the more delayed the echo signal was. So the Binson had four delay times based on the distance of the four playback heads from the record head. How did they think of doing that? It's kinda expensive having four playback heads and associated electronics. Seems like it would have been cheaper and more flexible to have the speed of the platter vary or to have a slider like on the Echoplex to move the playback head physically farther away from the record head. All we get with the Binson are four really short fixed delay times in a very expensive and bulky package. Or is that all we get? Well, the unique twist the Binson provided was that you could engage combinations of the four playback heads - from one head to two, three, and all four heads - up to 12 different combinations were provided. And then the Swell control fed the signal from these playback heads back into the input to create a beautiful wash of repeats. By selecting the head combination and adjusting the amount of repeats via the Swell knob, you could get a lot of great slapback, echo, and faux-reverb sounds from the Binson that sounded huge and dimensional. But as you played with it more, you found yourself reaching around on the control panel looking for a "delay time" knob. But, alas, there was none to be found. The maximum delay time would always be found on head 4 - 300ms, no matter what. If you select, say, head 2 and 4 then you get an effective delay time of about 150ms since head 2 splits that 300ms in half. All four heads? About 75ms between each "repeat". The Binson was a great echo unit. But if it could only get longer delay times then another world would open up.....
Besides the four head (four tap) delay, the Binson also offered a beautifully luscious tube audio path that enhanced any instrument plugged into it - especially a guitar and a good fuzz pedal, as David Gilmour showed us! And it could provide a nice bit of tube boost to drive the input of the guitar amp into a nice warm saturation.
When we decided to undertake the resurrection of the Echorec concept, we knew that watching a few Youtube videos and looking at the schematic would not be enough to truly know that we were able to deliver. So we went out and bought an original tube unit and it needed to be completely overhauled. After we had experienced the Binson Echorec for ourselves we knew we had to figure out a way to bring back it's unique musical qualities to you in a modern stompbox package without sacrificing any of the qualities that made it so compelling. Once the overhaul was accomplished, we still wanted to be certain so we borrowed a perfectly functional Echorec from a friend of ours. Armed with two functional examples, we were confident enough to then set out to develop the Catalinbread Echorec! The end result of years of hard work was a circuit that was so Echorec-like that we went out and officially trademarked the name Echorec!



As low as $22/month with
View Full Listing