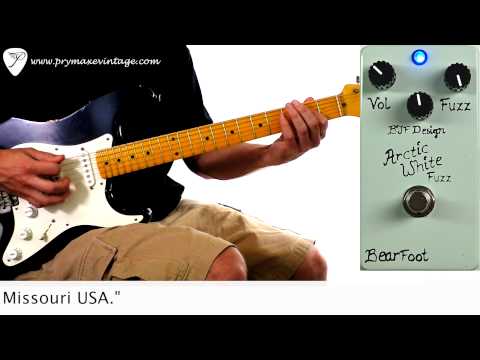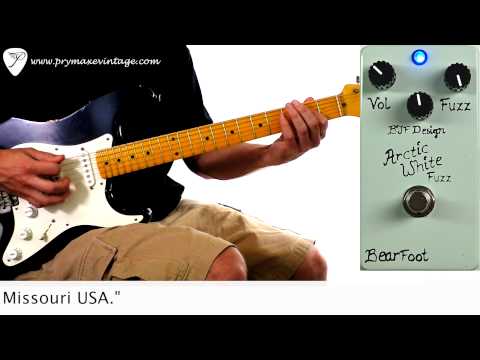 Bearfoot FX Polar Bear Fuzz (Arctic White) MK II Polar White
About This Listing
The Polar Bear Fuzz is our Arctic White Fuzz with slightly sharper claws... The Polar Bear Fuzz is a Tone Bender MKII style fuzz re eq'd for a band mix - refocused mids to sit well and cut through ... it still follows your volume knob like a vintage fuzz but with less non fuzz noise thanks to the lowered noise floor. Stacks wonderfully into overdrives like the Honey Bee. And a treble control to get the sizzle just right.
Now Shipping!
User Comments:
The quick and dirty: an articulate, lower gain, tone benderish MKII type of fuzz with a fuzz face kind of feel that's perfectly voiced, sits well in a mix, and excels for lead note definition. The pedal is really harmonically rich, with lots of dynamic overtones based on pick attack and note resonance in your playing. Great for chords, punk to classic rock, and awesome for single notes and riff making. Excellent sustain. Marvelous volume knob clean up. Thunderous low end when you want it (Les Paul neck pickup approved). With volume pushed it makes for an incredible lead boost (and it can get loud). Stacks well with boosts (tried a Timmy before it and a Plum Crazy FX Squawk treble booster before it-- both sounded great!) The Polar Bear fuzz is transparent in a way that few fuzzes are-- YOUR tone/ fingers come through, and the fuzz effortlessly melds into it (I hesitate to use the overused word "bloom," but I think there's some of that in there too).
Having spent time with the original Bearfoot Arctic White Fuzz, I'd say the Polar Bear has everything you liked about the Arctic, plus a bunch more attitude and a 4-pack-a-day snarl when pushed. Feistier than the Arctic, the Polar Bear still has plenty of manners when you back off your guitar's volume; and don't hesitate to explore the full throw of the Polar Bear's fuzz knob - it's all usable (as opposed to the all-or-nothing approach)! Plus, dealing with Donner is always 5-star worthy!
- Brian Robbins
As low as $14/month with
This seller is open to offers
View Full Listing