Upon its release in the mid-'80s, the Casio SK-1 was a low-cost, low-bit sampling keyboard from Japan that was kind of a small king of lo-fi, years before lo-fi became a thing.
You could get it for about $100 new back then (with inflation, closer to $300 in 2023 dollars). Years later, it was the kind of thing you could chance upon at a garage sale for five bucks. Today, recognized more than ever as a cool retro sampler, it can cost anywhere from $50 to $250.
But one "unicorn" variant is a major exception: SK-1s in the rare pink finish.
Some people have paid $1,000—even as high as $1,300—for the privilege of owning a pink SK-1.
"Why?" you may ask. "Is it just because it's pink?" Well… let's see.
The Standard Black SK-1
The regular SK-1 comes in a standard black casing. It's what's inside that has made so many fans.
The four-voice polyphonic synth can be battery-powered, has a handful of digital presets, and, most importantly, includes an 8-bit sampler. You can use the built-in mic or plug in a sound source, then map your sampled sound across the 32-note keyboard.
So simplistic that it's endearing to use, the SK-1's sampler has won over hearts for almost four decades, 1.4 seconds of sampling at a time.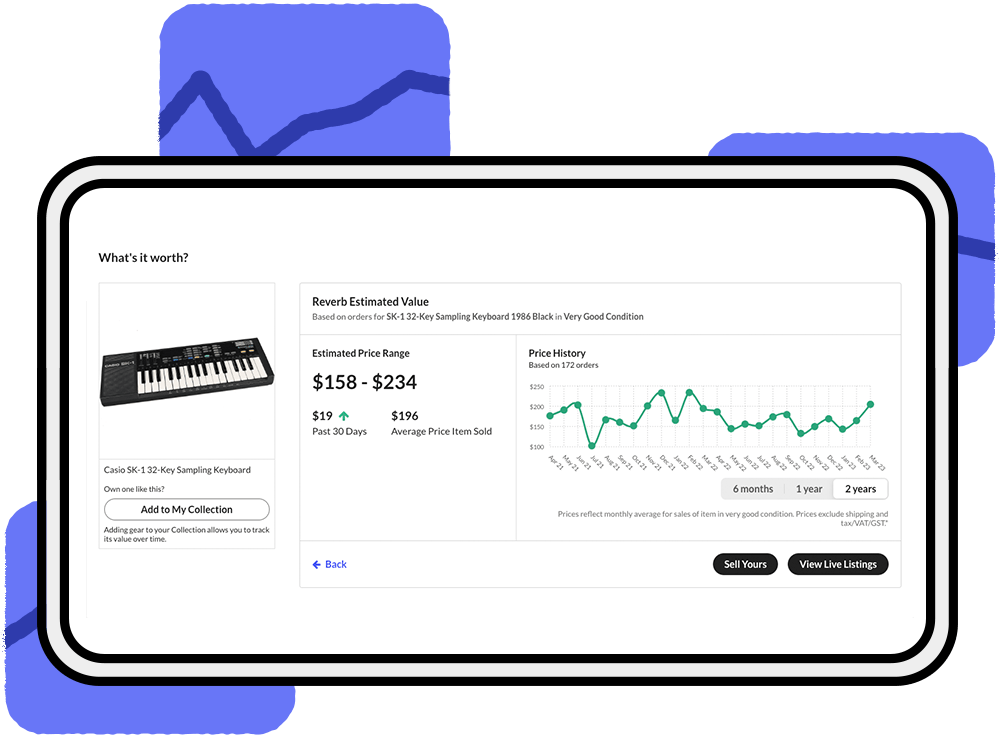 The two-year Price Guide price trend for standard black SK-1s, sold in good condition on Reverb.
In the Reverb Price Guide (which you can find on our website), you can see final sale prices for used SK-1s in both of their finishes, and in a range of conditions. We're zooming in on black SK-1s in very good condition in the graph above.
You can see there that average prices jump above and below about $150. If you hop over in the Price Guide to black SK-1s in good condition, you'll see monthly averages are below $150 more often than not.
So let's go ahead and call this the SK-1's baseline. Even if mint- or fair-condition models can go for more or less.
Now, the Pink SK-1
The pink SK-1 is, in fact, identical to the black SK-1 in all but one way: that light, pastel pink finish.
Casio simply didn't make that many of the pink variants, time has made them even rarer, and now, that rarity is reflected in their used value. So much so that the average prices for pink SK-1s are volatile, as far fewer of them sell.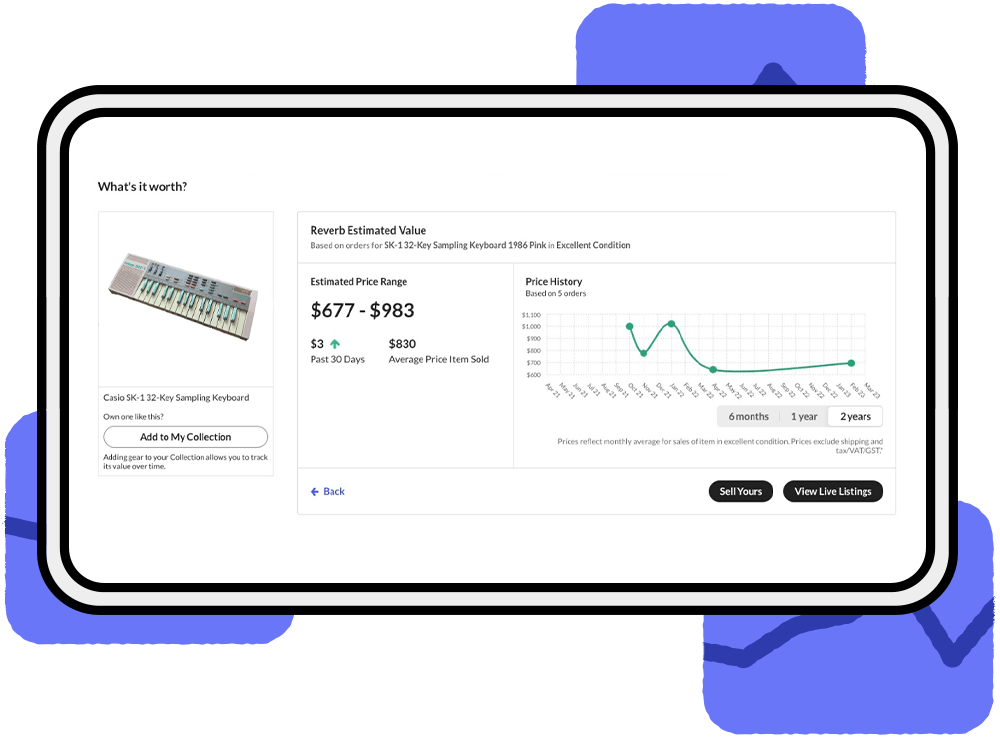 A Price Guide graph showing average prices for pink SK-1s in excellent condition that have sold on Reverb within the past two years.
Pink SK-1 buyers can be discerning about condition, about whether or not the original box is in good shape too, or if the decal lettering and button text is still sharp. They are, after all, collectors, shopping for the collectible variant of what is otherwise a pretty common old sampler.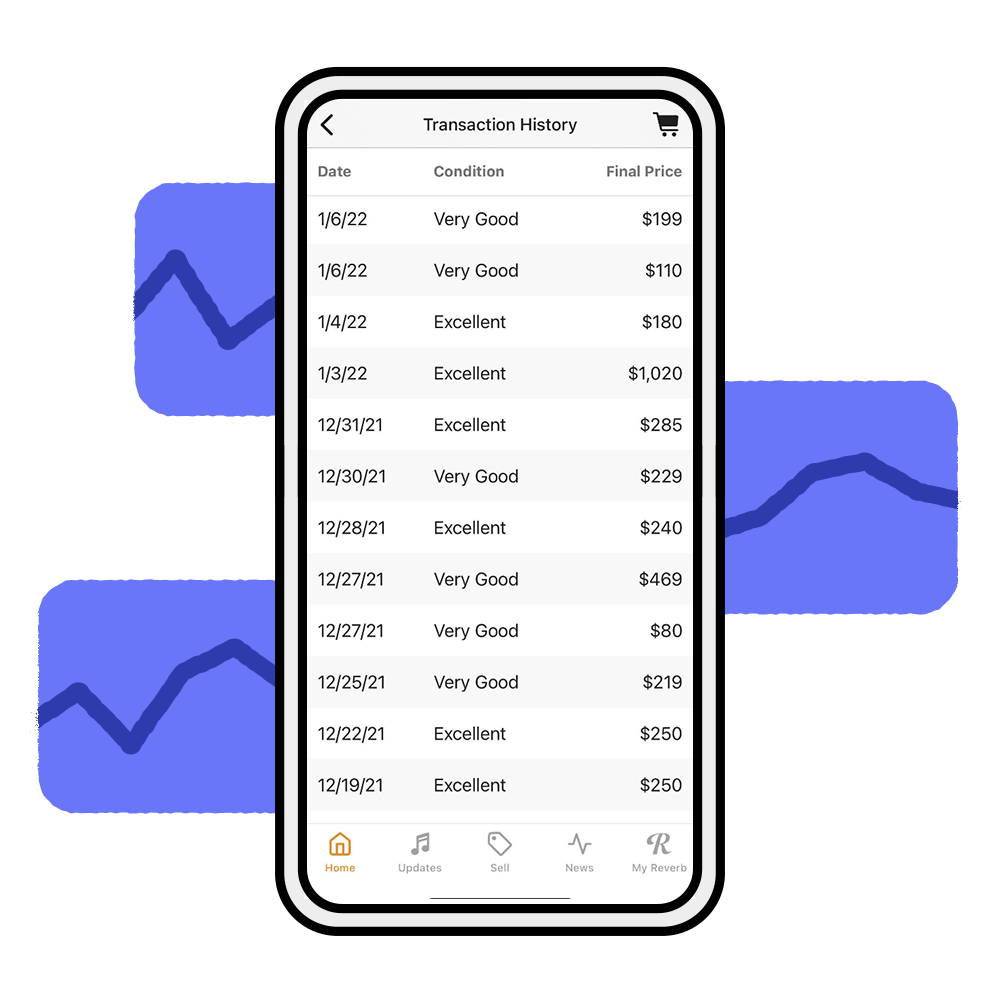 The Price Guide's transaction history log for the SK-1 that shows final sale prices.
On product pages on the Reverb app or across our website, you can find Price Guide-powered Transaction History logs for tens of thousands of popular gear models. In this Transaction History of the SK-1, you can see the standout sale price of $1,020 on 1/3/2022, with other models going for as low as $80.
The Last Word?
So, well, why are pink SK-1s so much more valuable than black SK-1s? After extensive research and conversation, we came to one conclusion: it's pink!
These elusive beauties are rare, and there's a segment of sampler-lovers out there who are happy to part with a good chunk of change to own the pink SK-1 of their dreams. And it seems they're doing that out of pure love, not because a famous artist or influencer has been causing a stir about the pink models.
What they may not know—and, well, now, we suppose the secret's out—there is an even rarer pink SK-1 variant, one built for the Japanese market rather than export. Largely the same, it instead has black keys in place of the US version's powder blue, along with Japanese language instead of English around its buttons.
These models are so rare, in the United States at least, that we don't really ever see them come up for sale. But Adam Douglas, who has written extensively for us here at Reverb, wrote about his personal Japanese-market pink SK-1 on his Boy Meets Synth blog.