Back in May, Heather Brown Electronicals released a super limited edition batch of its flagship pedal, the Blessed Mother. After selling out almost immediately, the new Blessed Mother: Fuzz Assumption is back in stock. But again—you have to act fast if you want one. This time, there are only 100 units available.
The original Blessed Mother is a super versatile overdrive/boost pedal, made with a unique blend of both silicon and germanium diodes, which gives it a raw but smooth and velvety tone. Significantly, there's also an adjustable transparency function, the "Immaculator" knob, which allows you to blend back in your guitar's dry signal for added clarity—especially in high-gain applications.
---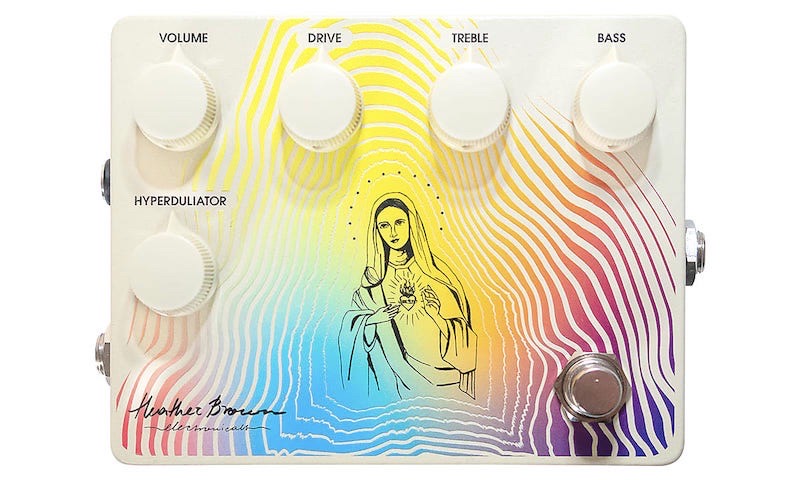 Blessed Mother: Fuzz Assumption
---
This limited edition version, the Blessed Mother: Fuzz Assumption, is likewise made with both silicon and germanium diodes and features the same basic control face as the OG pedal. However, the Immaculator control has been swapped for a "Hyperduliator" control, so instead of adjusting transparency, this knob functions as a fuzz/drive blend control. The pedal also comes in a custom enclosure that features the Blessed Mother signature artwork with some colorful touches.
Ultimately, for those looking for something characterfully a bit grittier and heavier than an OG Blessed Mother but with all of the same touches, the Fuzz Assumption is worth a look. Pick up your own right here on Reverb.
"This article is part of a paid partnership with Heather Brown Electronicals. From time to time, Reverb partners with trusted brands and manufacturers to highlight some of our favorite products we think our community will love."